Since two months I am receiving few requests to review the LIC Agent's (but not from LIC of India) plan Retire and Enjoy. Finally one of my clients provided the plan presentation. I know I am late by reviewing this plan at the end ( as all existing plans are about to close).
But at the same time, I know that this is the peak period (from today to till 31st Dec 014-before closure of existing plans) to sale as much as possible. So I thought it may be helpful even if I review it now.
As I said above, this is the plan prepared by agents of LIC, but not from LIC of India. It is the bundle of an LIC plans with different maturity period. So by selling a single Retire and Enjoy, an agent may complete his/her yearly minimum business requirement. But what about the person who bought this plan for his retirement?
Let us first list down the things we need to consider before planning for retirement.
1) Current Age-This is a most important factor. If you are younger, you have plenty of work life still pending. But at the same time if you are older, a lesser working life and about to start your retirement.
2) How long you want to work-It is required, as this the phase which also called the accumulation period for your retirement goal.
3) Current monthly expenses-This is the base on which we can inflate the expenses to arrive at how much you need for the first month of your retirement.
4) Annual expenses-Apart from regular monthly expenses we also have few annual expenses which we also need to consider to arrive at retirement corpus.
5) Expected inflation upto retirement-This will be required to arrive at how today's expenses will be at your retirement.
6) Expected inflation during retirement-As this period is distribution period, it requires to adjust your outflow during your retirement period.
7) Expenses which you want to add or delete during the retirement phase-Few of your current lifestyle expenses may not be there during retirement but at the same time few expenses may add up like health expenses.
8) Current investment you preserved for retirement-This will lower your future investment requirement for retirement goal.
9) Pre and Post Retirement investment returns-This will indicate like what type of investor you are and how much you are expecting to generate from retirement investment.
10) What type investor you are-This actually can be judged by your investment style, how much you are comfortable with each asset class and what type of risk you can take in the future.
Below are the few screen shots for your reference where I hid the buyer as well as agent's details.
A) You notice that in below image, the age of a buyer is 42 years and yearly premium quoting as Rs.1, 27,516 also they showing tax benefits if you are under highest tax bracket.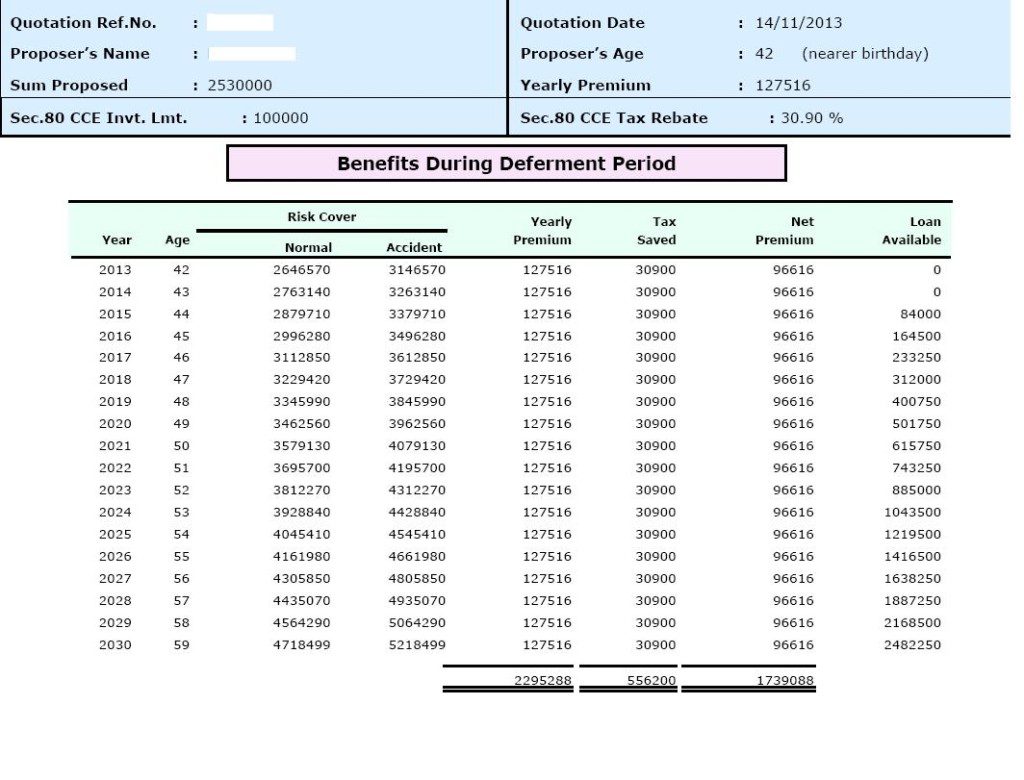 B) In below image, you notice the retirement benefit you receive.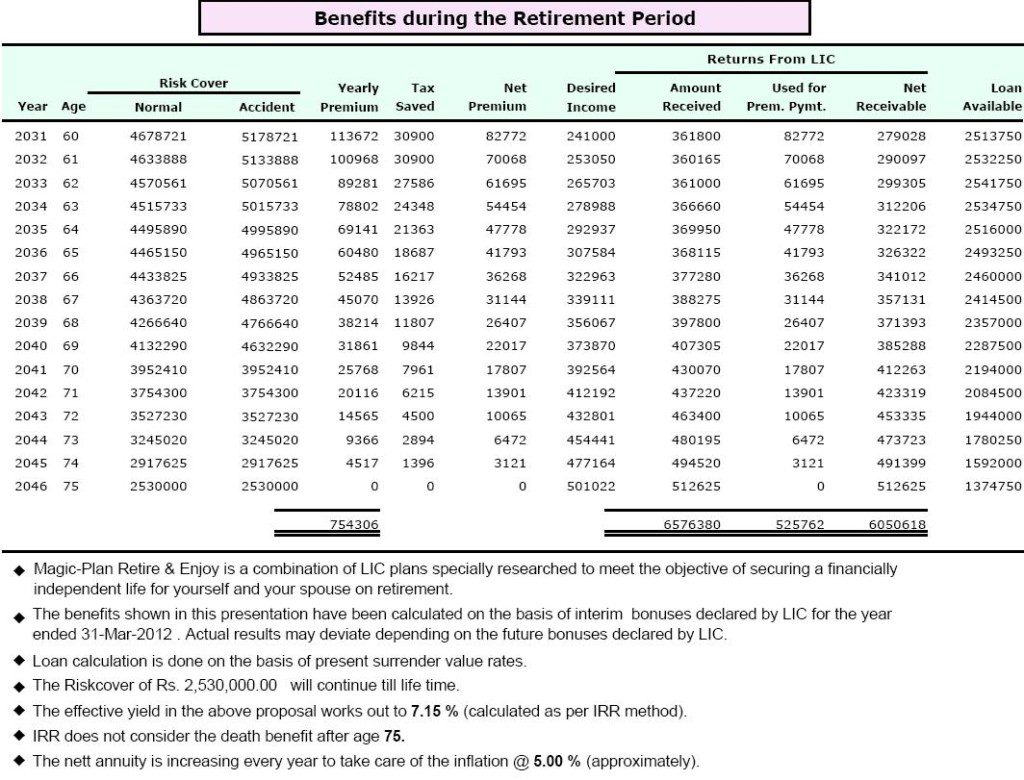 C) I don't know what the benefit agent is illustrating post-retirement 🙂 Is there any life insurance requirement during post-retirement? May be he is illustrating the benefit of death claim one receive under Jeevan Anand.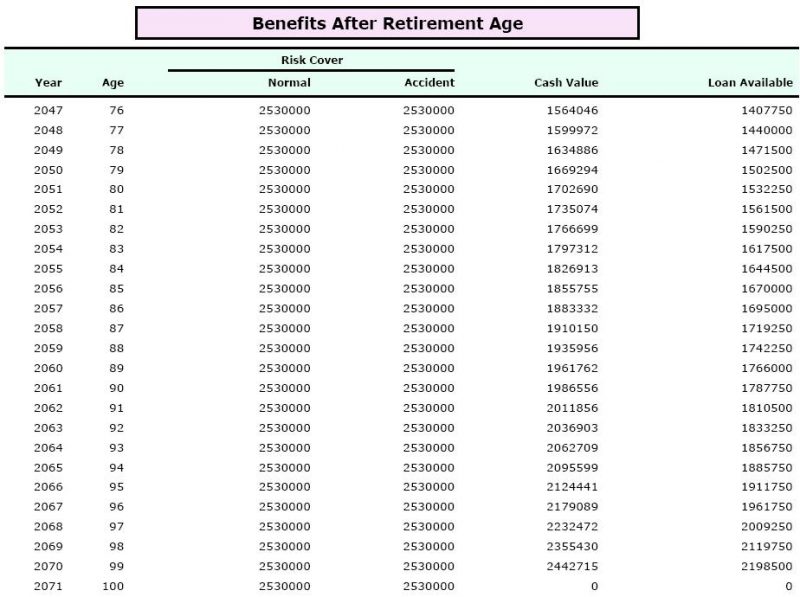 D) Below is the number of plans he will sell you in one shot with this magic plan.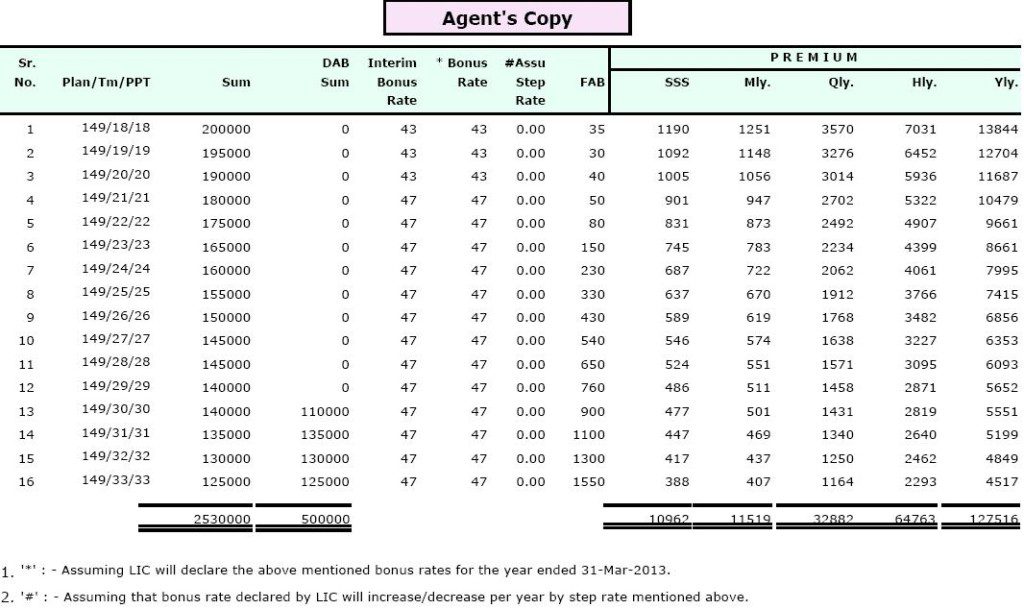 Above listed points are commonly used factors to arrive at one's retirement planning. The list may prolong based on client profile. Now coming back to this plan. Below is the list of advantages of this plan.
1) This is the bundle of a plan like bundle of Endomwnet plan or Jeevan Anand.
2) Number of plans will go on increase based on your life expectancy in post-retirement. Suppose your retirement age is 60 years and you are planning to have retirement income till 70 years then 10 numbers of either endowment plans or Jeevan Anand Plans 🙂
3) The basic thing here is, suppose you are 30 years old and planning to retire at 60 years and your expectation of income post retirement will be 10 years, then your agent will design you the plan in such a way that plan 149 term 30 years, 31 years, 32 years and so on till maturity equal to 70 years.
4) What they may show you is the benefit of Sec80C. The premium range will vary from Rs.1,00,000 to Rs.1,50,000 yearly. However, there are many options to fill the gap of Sec.80C easily like EPF, Term Insurance, PPF or home loan. So featuring this as the only plan, which give you the best benefit of Sec80C will be foolish.
5) If you need Rs.4,00,000  at the age of 60 years, then your agent will issue one policy with around SA Rs.2,00,000 so that you get yearly retirement (maturity amount) of Rs.4,00,000. But he will actually forget to say that what will be the value of Rs.4,00,000 in that year.
6) This plan completely neglects the effect of inflation. Currently, the value of Rs.4, 00,000 may seem a good amount. But down the line, after 30 years with the kind of inflation of around 6%, will it be the same value as of today? He will not explain to you.
7) Let us say inflation @ 6% and your retirement age will be around 30 years from now. So Rs.4, 00,000 you receive from that plan is Rs.69, 644 in today's term. So decide today whether you survive with Rs.69, 644 a year or not then go for buying.
8) It is the traditional plan and in all probability return from such plan will hover around 7%. Then how one can beat the inflation rate of 6%? (A moderate consideration of inflation rate, but when you retire it may be more).
9) The agent may be forcing you to buy stating that the current plans will not be available after Dec 31st 2013. But in reality you will get a more beneficial product rather than these.
10) Finally, it not answers to retirement solution, which one need to consider while calculating the retirement corpus. Instead, it only calculates how much is a current surplus in your pocket to buy this product.
Hope I gave the valid points. Let us discuss further if someone already invested.