The market looks very positive and all equity mutual funds showing huge returns. So which one to choose, those who are consistent or those which given 60% to 70% return in this booming market?  Let us short-list the funds for your investment in mutual funds for 2015.
Note-I published the new Mutual Fund list for 2016 !!! Visit my blog's latest posts for the same at
Before proceeding, last year I wrote a post "Best 10 Mutual Funds to Invest in India for 2014". So let us review how those funds are performing. Then we proceed to this year's choice.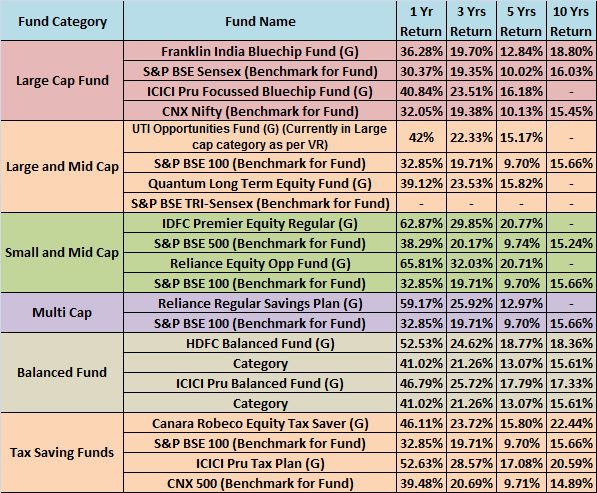 Note-All values are taken from valueresearchonline and values are as of today.
How I am selecting funds?
I first short listed funds category wise, like large cap or large and mid cap like that.
Funds must be at least 5 years old.
AUM of the fund must be around Rs.1,000 Cr, as it creates faith among investors.
Some other technical terms like expense ratio, standard deviation, alpha, beta, Sharpe or Sortino.
Finally, my faith in mutual fund company and its business model.
I picked the funds based on 5 years as well as 10 year return.
I have not gone through any star ratings to choose these funds.
Why I have chosen 10 funds only?
I know lots of us have wrong belief that having so many funds across fund houses will actually diversify our portfolio. It is totally a wrong concept. You forget to understand the underlying stocks each fund holding or your overall portfolio holding. Therefore, it creates to such huge risk that our investment may be highly exposed to specific sectors or stocks. In addition, it is one more misconception that few go on add funds for each of their goals or fresh investments. This also not a better idea. Instead, stick 3-4 funds maximum and invest in them. This keeps your head cool, simple, and easy to track.
Best 2 Large Cap Funds to Invest in India for 2015
I short listed the funds and found that these two below funds are my best choice. Because of their expense ratio, lower standard deviation to their peers, higher alpha, lower beta and high in Sharpe ratio and Sortino ratio.

I stayed away from few Index funds, which have a less expense ratio, but AUM also not fits into my comfort. However, if AUM does not matter to you then you consider some Index Funds too. I stayed away from HDFC Top 200 Fund only because of higher standard deviation to above funds. Otherwise, I strongly advocate towards that fund.
Best 2 Large and Mid Cap Funds to Invest in India for 2015

When you compare this year choices to previous year's,you find that both of earlier funds missing. I removed UTI Opp Fund, because it moved to large cap. I removed Quantum only because of ICICI's superior performance compared to Quantum (even though Quantum claims to be less expensive fund).
Best 2 Mid and Small Cap Funds to Invest in India for 2015

Here you notice that I retained Reliance Equity Opp Fund, but discarded the IDFC Premier Equity Fund. It does not mean that IDFC Fund is bad. However, the results in my review were almost neck-to-neck between HDFC, IDFC, and Reliance. I selected HDFC only because of its superiority in higher alpha and Sharpe ratio. In addition, when you look at return wise, I found HDFC holds better than IDFC.
Best 2 Balanced Funds Equity Oriented to Invest in India for 2015

I retained the same old funds, which I recommended previous year. Therefore, no change in it.
Best 2 Tax Saving Mutual Funds (ELSS) to Invest in India for 2015

Here again, I deleted one fund and retained the previous year recommended fund. I deleted Canara Robeco only because I felt low alpha and Sortino ratios. Also, compare to above two funds Canara Robeco seems to be costly when we consider expense ratio.
Do remember that to construct a portfolio it does not require to have a fund from each category. Construction of portfolio again depends on one's requirement, risk-taking ability, period of the goal and many more things.