LIC will be coming with one more endowment plan called Jeevan Rakshak (Plan No.827) from 19th August 2014. It is a typical traditional plan and let us discuss about its feature and review.
This is a regular premium paying non-ULIP with profit endowment plan. The total Sum Assured under all policies issued to an individual under this plan shall not exceed Rs.2 Lakh. I do not know why they set such limit.
Below are the plan eligibility and features of the plan.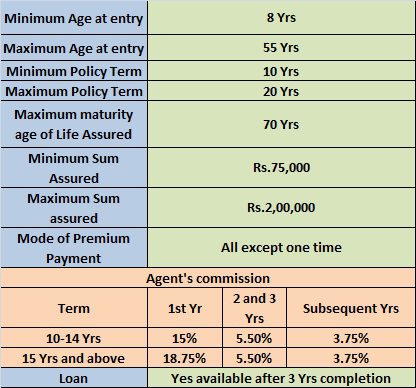 Death benefits-
If death occurs of the life assured during the policy period then higher or below will be payable.
Basic Sum assured
10 times of your annual premium
105% of all premiums paid as on death.
Along with the above said benefit nominee will be entitled for Loyalty Addition if death occurs after completion of 5th Year.
Maturity benefits-
Sum Assured along with Loyalty Addition will be payable.
Other features of this plan
You have the option to opt for the accidental rider benefit.
You will get a premium rebate of 2% for yearly premium and 1% for half-yearly premium.
High sum assured rebate of 1.5% if you opted for more than Rs.1, 50,000 Sum assured.
Offers guaranteed surrender and special surrender.
If you surrender before maturity, then one will be eligible for LA.
Will you buy it?
A typical endowment plan with high expenses (see above table for the agent's commission and along with that you need to bear some other expenses too). So expect a savings account return.
Maximum Sum Assured restricted to Rs.2, 00,000. Therefore, I will not call it as an Insurance product. With such low insurance coverage for how many days, dependents can survive.
Benefit in this plan will be as a Loyalty Addition. Therefore, if you look at Jeevan Saral LA rates or some other plan LA rates, then I do not think this plan will give you tremendous return.
LA will be payable only in case of death occurs after 5 years. So if within 5th year then you need to satisfy with death benefits as mentioned above.
LA will not be payable in case of surrender. This makes risky to enter this policy. What if someone have emergency?
So over all I may say it is another waste product from LIC. Let us discuss further once we get the premium table too. However, in my view I am expecting a bit cheaper premium rate.