Government of India is about to launch a pension plan called Varishta Pension Bima Yojana on 15th August 2014. It is treated as best pension plan because returns quoted as more than 9%. However, let us look at its feasibility and to whom it will be suitable.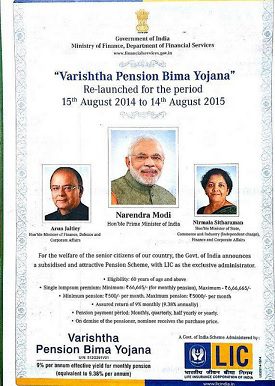 Features-
Minimum age for entry is 60 Yrs.
One time investment of minimum Rs.66, 665 and maximum investment of Rs.6, 66,665.
Minimum pension will be Rs.500 and maximum Rs.5, 000 per month.
It offers a guaranteed return of 9%.
You have various options to choose pension like monthly, quarterly, half-yearly or yearly.
On the death of a pensioner, the nominee receives the invested amount back.
The maximum pension limit is not only for individuals, but also to the whole family. Family for this purpose constitutes pensioner, spouse, and dependents.
The pension will directly credited to your bank account through ECS/NEFT. No cheque issue or you are going to the LIC office to collect a pension.
One can surrender only after 15 years. Surrender value will be equal to purchase price.
However, in case of surrender before 15 years for any medical emergencies of his or spouse, then such surrender value will be 98% of the purchase price.
One can avail loan after 3 years. The maximum loan will be 75% of the purchase price.
Loan interest will be adjusted to pension payment. However, one can settle principal at settlement time.
So is it good retirement product?
1) This plan is available only from 15h August 2014 to 14th August 2015 (as currently declared by Govt). Therefore, for those who already invested somewhere and unable to liquidate it may find it difficult to invest in this plan.
2) Good if one is expecting an interest rate downturn in the future. Because banks can't pay your same consistent amount in the long run. However, here it is fixed irrespective of interest rate fluctuation.
3) Whatever you get from this plan as pension will be taxable income. Therefore, you need to consider a post tax return than simply opening your eyes at 9% interest.
4) This pension will not take care of inflation. So, irrespective of the raise in expenses, you receive a constant stream of income.
5) This good for those who look for safety (Govt's sponsored and managed by LIC), constant stream of income or who not care about inflation at their retirement life.
7) Setting a maximum limit of Rs.5, 000 per family is somewhat difficult to manage at the current trend of inflation and if pensioners have some health complications.
8) The best option is of payment directly to one's bank account.
9) Liquidity is not an issue after 15 years. However, before 15 years, it will be only for health emergencies. So it will be hard for pensioners until 75 years of their age if they have some other emergencies.
10) Even though loan is available, but it eats the interest part and as it is adjusted for pension again reduce the income stream.
What do to?
Don't invest in this product if you are concerned about inflation.
Don't invest in this product if you need cash before 75 years of age as you have option to liquidate it only in case of medical emergencies.
Don't invest in this product if you know how to manage your retirement corpus.
Don't invest in this product if you are unable to manage your expenses with Rs.5, 000.
Don't invest in this product if your family retirement corpus is more than Rs.6, 66,665.