Recently, ICICI Pru Life launched new online term insurance plan "ICICI Pru iProtect Smart". This plan is called as one of a comprehensive term insurance plan in the market.
This plan I think combines all the features a term plan must have. Premium payment flexibility (Single, Yearly, Half-Yearly, or Monthly), Maximum Term of up to 40 Years, Riders like Accidental and Critical Illness, and a variety of benefit amount payment option.
Features of ICICI Pru iProtect Smart
Below are some silent features of this plan. You notice that accidental and critical illness riders maximum limit is not disclosed and I feel depends on individual cases.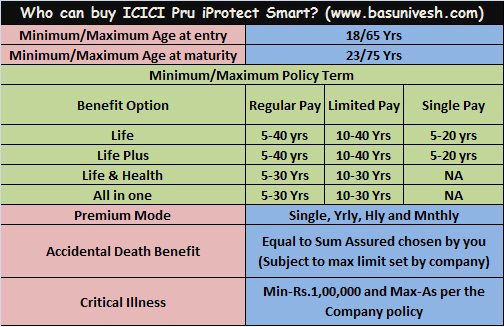 It is a pure online term plan.
Coverage against death, terminal illness, and disability.
Provides riders like accidental and critical.
Special premiums for women.
Covers s female organ cancers such as breast cancer and cervical cancer.
You can enhance the sum assured at the later stage based on the increase in financial responsibilities, like your marriage, the birth of a first or second kid.
Different benefits payout options.
The surrender value is applicable only to Single premium policies. You can surrender policy and get the surrender benefit. This is calculated as-Surrender Value = (Single Premium*Surrender value factor/100)
Benefit options of ICICI Pru iProtect Smart
First, let us look at the benefits options this plan provides.
Life-Nominee will receive the benefit only in case of death of a policyholder, terminal illness of policyholders. Along with that, if the policyholder diagnoses with Permanent Disabilities (PD) due to an accident, then the future premiums are waived off. The policy will continue as usual without any premium payment from the policyholder.
Life Plus-Along with "Life" option, this option provides you accidental rider benefit.
Life & Health-Along with "Life" option, this option provides you critical illness rider benefit. It covers around 34 major illnesses. The list of this is available HERE. The policyholder will receive the full benefit irrespective of the actual cost of treatment. This benefit can be exercised only once during the policy period. Once the CI benefit paid, then the policy will continue as usual (without CI rider benefit). Please note that, if the CI benefit and death benefit (SA) opted are equal, then after the CI benefit payment, the policy terminates there itself. In addition, if the incident is covered under accidental rider as well as in CI rider, then policyholder will receive the benefit from both the features.
I tried to explain the same in a simple graphical way as below.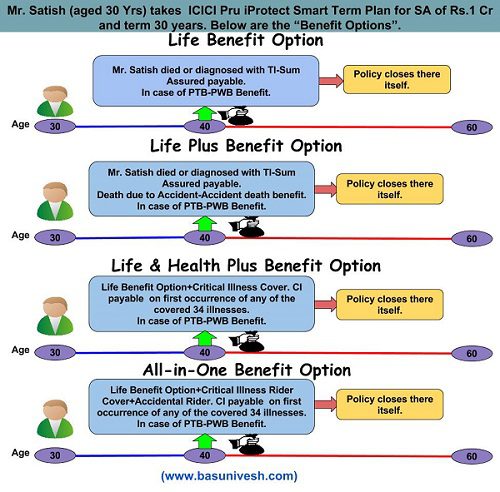 I assumed that incidents of death or terminal illness occurred at 40 years of age.
Critical Illness is equal to death benefits sum assured.
What is Terminal Illness?
It is an illness, which is highly likely lead to death within 6 months. It must be diagnosed and confirmed by medical practitioners' registered with the Indian Medical Association and approved by the Company.
Death benefits payout options–
This plan offers three types of payout option of benefits. These are explained in below image.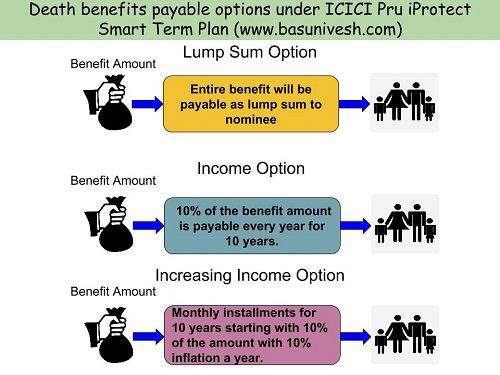 ICICI Pru iProtect Smart premium illustration–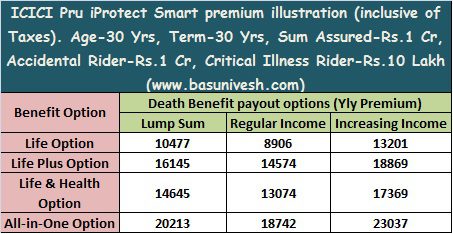 Look at the premium chart once. You notice that the cheapest option is for "Regular Income" and costliest one is "Increasing Income". Regular Income option is cheap because they keep the death benefit with them and pay you yearly for rest 10 years. However, Increasing Income is costliest-Because they have to pay 10% per year for 10 years with the increase in inflation at 10%.
If you wisely educate your nominee about how to utilize the claim amount, then your family will have control over money and they are capable of handling any emergency. However, in regular income and increasing income option, they don't have control and further liquidity. In case of emergency, they can't withdraw the additional money from this death claim.
Life Stage Protection feature–
Along with all these features, ICICI Pru iProtect Smart offers "Life Stage Protection" feature. You can increase the sum assured when you reach the important milestones of your life. The details are as below.
Marriage-You can increase another 50% of additional death benefit available to original death benefit (maximum limit is Rs.50, 00,000).
Birth/Legal adoption of 1st Child-You can increase another 25% of additional death benefit available to original death benefit (maximum limit is Rs.25, 00,000).
Birth/Legal adoption of 2ndt Child-You can increase another 25% of additional death benefit available to original death benefit (maximum limit is Rs.25, 00,000).
The premium for this enhanced death benefit will be calculated based on the increasing sum assured and remaining policy term. This feature is available ONLY for LIFE OPTION.
My take on this plan–
Don't wait, but buy the PURE ONLINE TERM PLAN immediately.
Each feature of this plan is charged indirectly. So never ever, think that it is a free add-on. However, think whether there is a necessity of adding features.
There are many limitations in the case of a critical illness rider. Hence, I suggest to go for standalone critical illness insurance than buying as a rider. Buy this insurance only in case you have a family history of such diseases. It is one the complicated rider or insurance, which hardly understandable to the common person.
In this plan, an accidental rider will be an option only in case of DEATH due to an accident. If you met with an accident, then maximum benefit you can opt is PWB and that too in case of permanent total disability. However, you will not receive any compensation if you are bedridden. This is the reason, it is always best to go for standalone accidental insurance rather than riders with life insurance. In case of standalone accidental insurance plans, you get benefits based on the disability %, which is not the case with accidental rider.
Critical Illness option is payable only once during the life of the policy. Also, if your critical illness rider is equal to sum assured you offered in the basic plan, then after the payout of critical illness the plan ceases there itself. Therefore, at the later stage, you may have to survive without any life protection.
In case of benefit payout options, I suggest to go for a lump sum and at the same time educate your nominee or family members of how to use the claim amount wisely. If not educate your family about how efficiently they can use the death claim, then it is WASTE TO BUY TERM INSURANCE. Because, in your absent anyone can trap your family and create a bad investment choice for your family. The two other options "Income" and "Increasing Income" options are good only if you feel that they can't handle money and along with that they have enough emergency cash to meet any emergencies.
The enhanced feature is only for marriage and up to 2 kids. What if you have other financial obligations like your spouse education, kid's education, or some other financial goals? One will not enhance his term insurance only because of marriage and kids. But there are many other financial obligations which we can't predict. The enhancing feature has restrictions on the sum assured and available with LIFE OPTION only. Hence, I think this just eyewash.
Considering all these factors, what I feel is buy pure standalone lump sum payable term insurance. I think, ICICI launched this plan just to be in this competitive market as other insurance companies offering lots of add-on features to their term insurance plan.