I am happy to share with you all that today BasuNivesh completed 4 years. A small journey started four years back is now a big success in my life and way of learning about personal finance.
It is a great leap from zero to now around 3,00,000+  page views per month. I started this blog when I was about to complete CFP. First one year was too hard. Because I neither know how to write nor the technology called SEO. Slowly learned many things on my own. I still remember that if in any particular day blog page views reached around 300-400, then that was my big day.  
Gaining the faith of readers and my clients is not an easy task. Blog started to pick slowly and also the client base. Now I proudly say that I have a client base across the globe. Also, I never met my clients personally. I meet majority of my clients through email communication, using hang out and skype technologies. It is the faith and trust that is working for me and I promise that I stick to that ethics and trust.  
Some comparison of statistics of blog from Dec, 2014 to Dec, 2015 are as below.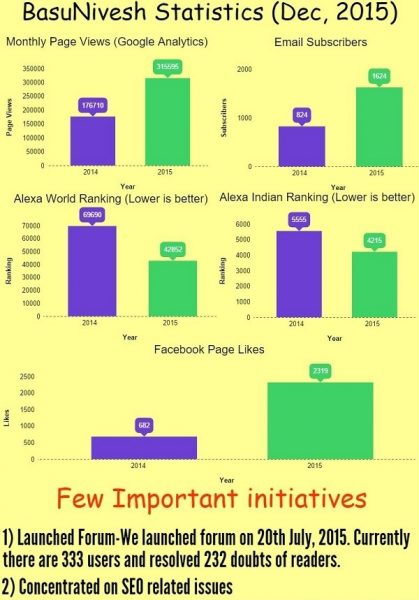 Last year's few top posts, which I liked to write them.
What I learned from Blogging in the last year?
Readers promoted me and supported when I came with new ideas and at the same time, they were harsh when they doubted in some cases. For example, when I wrote a post on a product review, I found many have doubted that I may be promoting. However, I never did that and never will do that in future. I received so many offers to write a content, which is paid by some financial institutes. However, to be loyal to my readers and sticking to my ethics, I rejected the offer. 
What am I looking forward in the next few years?
I am planning to launch BasuNivesh App and online portal, where investors may find it easy to compare products. 
Hope in coming years you all support and encourage me to learn and share more about personal finance.
Any suggestions for improvement??