It is hard for PPF investors to find the online calculator, which can calculate your goal, choosing investment options like lump sum or monthly and withdrawal options or post 15 years how to use a calculator. However, what if all these will be available in one excel?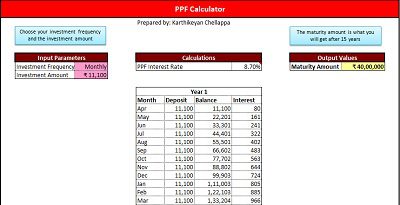 Yes, once again, Mr.Pattu with the help of Mr.Karthikeyan Chellappa created an excel sheet which can answer all the above requirements. Let us see what you can do with this excel sheet.
1) Goal Calculator-
On this page, you need to enter the maturity value you required and the current PPF investment limit. Then go to a PPF calculator page where you need to enter the investment frequency along with interest rates. Once you do this and press on "Click on me" tab, then the result will show you the required monthly, quarterly, half-yearly or annual investment.
Therefore, to arrive at your target amount from PPF, you can easily calculate and set your investment goals.
2) PPF Calculator–
This page will totally display you the each year investment details, accrued interest, and total balance amount at the end of each year. This sheet will show you the result up to 15 years.
3) PPF Tracker–
On this page, you have an option to choose date on which you want to invest like before 5th of a month after the 5th. Along with that, you can change the investment amount (which is not possible with PPF Calculator), the rate of interest for each year and maximum limit per year for PPF. You can make these changes until 15 years to arrive at the result.
This sheet will also automatically show you the loan and withdrawal availability for each year based on PPF rules.
4) Post 15 years Tracker–
This tracker is exactly like PPF tracker, but you can use this sheet only in case you have extended the PPF investment tenure after 15 years. The rest of the features are exactly like what you find in PPF Tracker sheet.
So overall, this PPF calculator will give wonderful features to all who is looking for PPF investment. You can find such interesting calculators from Mr.Pattu's website www.freefincal.com. The beauty of all these calculators is that they make you start to think about money and all are free to use 🙂
Download the Excel PPF Calculator.