EPFO launched providing Universal Account Number (UAN) to its members. This will be one of the major steps EPFO provided. With this facility one can download online passbook, update their profile, transfer account or view previous details.
Latest News-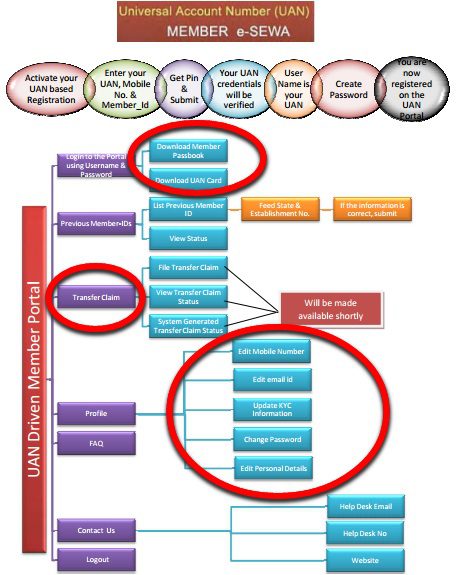 Universal Account Number or UAN act as a unique number to each member under which you have multiple IDs allotted by your employer will be tracked. Suppose if you join a new company then you just need to submit a UAN number to your employer. You can now get this UAN number from your employer. Because allotting of UAN already started.
The main purpose of this unique number is to provide access to employees to have a view of his/her profile and access the services like viewing profile, changing profile, download online passbook, or request for transfer. To avail such facilities you need to create a login by visiting UAN Homepage. Follow this LINK to verify whether UAN is allotted to you or not.
The advantages of creating Login to UAN
You can download or print your latest passbook.
From now on you can directly download or print the passbook by UAN Portal. Once you login to account, then there is a section for download. From there you can easily download the PDF format of passbook.
Download or print your UAN card.
As I said above, you can download your UAN card, also by clicking on a download link on the website.
Check your member IDs under your UAN.
Here you can check out your previous member ids allotted by your previous employer. This simplifies your EPF details also to check whether the particular account is eligible for transfer or not. However, in the future there will be no further member ids. Only UAN number is enough to track your all EPF details.
You can update your profile, which sometimes wrongly entered by your employer.
You can update your mobile number, email id and can submit the documents required for KYC.
The same features are highlighted in the above image. The process of creating your account and how you can use this feature is mentioned in the above image. For further information you can check out this MANUAL.
If you have any further doubts then you can contact EPFO.
Helpdesk Contact Number-1800 118 005
Helpdesk Email Id-uanepf@epfindia.gov.in
Or else you can check it out the FAQs.
Hope this service will simplify all sorts of service related issues.