Few days back NTPC came with Tax-Free Bonds and it was almost oversubscribed within few days. Now it is the time of PFC Tax-Free Bonds 2015. The issue will be open for subscription from October 5th, 2015 and closes on October 9th, 2015. Let us look at it's features, review and benefits.
You might have heard about how there was a buzz about recently closed NTPC Tax-Free Bonds 2015. On the first day itself, it was pre-closed. As against the subscription offer of Rs.700 Cr, the bids received was almost around Rs.7,700 Crore. It was almost oversubscribed for around 11 times. But the retail oversubscription was around 6 times.
Why there is such a huge rush towards these tax-free bonds? The reason is, all are in anticipation that RBI will reduce the interest rate. This will definitely harm the individuals who fully depended on a fixed rate of investment. Hence, by locking their money in such tax-free bonds, they want to get the benefits of yield. Because, whenever there is a fall in interest rate, bonds will always give you higher returns, especially if the duration is long. Higher the duration means higher the benefit. But this higher benefit always comes with higher volatility also. Who cares??
Let us first discuss the company. What is PFC or Power Finance Corporation?
PFC is a Navratna Company and a leading power sector, public financial institution and a non-banking financial company providing funding and non-fund based support for the development of the Indian power sector. The company offers various financial products, namely Project Term Loan, Lease Financing, Direct Discounting of Bills, Short Term Loan, and Consultancy Services, etc. for various Power projects in Generation, Transmission, and Distribution sector as well as for Renovation & Modernization of existing power projects. The funds raised through Issue will be utilized towards on-lending to infrastructure projects.
Features of PFC Tax-Free Bonds 2015–
As I said above, the offer period starts from October 5th, 2015 and closes on October 9th, 2015.
These bonds are rated AAA by CRISIL, ICRA, and CARE. These ratings are for this FISCAL YEAR. Do remember that these ratings tend to change based on the company finance. Hence, never be in a wrong belief that current AAA rating by these rating agencies will be forever up to your bond period.
Coupon Rates for Retail Investors are 7.36% for 10 Years, 7.52% for 15 Years and 7.60% for 20 Years.
The interest will be payable on yearly base and there is no TDS on this. Woow…no TDS means greater opportunity 🙂
Each bond face value is priced at Rs.1,000.
Minimum investment is Rs.5,000.
These PFC Tax-Free Bonds 2015 will be issued based on first come first serve base.
You can hold PFC Tax-Free Bonds 2015 in Demat as well as the physical format too. In NTPC Tax-Free Bonds 2015, you are eligible to hold only in Demat format.
The bond will be listed in BSE after the issue. This means, if you want to sell it,  then you can do it in BSE.
NRIs are also eligible for this subscription.
You can nominate while subscribing for bonds.
In below images, I outlined the features and also the effective interest rate for each individual.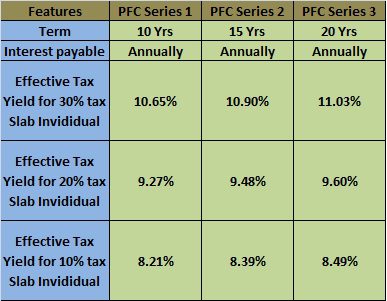 Whether you can invest or not?
Those who are fond of SAFETY, CONSTANT INCOME, and LONG TERM INVESTMENT can go ahead with such products.
These are long term investments. Hence, don't run behind the hype of interest rate cut and short term benefit. However, think of the effect on holding such bonds till maturity. Because the same current interest rate trend may not be there after a few years.
Never believe only on RATINGS. They are dynamic in nature. Hence, understand the risk involved rather than blindfolded following ratings.
In my view if you are in need of constant tax-free income then go ahead. However, if your goal is to accumulate the wealth, then I don't think it is a good idea. Because the interest payout is annual. If you don't wisely use this interest received, then you may end up in losing the compounding effect.
There is no tax benefit while investing. Hence, you can't claim deductions like under Sec.80C. Interest is totally tax-free ONLY if you held till the maturity. If you sell in a secondary market, then you are liable to pay capital gain taxes.
There is a huge recommendation that higher tax bracket individuals MUST invest. But investing without a proper goal is a disaster. Hence, never concentrate only on one aspect of TAX-FREE, but align your investment to your financial goals.
Our posts related to bonds-