Yesterday (30th September, 2015) CBDT issued a notification regarding the new format, procedure and simplification of a process for new Form 15G & Form 15H. This will come into effect from 1st October, 2015. Let see the changes.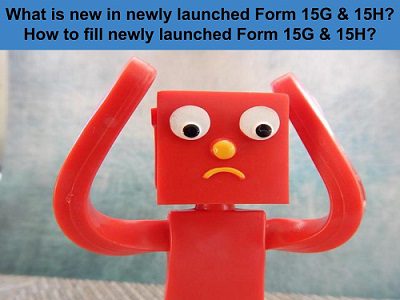 What are the changes in a new Form 15G & Form 15H?
PART I
In the new form, third field is status, where you have to mention as an individual or a person (other than a company or a firm). In old form, the third field was Assessment Year, which is currently replacing with Previous Year in current form field 4th. There was a huge misunderstanding for common people to differentiate between what is Assessment Year and Previous Year. For example, for Financial Year or Previous Year 2014-15, Assessment Year will be 2015-16. To avoid confusion, AY was removed and Previous Year is inserted. You have to mention the current year while submitting the form. That's it.
You no need to mention the AO and Ward details. Many individuals find it difficult to identify their respective Assessment Officer or Ward to which they belong. Hence, this time there is no such headache.
Next change is the 15th field where you have to mention the last assessment year if assessed in out of six assessment years preceding the year in which the declaration is filed. This condition is newly introduced.
Earlier there we separate fields to mention the estimated income for which you are filling the form like dividend or interest income. To avoid the confusion, such classification is removed and you just have to mention the amount of such estimated income for which you are filling the form in the field of 16th in a new form. 
Earlier you no need to fill the number of Form 15 submitted in a year. Now it is mandatory to show all the details of such Form 15G or Form 15H you submitted in the 18th and 19th field of PART I.
That's it!! NO MORE SCHEDULES LIKE SCHEDULE I TO SCHEDULE V.
PART II is as usual meant for deductor. Therefore, you no need to worry about that.
What is the new procedure to submit new Form 15G & Form 15H?
The biggest advantage is now you can submit Form 15G and Form 15H ONLINE. Both facilities are provided. Hence, according to your comfort, you can submit either online or offline format.
The deductor (for example Bank) will not deduct the tax on it.
The deductor will issue the UIN (Unique Identification Number).
The rest of all procedures are meant for deductor only like, deductor furnish the declaration forms and UIN in the quarterly TDS statement and deductor will retain such Form 15G and Form 15H for the seven years.
Therefore, in my view the biggest relief is ONLINE SUBMISSION, removal of unnecessary complications in forms like filling your AO and Ward details and getting UIN for further reference.
In the below video, I explained about how to fill the new Form 15G and Form 15H.

Hope this video and above-mentioned points will ease your life in filling this form 🙂
Read more about TDS from our earlier posts-