Finally, LIC come up with much-awaited children's plan. This plan is called New Children's Money Back Plan (No.832). Let us see its features.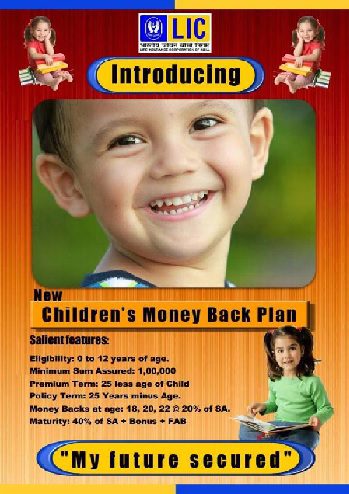 It is typical non-linked money back plan. Features of this plan are explained below. LIC claims that this plan is designed to meet the educational, marriage and other needs of growing children. In this plan life risk will of the KID. Therefore, your kid is life assured in this plan.
Hardest and worst part of this plan is planning for kid's death !!! Life Assured is a KID. Being a parent, do I imagine my kid's death and buy this plan? NO…along with that I know loosing kid is a huge emotional effect on parents. However, there will not be any financial burden on parents. Because none of them will be depend on kid financially. Usually we buy insurance to protect our kid's future in case of parent's untoward death. However, in this plan it is different. So first, make up your mind whether to buy this plan thinking that death will occur to your KID during the policy period.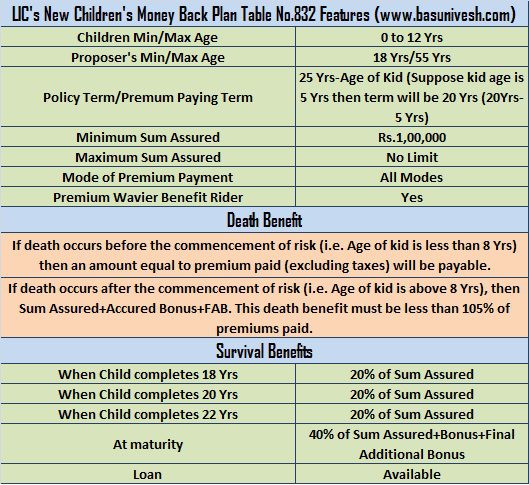 To me it looks like the simple money back plan, which is launched as children plan. As I said above life risk must be on the parents. If something happens to the parents then whole life in the kid's future will get affected financially. However, in this plan life risk is on the kid. Being parent do you feel it is good to plan for your kid's death and encash on it?? 
Along with that, this is the typical endowment plan. Therefore, returns will be around 5% to 6%. LIC claim this plan is useful in a child's future is totally a gimmick. When current education or marriage expenses are as high as around 10%, how parents can sustain by investing in such a plan? God can only protect them. 
I will not look into other features like by taking an example of a person and calculating how much you get from this plan. Because this plan fails to attract the basic need. Hence, this is a pathetic plan with the gimmick of CHILDREN PLAN. 
Please read my earlier post "Child Insurance-Is it required?" which makes my point more clear.
I may get a few harsh comments from few agents or supporters of LIC. However, one must understand the basic need of insurance or investing in the name of the kid.