Soon one more new plan is going to be launched by LIC in March 2015. This time again an endowment plan with limited premium payment option. This plan is called LIC's Jeevan Lakshy (Table No.833). Let us see its' features.
This is nothing but an endowment plan, but with only additional features being the premium payment option and unique death benefit. Below is the plan feature of this plan.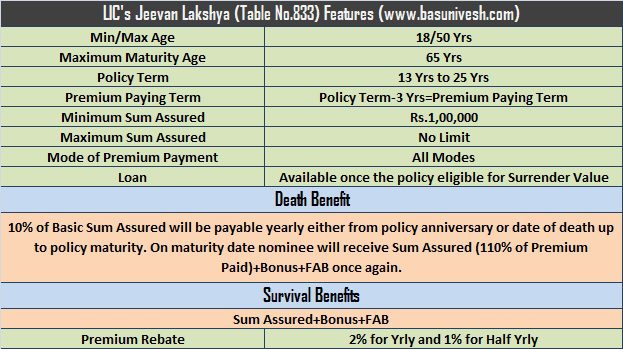 Along with these features, LIC also offers two riders to this plan.
1) Accidental Death and Disability Benefit Rider-This is exactly like accidental insurance of what you get from General Insurance companies, but with some limitation on the maximum sum assured.
2) New Term Assurance Rider-It is like opting higher sum assured life risk by paying additional premium.
I am against these two. The reasons are, in case of accidental death and disability rider, this feature has many limitations. In case of a term assurance rider, I prefer pure term insurance. So no great deal in opting these two riders.
Is it a great product to invest?
As usual, I have many reservations against this policy. I listed positives and negatives as below.
This is the typical endowment plan. Therefore, returns will be around 5% to 6%. Can any agents differ and say that returns will be more than 8% to 9%? I know all agents accept it.
They pitch you this product in the name of IMPORTANCE OF INSURANCE. However, this neither meets any insurance requirement nor beat even the inflation.
They pitch you this product in the name of GUARANTEED RETURN. However, what is guaranteed in LIC policies? Bonus varies yearly. Guaranteed benefits are nowadays same after new IRDA rules. So do not go behind this tagline called GUARANTEED BY LIC.
This plan claims to be limited premium payment. However, offers only less than 3 years of the policy period. So what is the use?
The only feature, which looks attractive to me, is the death benefit. This I never saw in earlier plans. However, do remember that 10% of Sum Assured payable yearly means what will be post inflation? Suppose you buy this plan considering your current affordability of premium (Because this is not cheap term insurance plan. Instead, a typical insurance+investment plan. So you have to check your affordability) like Rs.10, 00,000 Sum Assured. Let us say after a few years you die and immediately your nominee start to receive Rs.1, 00,000 yearly till maturity of this policy. Whether this is suffice for the next years? Because this will not take into considering the inflated cost of each year. They simply pay 10% of Sum Assured irrespective of inflation or other requirement. So be cautious of being in this trap that you get double benefit if you die (Once in a yearly payment and second maturity benefit).