LIC soon launching one more child plan called Jeevan Tarun (Table No.834) from the month of May 2015. It is typical non-linked, with-profit and limited premium payment option. LIC claims that this plan is suitable to meet the educational or other needs of growing children.
Below is the eligibility for buying this plan.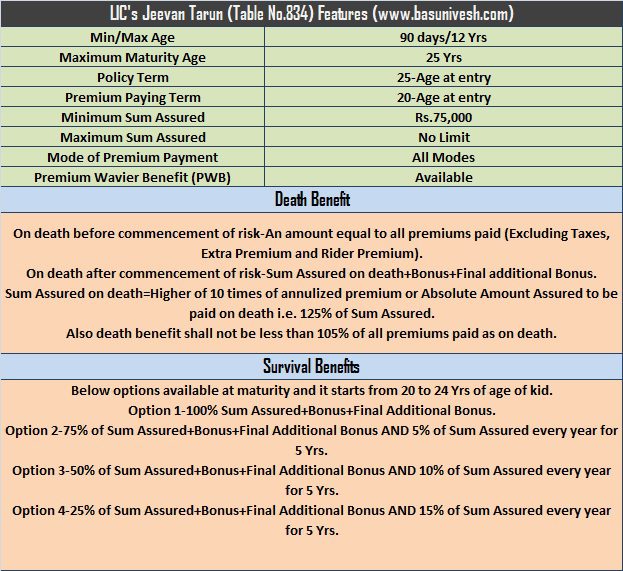 What do you mean by Date of commencement of risk?
In case the age of entry Life Assured is less than 8 Yrs, then risk under this plan commence either one day before the completion of 2 years from the date of commencement of the policy or completion of 8 years of age, whichever is earlier.
For those aged 8 years or more, the risk will commence immediately.
What do you mean by Premium Wavier Benefit (PWB)?
If the proposer (in this plan, parent) opts for PWB then in case of death of the proposer, future premiums will be waived off. Means, you no need to pay future premiums. This benefit will be offered based on the proposer's age, personal declaration and other related documents.
If proposer commits suicide within 12 months of policy commencement, then this benefit will not be available. In addition, this benefit ceases in case of lapsed/paid up condition.
Whether you have to buy this plan?
As I said in my review of New Children's Money Back Plan (Table No.832), here also the life risk is on your kid. So think twice whether Life Insurance required for your kid or not. LIC is offering PWB benefit. However, the life risk will be on your kid.
Life Insurance coverage required on the earning member who has financial depends. In this case, it is on kid's name. Strange but few falls to trap as this is called children plan. If death occurs to parents then kid's future education or marriage goals affect. However, if death occurs of the kid then parents will not suffer any financial loss. Hence, Life Insurance must be on parents, but not on the kid.
As of now, the premium chart is not available. However, this being a typical endowment plan, I expect a return of 6% to 7%. Currently, education inflation is hovering around 9% to 10%. I feel this plan will not generate enough wealth to meet your kids' education goal. Think twice before proceeding to buy this plan.
The only new feature they inserted as unique is survival benefits. Some percentage of the sum assured will be payable to you upfront and the rest will be for the next 5 years as yearly instalment. However, in case you chosen Option No.4 then they immediately pay you 25% of Sum Assured+Bonus+FAB. Rest 75% of Sum Assured will be disbursed as yearly 15% of the sum assured for next 5 Yrs. You notice that remaining 75% of Sum Assured they keep with them and pay 15% yearly up to 5 yrs. However, they will not add a single rupee on this. Hence, it will be idle with them. I suggest choosing Option No.1, where you get the full sum assured. Once you get it, then you can park it FDs kind of product then it will earn some interest than keeping money idle with LIC.