LIC declared it's bonus rate on 6th September 2013. So let us see some big movers and changers this year. Surprising factor this year is the Jeevan Saral. I updated the comparision from my old post to till this declaration. I also highlighted with red colour wherever I found some changes in rates.
Note-LIC declared bonus rates for 2014-15. You can view the details in my recent post "LIC's Bonus rates for 2014-15 and Comparison".
You notice from above table that bonus rates are kept as it is for most plans. But major changes are for plan Jeevan Anand, Jeevan Tarang, Jeevan Shree 1 and Jeevan Pramukh. Hope policy holder will rejoice 🙂
Below is the LA table for Bima Nivesh and Komal Jeevan.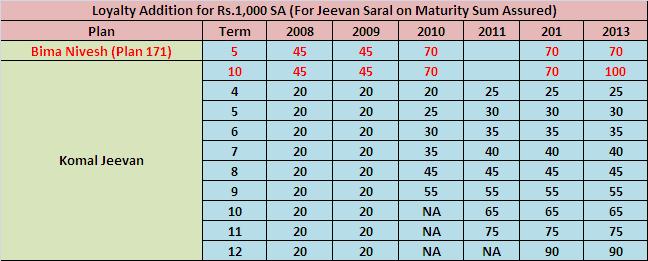 Now the surprising part about LA declaration will be about Jeevan Saral. Last year LA was declared based on the term of the policy. But this year LIC classified LA rate based on term and premium payment slab also. Below is the table showing the same change.

Hope I furnished the full details about the same.