Why we invest in Liquid Funds? We consider Liquid Fund safe and as an alternative to the savings account or to keep our emergency funds right? But what if suddenly Liquid Mutual Fund give 7% negative returns in a single day?
Let us say you invested in a liquid fund as an alternative to keeping your emergency cash of Rs.10 lakh. Suddenly next day it turned to be Rs.9,30,000 means? Shocking right? This incident recently happened with one such liquid fund.
Many of us never bother about the risk involved in our investment. Many of us simply follow the returns or so-called Star Ratings of the portals like Valueresearch, Morningstar or Moneycontrol.
Also, we strongly believe (or may be forced to believe by Mutual Fund Companies, Advisers or so-called IFAs) that Debt Funds are really safe instruments.
However, the reality is something different. We claim that there are strict regulation in mutual fund industry with a big watchdog always on mutual fund companies head.
However, Mutual Fund Companies need fresh cash to run their show. They have to attract investors with fancy returns and fancy fund names. In such madness, sometimes they float the rules in the air and take the risk at a ride.
Advisers, IFAs or Bankers now EYEING on Debt Funds to increase their AUM. So they MAY sell you debt funds as if an alternative to savings account. But hold a caution…
What is Liquid Fund?
Liquid Fund is a type of Debt Mutual Funds, which mainly invest in money market instruments like treasury bills (TB), certificates of deposit (CD), commercial paper (CP) and inter-bank call money, government securities, etc having a maturity of less than 91 days.
As the maximum maturity of all such underlying instruments is 91 days, the average maturity of Liquid Funds will always be less than 91 days.
Therefore such accumulated corpus from Liquid Funds will be invested in such short and secure money market instruments.
Is Liquid Fund Safe and alternative to Savings Account?
Liquid Fund is also the type of mutual funds. Hence, before you judge the safety, you must understand few risk measuring tools or how to identify the risk of debt mutual funds.
I already wrote a detailed post about who can invest and what is the taxation of Liquid Funds in my earlier post "Top 5 Best Liquid Mutual Funds in India in 2017".
Now let us understand few new definitions to know more about liquid funds. For any debt fund selection, I suggest you must give utmost importance to the below-shared information.
Credit Risk-
Debt Mutual Funds invest in treasury bills, government securities, Certificate of Deposits (CDs), Commercial Papers (CPs), bonds, money market instruments and many more. The credit quality of these underlying instruments are measured in terms of ratings.
Usually higher the ratings leads to lower the return or risk. It is a misconception among many that credit risk refers to risk of default by the bond issuing entity. However, the truth is something different.
There is a possibility that the credit rating of a bond or instrument the fund is holding may change at any point of time. Let us say ABC Debt Fund holding the bond of XYZ which is rated as AAA by credit rating agencies (highest rating).
It does not mean that this rating is permanent. It may change at any point of time if the company XYZ's finance changes.
Hence, never be in a misconception that credit rating refers to default risk and also credit rating of bond will NEVER CHANGE.
Modified Duration-
It is a measurement of a bond's sensitivity to movements in interest rates. It is usually measured in years. For example, if debt mutual fund with the modified duration of 3.1% means if there is a 1% interest rate movement then the fund will undergo the movement of 3.1%.
Hence, higher the modified duration means higher the interest rate risk.
Average Maturity-
A debt fund portfolio usually consists of a number of bonds where each could have a different maturity date. Maturity is the time period remaining before which a bond comes up for repayment by the issuer. Average maturity is simply the weighted average time left up to the maturity of the various bonds in a portfolio.
Higher the average maturity greater the interest rate risk of the debt fund.
Now you understood few main terminologies which measure the risk of debt funds. Let us now concentrate on a risk which I am sharing with you in relation to Liquid Fund which fell to 7% in a single day.
Taurus Liquid Fund crashed to 7% in a single day!
See the below images of Valueresearch data for Taurus Liquid Fund.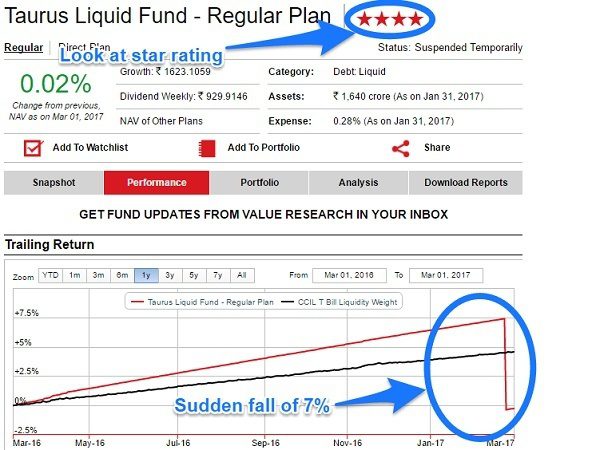 You notice the star rating provided by Valueresearch and also the sudden fall of 7% in a single day. Now let us consider the style box of the fund and other criteria which I discussed above.
You notice the Modified Duration, Average Maturity, and Fund Style Box. All indicates as safe product which holding mainly CRISIL A1 (Instruments with this rating are considered to have very strong degree of safety regarding timely payment of financial obligations. Such instruments carry lowest credit risk) rated underlying instruments.
Then what went wrong with Taurus Liquid Fund?
Credit Risk Rating agency India Ratings, downgraded the Short Term Bonds and CPs of the company called "Ballarpur Industries Limited (BILT)". Earlier A1+ in 2013 and A1/RWE (Ratings Watch Evolving) in 2015 to A3/RWN (Rating Watch Negative) in December 2016 for the commercial paper (CP).
Now the rating agency downgraded the CP NCDs to Ind C as earlier it was IND A3/RWN.
This is the story of degrading the ratings of Commercial Papers of Ballarpur Industries Limited (BILT). As CPs are short-term instruments, I think this Liquid Fund also held such CPs of this company.
The holding as on 23rd February is around 4.33%. However, the fall is 7%. Why such a steep fall when the holding is just around 4%? Only the Fund Manager or Taurus AMC can answer this.
Now let us look at the Fund's holding as on 31st January 2017.
You notice that the total holding of  Ballarpur Industries Limited is 4.33% and rated as A3 (Instruments with this rating are considered to have moderate degree of safety regarding timely payment of financial obligations. Such instruments carry higher credit risk as compared to instruments rated A1 and A2).
The same is explained in pie chart by Taurus AMC in the fund fact sheet of Taurus Liquid Fund.
The factsheet of 31st January 2017 shows that the fund is holding the low rated instruments. Also, if you look at financials of Ballarpur Industries, then you clearly notice that the company is not financially healthy (As per India Ratings-In 9MFY17, BILT reported consolidated revenue of INR16.9 billion (down 44.8%yoy) and consolidated EBITDA losses of INR744 million (INR5.6 billion) with net loss of INR9,037 million (negative INR781 million). BILT reported EBIT margin of negative 12.1% in 9MFY17 in the key paper segment (9MFY16: 16.1%).
But still, the fund manager took the risk of holding around 4.33% of such unhealthy company.
Who noticed this risk?
NONE…Including Fund Manager, AMC, Investors, Middlemen or so-called IFAs and even SEBI. However, many of us (advisers, IFAs, Banks and investors) concentrated on star ratings mainly and invested. This turned to be the classic example of how star ratings really misguide us.
So we have to avoid Liquid Funds?
Now comes the tricky question after reading all the above information. Whether we have to avoid liquid funds as an alternative to the savings account or keeping an emergency money?
In my view, partly YES. Reasons are as below.
# Liquid Funds are not so LIQUID-
Many of us invest in Liquid Funds as if we have the access to cash like savings account. But the reality is, if you requested for the redemption of the fund (before 2 PM), then it usually takes around T+1 days to get the cash.
In such a situation, how can we meet our emergencies?
# Returns not GUARANTEED
When we invest in Liquid Funds, our (many of us) actual intention is to beat the savings account interest rate or short term FD rates. But the reality is that when we are investing our emergency fund, then our first MOTTO should be how much liquid is the product.
In case if you are investing for a very short period (other than emergency fund), then the utmost important should be safe keeping of principal but not expecting higher returns.
After all HIGHER RISK does not mean GUARANTEED HIGHER RETURN.
# Risk involved in Liquid Fund
You noticed from above example that the small portion of around 4.33% of risky exposure resulted into 7% fall in a single day. It is all due to not understanding or not monitoring the fund portfolio.
We not go so deep and verify the underlying debt papers. We simply believe that Liquid Funds are safe. So if you really eager to invest in Liquid Fund, then go deep and understand the underlying papers the fund is investing.
If you are uncomfortable with the quality of paper or the fund manager's risk-taking ability, then simply dump the fund. Study the key information document (KIM) or Scheme information document (SID) to understand risk. Check past factsheets as mentioned above.
After all the art of investment is how to manage the risk than how to avoid the risk.
# Invest only in high rated AAA Liquid Funds
Instead of taking the risk, try to invest in high rated liquid funds. (I already wrote a post on this "Top 5 Best Liquid Mutual Funds in India in 2017"). Such funds or cash management funds may not be high rated by rating portals. However, stick to your basics and safety at first and invest wisely.
# If still confused, then completely avoid Liquid Funds
If you still confused with all these GYAAN, then either take the help of reliable and knowledgeable (the biggest task to identify in the crowd of advisers, IFAs and Banks) adviser and invest.
Otherwise, simply avoid the Liquid Fund and invest in traditional instruments like Bank FDs or RDs. After all your circus of looking for Liquid Funds is to earn a bit better return than these safe instruments.