Today (8th January 2015) IRDA declared Annual Report 2013-14. This report gives you an insight into the Indian Insurance Industry and also let you know which company is top and how the rest of companies are performing.
Note-
IRDA Claim Settlement Ratio 2014-15-Which is best Life Insurance Company?
Top 5 Best Online Term Insurance Plans in India-2016
Term Insurance-Claim Settlement Ratio no more a big criteria
Below is the latest data of claim settlement ratio for the year 2013-14.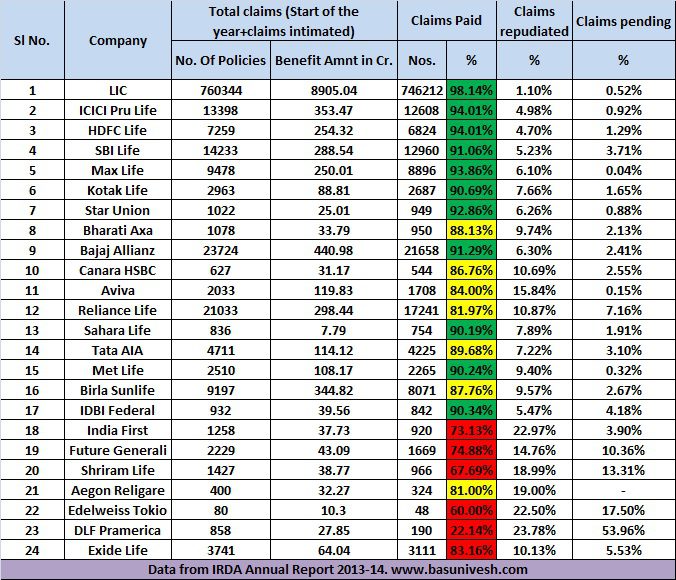 Note-I coloured with green, whose claim settlement is above 90%. I coloured with yellow, whose claim settlement ratio is more than 80% but less than 90%. I coloured with red, whose claim settlement ratio is less than 80%.
You notice that top five companies when it comes to claim settlement ratio, are LIC, ICICI, HDFC, Max Life, and Star Union. You need to concentrate on claim repudiation percentage also. Because, this clearly states the company's acceptance of the claim it receives. Along with that, pending percentage indicates the slowness due to one reason or another.
What are the limitations of this report?
It will not differentiate the type of products, which each company settled like endowment, term insurance or ULIPs.
Reasons for rejection are not available.
Usually settlement ratio increases as the company getting older into this industry. So older the insurance company higher chances of growing it's settlement ratio.
To add my reasoning to above point, usually early claims means the claims which are within 2-3 years of buy. Including LIC, all insurers do a strict scrutiny of such early claims. So there is high probability of rejection. If the insurance company started it's business just 3-5 years back then it may receive all claims under early claims. So rejection may be higher. Ending this as a lower claim settlement ratio.
No guarantee that a company which has the highest percentage of claim settlement ratio not rejects your claim.
This data is for a year. So insurance companies either settled claims within a few days or might have taken less than a year.
Visit my earlier post "IRDA Claim Settlement Ratio 2012-2013-What it indicates?" to compare the report of previous year.
Hope this report will shed some light for you before selecting your insurance company.