Do you know about the recent launch of ICICI's contactless Debit or Credit Card? It is an advanced version of usage and user friendly swapping option. So let us see how it benefits to users and what are the risks involved here.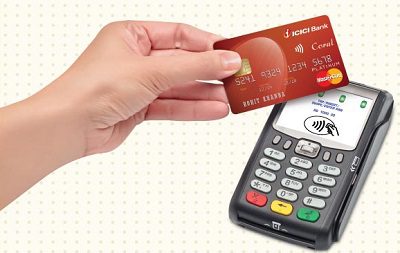 As of now whenever you purchase or pay bills, then you need to swap the card and punch the PIN manually to complete the payment transaction. However, with the launch of the new system called Contactless Debit or Credit Card, you just need to wave the card near the merchant terminal. Therefore, your card is in your hand. This process of waving the card actually increases the speed of payment No duplicates swapping or entering your secret PIN. 
This feature uses the technology called Near Field Communication (NFC) technology for faster payment. Usually these cards have an embedded chip called radio frequency identification or RFID. When you wave the card near the payment machine, which is set up at any shop then the chip supplies the card number and expiry date through radio waves. This avoids you to swipe or enter the PIN. This will enable you to spend more time on buying than being at payment machine. Research indicates that users who used this facility to pay at the payment machine spent around 25%. So more spending time for you 🙂
Currently in India, ICICI is the first bank, which introduced this facility. These cards now available only in Gurgaon, Hyderabad, and Mumbai to begin with. Around 1200 EDC machines capable of accepting contactless payments have been set-up across merchants in these cities. They include restaurants, coffee shops, shopping marts, and fuel stations. The bank's 'Coral Contactless Credit Card' and 'Expressions Wave Debit Card' are powered by 'MasterCard contactless' and 'Visa payWave' technologies, respectively. 
How much safer are these contactless credit and debit cards?
As of now no information available from ICICI like how safe are they. However, if one goes by global trend, then we see few unique features as well as security concerns. Usually these cards come up with limit on each single transaction. Also waving of card will come with certain limits. Like 3 times in a day. If you cross the limit, then the transaction may ask you to enter the PIN. Also during the delivery of such card to account holder, this card will not be in active mode until a standard chip and PIN transaction has been executed. 
However, according to US cyber-security experts, anyone can buy RFID reader easily and start to scan the cards in public without cardholders notice. A detailed explanation about the risks is available here. Your banker may take the responsibility of fraudulent transactions made using these cards. However, they may not be liable for any identity theft that contactless card of REID technology faces.
In my view, it is too early to discuss how ICICI will answer these questions. Instead, I may say that it is a technological revolution in India.