Long back I wrote a post on the various ways of investing in Gold. However, now many platforms available to invest in gold. Hence, thought to write a post on how to invest in Gold in India online and offline.
In this post, I am highlighting the options to invest in Gold in India online or offline. I try to explain the positives and negatives of each such options. Here, I am not going into the discussion of whether gold is best investment option or not. For me, I never recommend gold as an investment. But others may have a different opinion. However, as a personal usage, you must look for ways of acquiring it.
Before proceeding further, let us understand as Indians where we stand in overall world's gold demand. Recently World Gold Council published a quarterly report. Based on that, jewellery demand for last quarter was down by 19%. However, combined Indians and China's demand is more than half of the overall world's gold demand for jewellery.
Demand during the first quarter of 2016 hit a seven-year low of down by 41% (Year on Year Decline). This may be due to strike by jewellery shops and raise in price. Below is the chart which displays the overall gold jewellery demand of India and rest of world.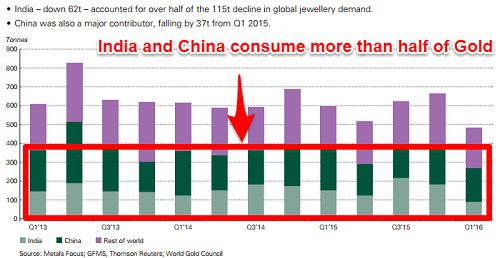 This data shows how much fond of gold. Government trying to snub this physical gold jewellery buying as it leads to the national trade deficit. However, we are fond of gold and it continues forever.
In this post, I will try to give the options one can use to invest in gold either online or offline mode.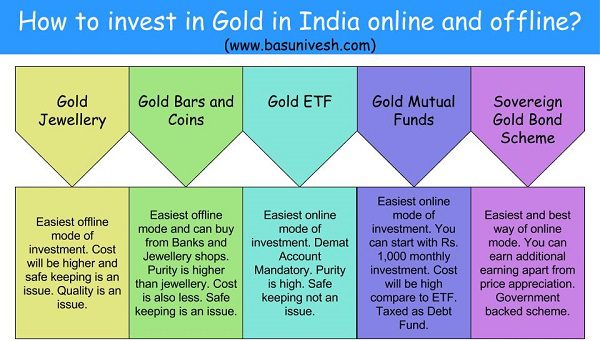 # Gold Jewellery
This is the oldest way of investing in gold for Indians. Here you will be buying gold in the forms of jewellery. The purity of gold mainly depends on the design you chose. Because based on design jewellery shops charge you the making charges and wastage. To know more about wastage and making charges, refer my old post "Gold Jewellery-Are you getting the right value?". However, when you try to sell the same gold, jewellery shops will buy pure gold less of making charges and wastage.
The positives are as below.
Easy to buy. You go to the nearest jewellery shop and can buy it.
You will physically sense the owning of gold.
You can wear it during functions and enjoy it.
You can sell it easily or pledge it also.
The negatives are as below.
Safekeeping is the biggest hurdle.
If you use bank lockers, then also you have to pay the locker charges.
Making charges and wastage actually diminish the value of money you invested.
Purity always in question, no matter wherever you buy it.
# Gold Bars and Coins
This is another way of buying physical gold. It is best option if you are planning to convert these bars and coins in near future as jewellery. Usually, banks and jewellery shops sell such bars and coins. Purity will be bit higher than the jewellery buying. Because there is no such wastage or making charges here. Usually, they are in standard weight like 5 gm, 10 gm or 50 gm. Selling is the biggest hurdle here. Because even though banks sell these bars and coins, but they will not buy back. You have to sell such bars and coins only in jewellery shops.
The positives are as below.
Higher purity than jewellery.
You can gift the coins and bars.
Easy to buy.
The negatives are as below.
Banks only sell but not buyback. Hence, you have to approach the jewellery shops to sell.
Physical safe keeping is an issue always.
Converting these bars and coins to jewellery will again cost you.
Selling always will be at lesser than the market price. Hence, your returns will go down.
# Gold ETF (Exchange Traded Funds)
The above said two options are offline ways of investing in gold. However, Gold ETF is an option to invest in Gold in India online. You must have demat account to buy or sell. The minimum quantity you can buy is 1 gram. These are like you buy stocks in the stock market. Here the cost buying is the broker charges and demat account charges. Apart from these, there are no other charges.
The positives are as below.
Safest way of investment.
Cost effective than the above said offline mode of investment.
Accumulation of gold for a long term is easy.
It is a regulated market, unlike the jewellery market.
No question of making charges and wastage.
Purity at the highest level.
Tracking your gold investment is easy.
The negatives are as below.
You can't see it. So you may not feel your GOLD.
Recurring expenses like fund charges and demat charges.
Sometimes you feel liquidity issue when you will not find any buyers.
# Gold Funds of Funds (Mutual Funds)
These are mutual funds who invest in Gold ETFs. So XYZ Gold Fund invest in ABC Gold ETF. The advantage here is the minimum requirement of investment is even Rs.1,000. Demat account not at all required. So by using Gold Mutual Funds, you can invest in Gold in India online. Here purity will not come into the picture. Because these funds usually not hold GOLD, but they invest in the Gold ETFs.
The positives are as below.
No demat account requirement.
You can invest a minimum of Rs.500 per month.
You can invest ONLINE.
Liquidity is not an issue.
You can opt for monthly SIP.
The negatives are as below.
This is being the Fund Of Fund (FOF), the cost will be higher than Gold ETF. Because you have to incur the cost of Gold ETF as well as the Gold Fund too.
It is considered as debt fund for taxation.
# Sovereign Gold Bond Scheme
This scheme was actually launched to avoid the physical buying of gold. Your purchase will be in terms of bonds. Along with price appreciation or depreciation, you will also get the interest on your investment. Denominations of the bond will be 5, 10, 50, 100 grams of gold. You can buy this scheme bonds from Banks/NBFCs/Post Offices/ National Saving Certificate (NSC)agents and others, as specified. They are the point of contact for buying and redeeming the bonds. This is the one more way to invest in Gold in India online.
The positives are as below.
No need of safekeeping and worry about robbery
You get interest income (may be around 1% to 2%) from this investment (which in my view be taxable).
Along with interest income, you will get the benefit based on the price movement of gold price.
In my view, it is best to invest in this bond than whoever planning to invest in an ETF. Because there are expenses and Demat holding costs to ETF, which is not in this bond.
A sovereign guarantee of the Government of India will feel you SAFE.
The negatives are as below.
Before jumping into an investment, think whether a gold investment is really a worth. Because Gold will give you a return of debt products with volatility as much as that of equity.
KYC requirement may hurdle for the few who feel no necessity of such KYC while buying physical gold.
In my view, this is not a game changer. Because many buy gold from unaccounted money. So they may still stay away from such scheme.
Do remember that this bond is backed of Government of India. But it does not mean that this will fetch you positive returns. If gold prices fall then you may end up getting a negative return. The only guarantee from Government is about the return of money, but the return on investment. Hence, the gold risk is always on your HEAD.
You can refer the features of this product from my earlier post "All about Sovereign Gold Bonds Scheme".
# Gold Futures
This is purely for trading purpose but not for investment purpose. Because each future is a contract and if you not square off the position you are holding, then it will automatically get squared off. Also, understanding the future market is not easy for all. Because gold price movement in F&O market moves not only on the basis of demand and supply but a lot on international news. Hence, it is not an investment but a trading tool.
I tried to cover all options available in India of invest in Gold in India online and offline. If you find more interesting options, then you are free to add.