I receive many queries of how to update or correct EPF UAN details online or offline. Because may might forget their password, changed phone number, changed address or some issues with EPF UAN. So let us understand it in detail about this problem.
Update (24th November 2017):-Many readers found that UAN Helpdesk not working many times and the only option left for them to correct UAN details is through an employer. However, EPFO came up with a solution and now EPF UAN name, gender and date of birth correction can be easily completed online itself using the Unified portal. Refer the post for the same "EPF UAN name, gender and date of birth correction – Online procedure".
Note–
EPF UAN Unified Portal-Now you can download EPF Passbook/UAN Card in a single portal instantly. Also, you can change your email and mobile number linked to your UAN. Refer the complete details at "How to download EPF Passbook and UAN Card online instantly?".
Let us recap of what is EPF UAN?
I am quoting the same lines of what I wrote in my earlier post about EPF UAN.
Universal Account Number or UAN act as a unique 12 digit number to each member under which you have multiple IDs allotted by your employer will be tracked. Suppose if you join a new company then you just need to submit a UAN number to your employer. You can now get this UAN number from your employer. Because allotting of UAN already started.
The main purpose of this unique number is to provide access to employees to have a view of his/her profile and access the services like viewing profile, changing profile, download online passbook, or request for transfer. To avail such facilities you need to create a login by visiting UAN Homepage. Follow this LINK to verify whether UAN is allotted to you or not.
You can read more about it from below link.
Now let us first know of how one can update or correct EPF UAN details online.
EPFO started an online portal to update or correct EPF UAN details online. This is called as EPF UAN Helpdesk.
Below is the process.
1) Go to EPFO Homepage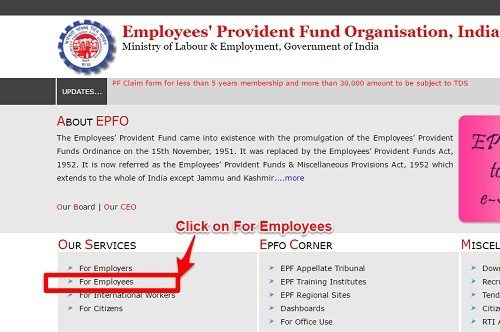 Click on "For Employees"
2) This will re-direct you to the page which looks like below.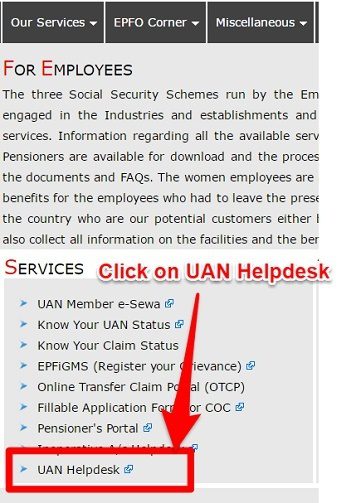 Here, you have to click on UAN Helpdesk.
3) This again will re-direct to the another page which looks like below.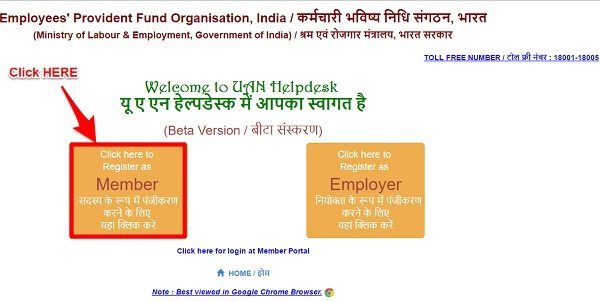 Click on Member section.
4) This will re-direct you to the portal where you have to update or correct EPF UAN details online.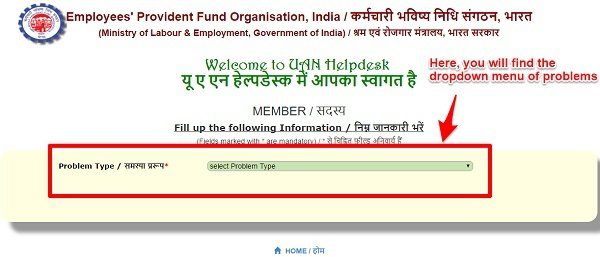 5) Here is the list of the problems which you can update and is shown in below image.
You notice that you can utilize this platform for below services.
# You can get your UAN number if you forgot it.
# You forgot password and due to mobile change unable to get OTP and login to UAN online facility.
# If you entered incorrect details like your name, father name, date of birth or wrong date of joining details etc.
# If details not matching during UAN activation.
# To check your claim status of EPF transfer or EPS.
# To check the status of linking of EPF account and UAN No.
# If your KYC is pending with employer.
# Or you have any other issue which you want to rectify it.
6) For example, if you want to retrieve your password due to mobile change, then the screen looks like below.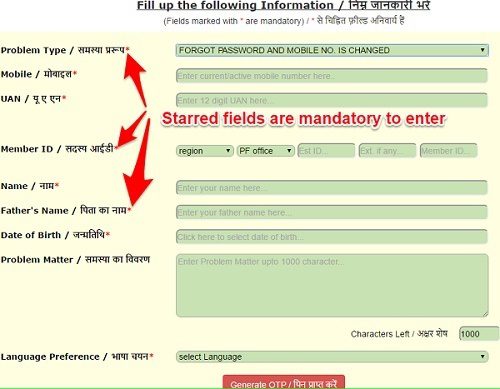 Once you fill the details, you have to generate OTP, which will be send to your mobile number.
7) Then enter the OTP received on your mobile and click verify OTP.
8) This will gives you a reference ID for the request you generated. This ID will be helpful for your future reference.  The screen will be like below.

Now let us discuss the process of update or correct EPF UAN details offline.
# You have to carry on the offline update or correction activity through your employer.
# Submit the request to your employer with supporting necessary documents.
# Employer in return will contact the concerned EPFO Field Office for change.
# But date of birth of EPF account mismatch can be corrected ONLY by the previous employer.
If you have any further queries related to update or correct EPF UAN details online or offline, then use the below toll-free number or email id.
Helpdesk Number : 18001-18005
Helpdesk Email Id : [email protected]
Other related posts of EPF UAN-