How often you check bank statements? Many of us never given importance or habit to check bank statements regularly. But nowadays banks never remain bankable. Hence, we must always be suspicious.
Those who follow me on Facebook and in BasuNivesh FB Page may be aware of this incident which happened to me. Because I shared this in social media. However, I felt it is better to share in a blog post for all to caution about such incidents.
A few days back, when I was randomly checking my account statement, I found this below expenses deducted from my bank account. The explanation was "DD Issuance Charges 29-2-16". I cross checked my bank statement for that date and found that I took DD from HDFC Bank. Also, HDFC Bank issued DD at free of cost.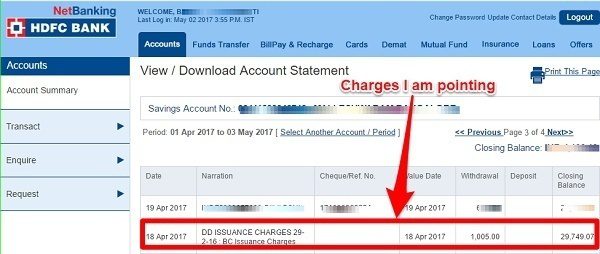 However, I found it surprising that how can a bank now after 1 year and 2 months of DD issued can charge and deduct the money from my account.
Hence, I immediately contacted the concerned relationship manager. He explained to me that it may be wrong. But the branch which deducted the charges will be in better position to explain me. Hence, he requested me to raise the complaint.
I used the [email protected] email and wrote as below.

After few days, I received a call from the Branch Manager of the branch from where I took the DD. He was in no mood to listen my points. Instead, he was proving that Bank is correct. I asked below two questions to him, for which he never answered me.
The DD was issued one year and 2 months bank. Why not the charges deducted during the issuing of the DD? Even if you missed to deduct the charges, then you might have deducted the same within same FY, but here you are deducting in the next FY.
What if I closed my account during this one year and two months period? How might you collect this charges from me?
Finally, he told me that this is the final decision, if I want to knock at a higher level then I am free. Then I took this issue as a challenge. I warned him that it is not the matter of Rs.1,005, even if it is the matter of Rs.10, now I will not keep silence and I will get back whatever the mistake you did.
Then I took social media help by posting this issue in Change.org and also shared the same on my Facebook, Twitter and Google+ Profiles.
In the meantime, I received the email from HDFC as if a patch up work and it is as below.
Dear Mr. Tonagatti, 
Thank you for your patience and co-operation.
This is with reference to your e-mail with Subject line : "Urgent-

DD

 

Charges

 deducted wrongly".
At the outset, we sincerely regret the inconvenience caused to you. 
We understand that our Branch official Dattatraya has contacted you on 05/03/2017 and informed you that the regarding the 

DD

 charges at the time of taking 

DD

 at the branch since the 

charges

 has not been 

charged

 at the time of issuance of 

DD

 and hence we have debited missed 

charges

 recently.
Please write to us for any further clarification or assistance. We value your support and look forward to the continued opportunity of serving you.
In line with our focus and commitment to Customer Service, we trust the issue has been resolved to your satisfaction. If you are not satisfied with the resolution, you may write to us through our website – www.hdfcbank.com/escalation 
However, without delaying much, I raised the issue online again at next level called
Grievance Redressal
. Then within 2- 3days, they called me SORRY for the inconvenience caused and they promised me that they will reverse it within a day or two.
As per their promise, they reversed it to my account.
What did I learn from this experience?
# Banks are never bankable-Earlier we used to believe on banks blindly as if they take care of our money. However, this is fastly changing. The reason is they also come up with a business module called selling. Hence, for their survival, they do anything.
# Check bank statements-Whether you use your bank account regularly or once in a while, it is always best to keep any on all time. Check your statement once in a week if the transactions are more. Otherwise, check the transactions once in a month. If you found any suspicious transactions or charges, then immediately raise the issue.
# Keep one or two banks accounts-Never keep more than 1-2 accounts. If you found the bank accounts idle for a while, then instead of keeping them idle, better to inform the bank and close it. By keeping a minimum number of bank accounts, it makes your life easy to track your money and on such charges.
# You must know whom to contact-Be informed about whom and how to knock when such incident happens. Usually, all banks nowadays display the information on their websites or in their branches. Hence, knocking the right person is the best method than delaying.
# It is not the matter of Rs.1,005 or which bank did it-I am sharing this experience of mine as a live example. It does not mean that HDFC Bank is bad or all other banks are good. Also, it is not the matter of Rs.1,005 or Rs.1. But they must be open and clear with their policies.
Hence, no matter which bank you deal or the quantum of money involved, it is always best to fight for your rights when you notice such unnecessary charges.
Let me know if you too have faced any such experience. Share it in the comment section so that it may benefit to other readers.
Related Posts-