Do you know how your Employees' Provident Contribution will earn interest rate? How the interest will be calculated on your as well as your employer contribution? Let us discuss this issue today.
Latest News-
Before proceeding, let us first understand how and in what way EPF contribution will be considered for interest rate calculation. We all know that if BASIC+DA is less than Rs.15,000 (Effective from 1st September 2014) then both employer and employee contribution will be same. If it is more than Rs.15,000 then you have option either to have this investment or opt out of this investment. Below table will give you how your as well as employer contribution will be distributed if your salary is less than or equal to Rs.15,000. Salary for this purpose means Basic+DA.

But if it is more than Rs.15,000 then it depends on the employer decision like how much your employer is also contributing. Below are a few options which usually followed. But do remember that whatever below option your employer may choose but EPS contribution is fixed as 8.33% and other contributions may change according to consideration.
Option 1-Employer may contribute equal to your contribution.
Option 2-Employer may restrict its share to Rs.15,000 only but your share as 12% of salary.
Option 3-Employer may restrict your as well as its contribution to Rs.15,000 only.
Coming back to the interest calculation method on EPF, lot of EPF members not aware that for EPF accounting year starts from March and ends on February but interest will be credited on April every year. EPF interest is yearly compounding but use the method of "Average Monthly Balance" calculation method. Let us take an example that Mr. Ajay joins the company on 1st June of 2012 with a salary (Basic+DA) as Rs.6,500 with no prior EPF balance in this account. I considered the current EPF interest rate of  8.50% for 2012-13. Below is the table which illustrates the calculation method.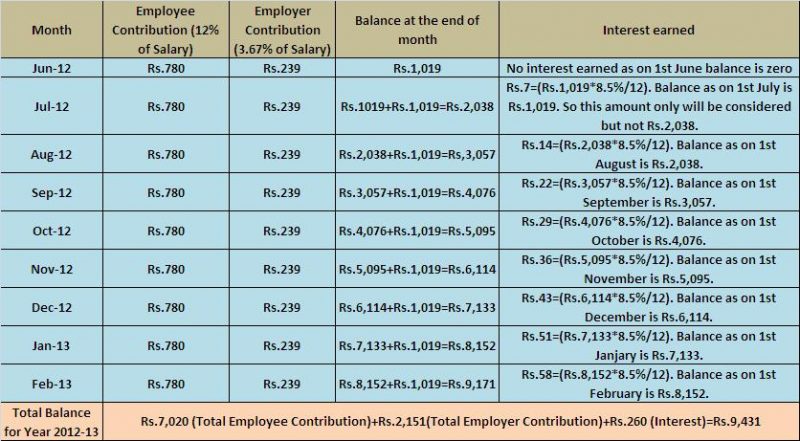 The above balance at year end of Rs.9,431 will be considered as a balance for beginning of account year i.e. for March 1st.
A few points to be noted–
Contributions will be shown by your employer based on the salary due. For example, September month salary will be payable on October. So the September month contribution will be shown as a contribution against October but not in September. Whether the payment will be in October month or not.
Interest will be rounded off to a nearest rupee.
In case of death claims, interest should be restricted to the month preceding the month in which death occurred.
Note-Do you know these recent changes in EPF rules? If no then visit "Employee Provident Fund (EPF)-Changed rules from 1st Sept 2014".