Edelweiss CRISIL IBX 50:50 Gilt Plus SDL Short Duration Index Fund NFO will be available for subscription from 27th January 2023 to 10th February 2023. It is an open-ended short duration passive debt fund. Whether the time is right to adopt passive debt funds?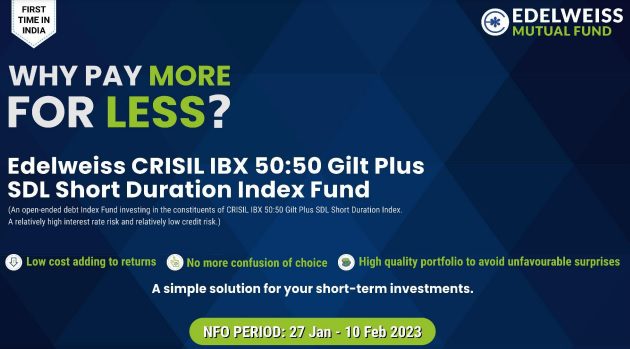 The biggest concerns for any debt fund investors are default or downgrade risk on one side and unclear definitions of funds on another side. Because of such unclarity, fund managers sometimes take undue risk to showcase higher returns. History is a great teacher for us. In fact, in one such instance, Liquid Fund investors were hit heavily due to a credit rating downgrade (Is Liquid Fund Safe and alternative to Savings Account?).
There are various bad instances in other categories of debt funds too like Franklin AMC (Franklin Templeton India Closed 6 Debt Funds – Is it right?).
Such instances obliviously scare a lot to the typical investors who are looking for debt funds either to diversify or to park their money safely. The answer to all these concerns is the Edelweiss CRISIL IBX 50:50 Gilt Plus SDL Short Duration Index Fund.
Edelweiss CRISIL IBX 50:50 Gilt Plus SDL Short Duration Index Fund – Time to move to Passive Debt Funds!!
Even though there are certain passive debt funds already available in the market, they are all Target Maturity Debt Funds. Read more about these funds at "List of Target Maturity or Debt Index Funds To Invest in India in 2022". Hence, this seems to be a bit hindrance who are unaware of when they need the money or when the right maturing target maturity fund is unavailable with us.
I think considering this in mind, Edelweiss came out with this new fund. Many of us always discuss the cost of investing in mutual funds and such cost comparison is as of now restricted to equity funds only. The reason is that we don't have passive debt funds earlier (recently TMF started). Now the time is ripe to check the performance of these active funds and their expenses also.
Let me share the images shared by Edelweiss in its presentation. In the first image, they showed the active debt fund underperformance with respect to their benchmark.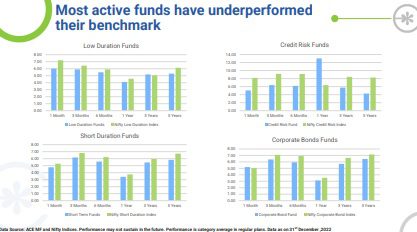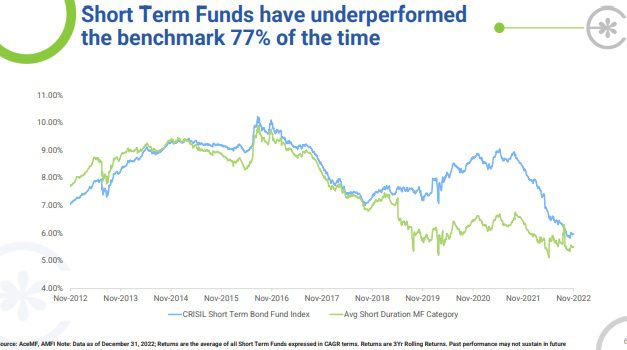 In the below image, they showed the cost of active funds.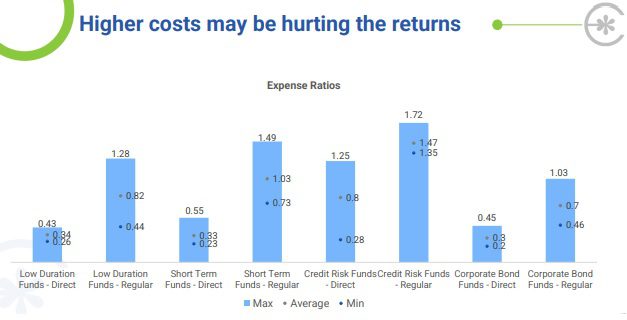 As I have mentioned above, the credit quality of the funds is totally unpredictable (especially for common investors).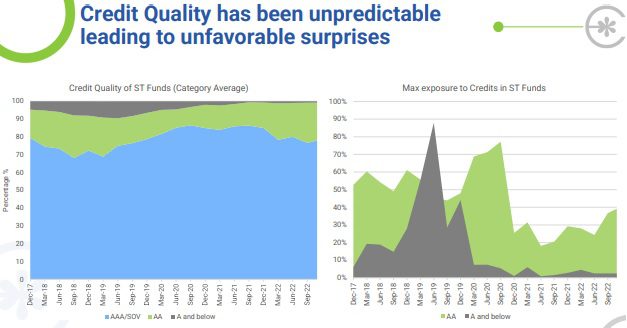 In fact, they failed to time the yield also. Because of this, they terribly underperformed the benchmark.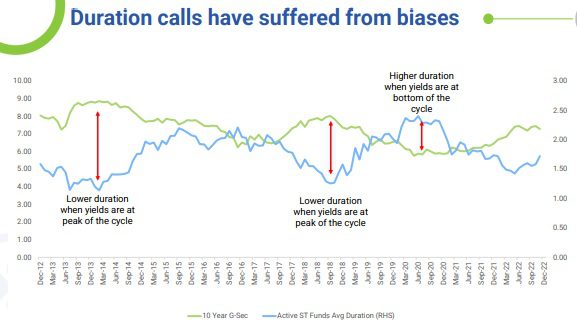 Because of all these issues, in fact, even I used to think twice to choose debt funds. I think now, for all these issues, Edelweiss CRISIL IBX 50:50 Gilt Plus SDL Short Duration Index Fund is a solution. Hoping that other AMCs will also follow the same path.
What is Edelweiss CRISIL IBX 50:50 Gilt Plus SDL Short Duration Index Fund?
It is an Index Fund and aims to replicate the constituents of the CRISIL IBX 50:50 Gilt Plus SDL Short Duration Index. The portfolio consists of 50% Indian Government Bonds (IGBs) and 50% State Development Loans (SDLs).
The duration bucket of IGB and SDL are 1-2 Yrs, 2-3 Yrs, 3-4 Yrs and 4-5 Yrs. The G-Sec are chosen by selecting most liquid G-Sec falling in each of the above duration buckets with a minimum outstanding of INR 10,000 Cr.
The SDL portion will be constructed by first selecting most liquid State issuers falling in each of the eligible duration buckets. Then by selecting most liquid ISIN with minimum outstanding of Rs. 500 crores from each of these shortlisted State issuers.
Liquidity score for both IGBs and SDLs will be assigned based on the volume traded (70%), number of trades (15%) and days traded (15%) in the previous quarter.
The index will be rebalanced every quarter with an effective date as the first business day of the month.
The CRISIL IBX 50:50 Gilt Plus SDL Short Duration Portfolio consists of the below securities.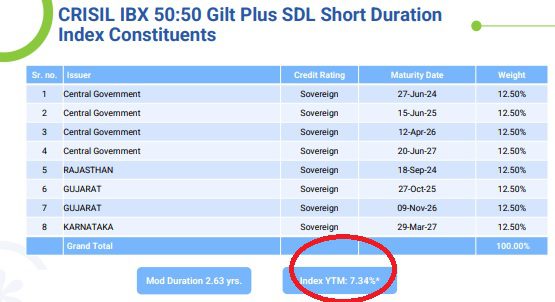 Do remember that YTM mentioned above is of benchmark, which fund claims that they replicate. However, due to certain tracking errors, the fund returns may be lesser than this. Refer to my post on what do you mean by tracking error (Tracking Difference Vs Tracking Error of ETF and Index Funds).
Edelweiss CRISIL IBX 50:50 Gilt Plus SDL Short Duration Index Fund – Should you invest?
Considering all these features of the Edelweiss CRISIL IBX 50:50 Gilt Plus SDL Short Duration Index Fund and also by highlighting the active debt funds negativity, should one consider this fund? Consider the below points before you decide to invest in this fund.
# It is not an alternative to your Bank FD
You noticed that the Modified Duration of the benchmark is 2.63 years. Modified duration is a formula that expresses the measurable change in the value of a security in response to a change in interest rates.
It means for every 1% up and down in the interest rate, the benchmark will go up and down by 2.63%. Hence, even though you are investing in central government and state government bonds, you can't avoid the interest rate risk. Higher modified duration means higher volatility to the interest rate movement.
The interest rate movement to bond price is inverse proportion. If there is a fall in the interest rate, then the bond price will go up and vice versa.
Use this particular fund only if your time horizon is more than 5 years or so. Never use this fund for your less than 3-4 years of requirement. In fact, if you are under the higher tax bracket, then using Bank FDs of your choice is far better (if your requirement is less than 3 years).
# You can completely avoid credit and downgrade risk
As I mentioned above, by investing in this fund, you can completely remove the credit and downgrade the risk. However, we can't avoid interest rate volatility. Hence, if you want peace of mind from such risks, then you can use this fund.
# Lower Expense
As of now, it is unclear about the expense ratio of the fund. However, I hope that considering passive fund, the expense will be much cheaper than the same types of active debt funds.
# Tracking Error
Even though Index Funds try their best to replicate the returns of the benchmark, we always have to face certain tracking errors and tracking differences. How successful this fund is as of now is a question mark.
# Clarify the portfolio
As the fund has the mandate to invest in central and state government bonds, you have clarity about the portfolio (which was not possible for the active debt funds).
# Never invest based on current YTM
The current YTM of the benchmark is 7.34% (as on 1st Jan 2023). It does not mean it will remain the same throughout your period. As the bond prices change on daily basis, the YTM will also change on daily basis. Hence, each of your investments will have a different YTM.
Hence, just because the current YTM reflects as 7.34% does not mean that fund will give you 7.34% returns throughout the period.
Conclusion – Personally I am happy with this product. Mainly because for me the generic definitions of debt funds are always used to scare (especially post Franklin AMC issue). I hope that other fund houses will also follow this trend.