Do you wish to check free CIBIL credit score on WhatsApp instantly? Many of us aware that now we will get yearly once free credit score. Let us see the process in detail.
What is the meaning of Credit Score or Rating?
A credit score is a number that shows an individual's creditworthiness. Usually, banks or lenders use this credit score to evaluate the probability of whether an individual repay his debts or not.
Hence, this is one of the utmost criteria that to keep higher credit score.  It contains below reports.
It contains your past and present credit history.
Today Banks and Financial Institutes sanction loan based on your credit history. So a good score will help you to get loans sanctioned easily.
You can follow the discipline in future by analyzing the current score.
It helps you to understand your credit worthiness.
It will automatically understand you whether to go ahead for fresh credit or not.
Usually, 750 to 800+ range of score is considered as a good score.
What type of issues affects your Credit Score?
Irregular Loan Re-Payment.
Cheque bounce in past.
If you default your credit card bill.
The Higher number of unsecured loans such as personal loan and credit cards.
Higher the rate of application for unsecured loans.
If you are defaulter for your friend's loan for whom you are acted as guarantor.
Using your credit card limit fully.
How to improve your score?
Never default your EMI or Credit card bills. Pay them regularly without fail and within a stipulated period.
Don't try to overburden yourself with the number of loans. If your credit score is good then banks will usually be ready to sanction more loan than what you actually asked for. But maintain strict limit based on your requirement.
Avoid having multiple unsecured loans and credit cards on a single name.
Always collect "No due Certificate" from your banker after closing the loan.
Keep some distance while applying for fresh loans, usually a 6-12 months gap.
Never be a guarantor to your friend or relatives. Because it will automatically affect your scoring if they default.
Always try to utilize the lesser than specified limit on your credit cards.
Never try to run away from your loans. Try to settle them as soon as possible in an amicable way with your banker.
How to check free CIBIL Credit Score on WhatsApp?
Now you can check free CIBIL Credit Score on WhatsApp instantly through your mobile phone. Fintech startup Wishfin has gone a step ahead and partnered with Transunion Cibil to provide credit scores through WhatsApp.
Wishfin is the first official fintech partner of TransUnion CIBIL. It is now common question that why not CIBIL providing this facility directly to customers rather than through partners? These fintech companies usually tied up with credit scoring companies to provide the credit report to individuals at the free of cost. In return, they get consumer data they use to cross-market products. Some fintech platforms also ask for details like salary and current employer.
There are two ways to check free CIBIL Credit Score on WhatsApp. Let m explain the same in detail.
# First method to check free CIBIL Credit Score on WhatsApp
Give a missed call to +91-8287151151
Mobile Number will be added to WhatsApp Chat. You will see that in your WhatsApp.
Enter Mention your Name, Date of Birth and Gender.
Enter your PAN Number.
Provide your complete residencial address.
Enter your Email ID.
They sent the OTP to your registered email id and mobile number.
You have to enter the same finally to authenticate yourself and view the free CIBIL credit score on WhatsApp.
However, to view the complete report, you have to register yourself with Wishfin and then can view it.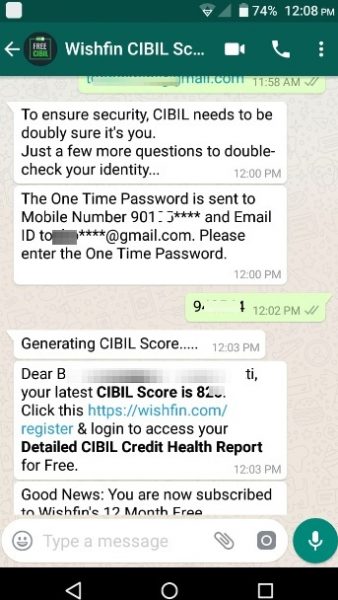 Do remember that key one by one details as and when you receive messages to provide. As you soon as you complete the above process, you will get your latest CIBIL Score in your WhatsApp chat box.
# Second method to check free CIBIL Credit Score on WhatsApp
Visit Wishfin website.
Enter your mobile number to proceed for availing free CIBIL credit score on WhatsApp.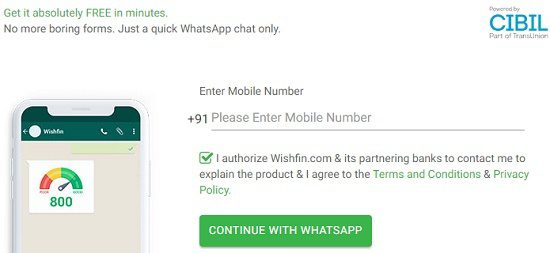 Just to be sure, Wishfin may asks a few more questions to double check your identity.
The One Time Password (OTP) will be sent to your mobile number and Email ID. Enter the same for further verification.
Soon after the process gets completed and to ensure your security & privacy, you will be automatically removed from Wishfin CIBIL Score Group on WhatsApp.
Whether you go for this feature of check free CIBIL Credit Score on WhatsApp?
Not necessary and in fact not required. The reason is they are the third party between CIBIL and us. None on this earth provide all services at FREE of cost. None are here for a social cause. This free service just provides you the credit score but not gives you the completed detailed report of your credit history.
Also, there is no clarity that why they offering this service at free of cost and how they will make money out of it. When we are getting a free credit report from credit companies yearly once, then what the need of these middlemen? Why to risk myself by sharing my vital information with someone where there is no clarity that why they offering me this service at free of cost and what is the reasons behind it and how they will make the profit from this free service.
Hence, in my view, it is best to avoid such fancy services and stick to your basics. Refer my earlier post "How to check CIBIL credit score online for free?", which is easy and feel secured to avail the credit report than this so-called FREE report in WhatsApp.