Recently, one of my blog readers requested me to review the "Bharti AXA Life's Invest Once." Because this plan offers 7% and 9% GUARANTEED ADDITIONS!!
His comment is sensible to know that how this plan is fooling the buyers. He commented as below."Nowadays, a lot of hype is being created on various media channels about a new product introduced by Bharti Axa Life Insurance Co. I think the product's name is Invest Once (or something like that) wherein a company guarantees a return of 7% for a 5-year term plan and 9% for a ten-year plan. This is a traditional plan. However, I wonder how Bharti Axa guarantees such high returns?
I know these are simple returns. (Not compounded returns – gimmick used by Insurance Company). However, still return works out to be 6.19% for 5-year period and 6.63% for 10-year period, which I think are quite high when we compare traditional plans of other insurance companies (where return tends to be around 4.5% to 5.5% for a similar period). Is there anything I am missing?"
First, let us look at plan features of this product
Minimum Age-8 Yrs for 10 Yrs Term and 13 Yrs for 5 Yrs Term of policies.
Maximum Age-55 Yrs.
Minimum Sum Assured-Depends on the minimum sum assured of an individual's age.
Minimum Premium-Rs.5,000 per year.
Policy Term-5 Yrs and 10 Yrs.
Premium paying term-Only single premium.
Maturity Benefit–
If the policyholder survives till the policy period, then he will receive the sum assured opted and total guaranteed addition.
Death Benefit-
The Sum Assured on Death is the sum of (1) and (2) as given below:
The higher of;
Sum Assured chosen by the policyholder
Sum Assured on Maturity Sum Assured on Death
125% of Single Premium plus mortality Premium (if opted for enhanced death cover), for a policyholder with age less than 45 years as on last birthday at policy inception
OR 110% of Single premium plus a mortality premium (if opted for enhanced death cover), for a policyholder with age 45 or higher as on last birthday (if opted for) at policy inception
Enhanced Death Cover (if opted for). This is nothing but you buy more insurance by paying an additional premium.
I tried to explain all the details of this plan in a simple illustration.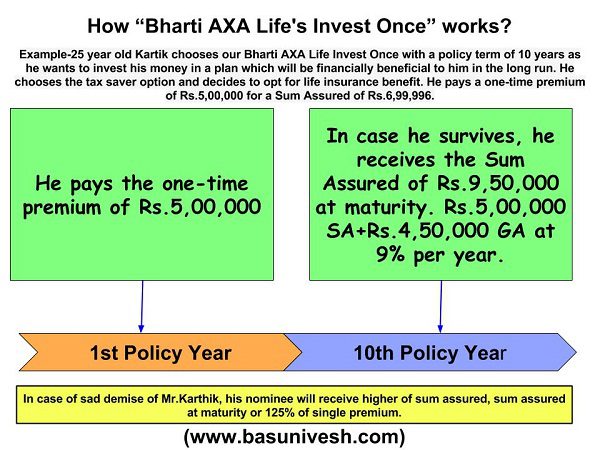 What is the GUARANTEED ADDITION?
It is the guaranteed percentage of what you will get from this product. They fixed it at 7% for 5 years of policy and 9% for 10 years of a policy.
What are the options available to exit or surrender in this policy?
If plan to withdraw from this policy before maturity, then this plan provides that facility. However, with some % of single premium you paid (along with that mortality premium but excluding taxes).
For the 5-year policy, the payout will be as below.
1st year to 3rd year-70% of a single premium.
4th year to 5th year-90% of a single premium.
For the 10-year policy, the payout will be as below.
1st year to 3rd year-70% of a single premium.
4th year to 10 years-90% of a single premium.
How this plan is fooling many–
1) It is a typical endowment plan. However, the insurance company selling it as a one time FD kind of product.
2) 7% AND 9% GUARANTEED ADDITION IS NOT 7% AND 9% RETURN FROM YOUR INVESTMENT-This is the major trick insurance company may use to sell this product. We are so fancy with the word GUARANTEED. However, sadly we forget at what cost this is GUARANTEED. This 7% and 9% guaranteed addition is not your return from the investment. Because they simply declare 7% and 9% GA and will keep that as it is for rest of the policy period without adding a single rupee to it. Therefore, your money lost the compounding effect.
I took the example, which they showed in their brochure. "Kartik purchases Bharti AXA Life Invest Once, with tax benefit option and invests Rs.5, 00,000 as a single premium. He chooses a policy term of 10 years. Assuming that Kartik is in good health, his sum assured as per his age is Rs.6, 99,996 ". They showed that at maturity Mr. Karthik will receive Rs.5, 00,000 (Premium of what he paid+Rs.4,50,000 (Guaranteed Addition at the rate of 9% per annum for 10 years)=Rs.9,50,000. If we go with this example, then the returns are not 9% BUT 6.63%! Below is the IRR calculation of the same (You too can do this calculation by using the IRR formula of excel sheet).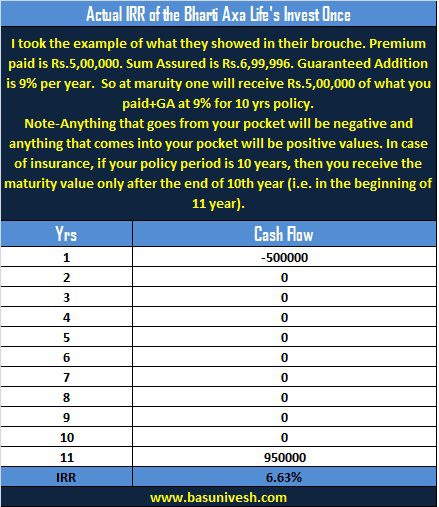 This is the reality of this product. If you calculate the returns for 5-year policy term, then I am sure that it will range between 4% to 5%.
3) They may lure you by saving a BEST TAX SAVING TOOL. However, look at the returns. It is too pathetic.
4) They may say the maturity amount is TAX-FREE. However, you can easily beat the returns of this plan by investing in current low-interest FDs too. So what special is about this?
5) Finally, they may trap you by sharing the IMPORTANCE OF INSURANCE. However, it lacks the insurance cover required for an individual. Instead, stick to a pure life insurance like term insurance.
6) Along with that, this is highly illiquid product. Because if you try to withdraw money from this plan, then forget about returns, they deduct money from what you paid (which I explained in surrender options).