Our blood of investment lies in Bank FDs and we are very much feel safe by investing in FDs. But there are some instances like you deposit today for around 10 Yrs or so and after that you forget it to claim or renew. So what will happen in this case?
Note:- Refer the latest updates on FD rules "RBI FD Rules 2021 – Auto-Renewal FDs discontinued? ".
Let us take an example. Suppose Mr.X deposited Rs.1,00,000 for tenure of 5 Yrs. But due to his busy schedule or huge investment data he forget to track this Bank FD and neither he withdrawn it nor renewed it. He approached the bank stating that bank need to give him full interest as of applicable FD rate till the period of withdrawal but not maturity date. But bank refused to do so. So what are current laws related to this and how one can avoid such problems?
1) Choose to deposit through net banking-If you have net banking facility for transacting your bank account. Then it is always best to invest in FDs through net banking. Advantage of this is, on maturity date amount will be credited to your account directly without any hurdle or remembrance from your side. Also using this platform for investing in FD will have one more advantage. In case of emergencies you can redeem it instantly and amount will be your savings account. So from both point of view this type of investment is always good.
2) Choose auto renew option-You have two options while depositing. One is auto renew and second is deposit of amount to your account after maturity. If you choose auto renew option then banks will automatically renew your FDs at same tenure for a that day's applicable interest rate. But here in this option even though you feel your amount continually earn return but have two drawbacks.
First drawback is you may loose some % of interest part. Notice in below image of HDFC current bank interest offerings.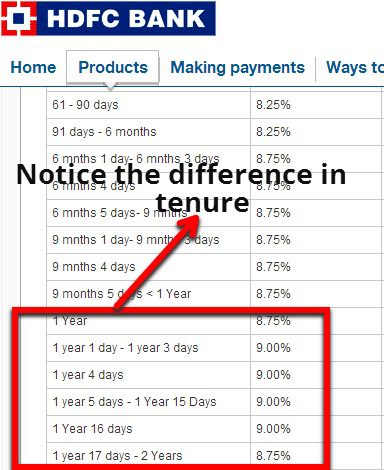 Now the best offer is to deposit for 1 Yr 16 days as the interest is at 9% but for 1 Yr 17 days it is 8.75%. Thinking so if you deposit for 1 Yr 16 days and chosen the auto renew option. But later on Bank changed it's offering slab like for all 1 Yr 16 days deposit interest will be 8.75% . After maturity your deposit will get auto renewed to same tenure of 1 Yr 16 days and have possibility to earn less than 1 Yr 15 days or 1 Yr 4 days deposit. You will not get any notification for this from banks. I noticed such slab with HDFC but not with SBI or ICICI. So check for such slabs before investing. Also if you forget to notice that during your maturity such things may earn you lesser return.
Second thing is you planned to invest Bank FD for two years but opted for 1 Yr deposit initially and then auto renew option. In case you need money after auto renew and before maturity then there is penalty as early withdrawal.
Hence it is always advisable to track your FDs maturity.
3) Track your own investments-In India still online banking penetration is less. So people still transact through physical mode. So in this case there is a greater possibility that you may forget the exact date of maturity and so by earn less. Do remember few rules about forgetting to renew your deposit.
You need to renew it within 14 days of maturity date to get the continuation from the date of maturity.
If you not do so then your deposit is treated as Overdue deposit.
Any overdue deposit which is idle for more than 10 years is treated as inoperative account and transferred to Bank's Depositor Education and Awareness Fund Scheme.
You can renew such overdue deposit to the minimum for a 15 days period.
How much you get for such overdue deposit entirely depends on individual bank rules. Because RBI's Guideline on such situation instruct to take their own decision to Banks.
But usually you are entitled to at least savings account interest. But in case of co-operative banks, they may decline to pay you anything.
By gazing through all above option you might find that the best available options are either to choose internet banking for investing in FDs or track your deposits for maturity properly.