When we were kids we never imagined that one day we do banking through internet. Few years back we never imagined that one day we do banough social networking !!! Now it is reality with Kotak Jifi Account. Let us explore it's feature and review it.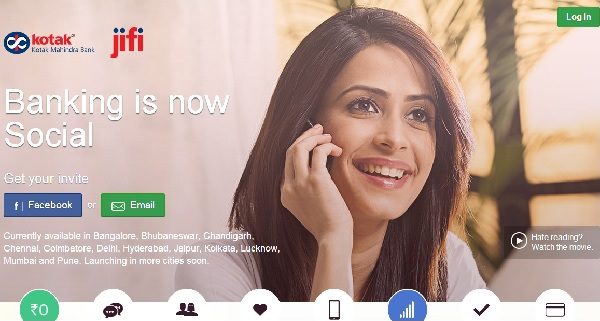 This is the world's first socially powered digital account. Two features are added into one banking account. You have all facilities of normal current account and along with that you have option of doing banking with your Twitter Account. First let us understand what is Jifi account offers you as a normal bank account.
You need to invite yourself through Facebook or Email option available on the Homepage. After this within few days you receive invitation to open account. Because as of now this account is only on self invitation.
If you don't have Facebook Account then too you can create invitation through Email. But you need to open Facebook account to open Jifi Account.
Once you send invitation then you get email from Jifi Banking for activation of account. Just click on that and process the formalities.
Documents required for opening this account are same as that of other accounts like Address Proof, ID proof and PAN Card. So basically you need to undergo normal KYC process.
Initially you need to deposit Rs.5,000 for the purpose of activation or verification purpose. But later on you can withdraw this amount at any point of time. So simply this is

ZERO BALANCE ACCOUNT

.
There is no interest on bearing current account on this.
Auto Term Deposit creation once your account balance crosses Rs.25,000. So you earn more than normal savings account as in savings account your amount kept idle with interest of around 4% to 5%. But this Term Deposit interest rate will be of applicable rate for 180 days deposit.
You will get

Platinum Chip Debit Card

for one year- This is safer card than typical magnetic strip cards. This card have exclusive few offers like purchase limit of Rs.2 Lakhs and lost card liability insurance of Rs.2 Lakhs. This insurance covers any misuse of up to 30 days prior and 7 days after reporting loss of card.
You will get Kotak MoneyWatch platinum subscription for one year. This is the software which let you to track your personal finance. You can manage income, expenses and any other financial instruments you are investing into one roof.
This account is currently available in select cities like Mumbai, Delhi, Chennai, Kolkata, Bengaluru, Hyderabad, Pune, Coimbatore, Jaipur and Lucknow.
For a detailed view of charges of this account, please visit HERE.
Below are few exclusive facilities of this account's social banking.
You need to have Facebook and Twitter account to open and operate this account.
You can refer a friend to open this account through Facebook by sharing unique Email link. Once someone clicks on this unique Email link and opens account then you get referral award.
If you comment on Kotak Jifi and Kotak Bank Facebook pages, then you earn reward points.
You will receive all your account updates as personal messages to your Twitter Account once your Twitter Account is connected with bank account.
Bank provides list of hashtags and using these tags by tweeting to @kotakjifi along with these listed hashtags you can request banking transactions and receive updates instantly to your Twitter Account. For example Balance inquiry-#JifiBal, Last 3 Transactions-#JifiTxn and so on. The list of hashtags you can use for banking on Twitter is available HERE. 

 

Bank claims that this Twitter handling will be very secure and safely stored on highly secured virtual location.
Your Twitter followers will not be eligible to view these messages as you receive all information as your personal messages than Tweets.
If your Twitter Account hacked then no need to panic. Just visit Kotak Jifi Home Page and deactivate Twitter Account.
So with so many positives why to wait? Open your account with visiting www.kotakfiji.com.
But wait let us further discuss what are disadvantages of this account.
Any amount you keep with bank more than Rs.25,000 will only be eligible to earn interest. Less than this amount will not earn any interest. But in case of typical savings account you earn interest whatever may be balance in your account.
Zero balance is no more a attractive point nowadays as lot of other banks too offer such facilities.
Few unique facilities of this account like Platinum Chip Debit Card or Kotak Moneywatch Platinum have free limitation of only one year. After that if you want to have them then need to pay.
Even though bank claims security is most high priority but lacks to give you solution in case of your Twitter account hacked. The only solution Bank claims is to visit homepage and deactivate your Twitter account. What if one noticed after few hours or after day or two??
Overall this banking experience seems to be unique but let see how Indian customers take it 🙂