Recent RBI FD Rules 2021 creating a lot of confusion among many depositors. Especially it was shared so fastly in social media that from now onward auto-renewal of FDs was discontinued.
The social media forward message states "Circular from RBI, fixed deposits will not be automatically renewed and such matured deposits will get savings bank interest rate. Hence all are requested to note due dates and get the receipt renewed on the due date to avoid loss of interest".
However, the new RBI FD Rules 2021, will not at all point towards change in any auto-renewal FDs. I am not why the confusion was created.
The RBI Circular dated 2nd July 2021 clearly mentioning what are the changes on the FDs which are matured but not claimed.
RBI FD Rules 2021 – Confusion around auto-renewal FDs
Refer the below image for this new RBI FD Rules 2021.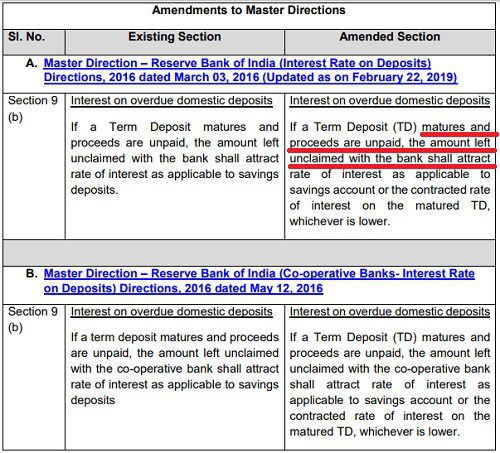 It is clearly mentioned that if your FDs mature and the proceeds are unpaid, then the new changes will apply to such an amount only.
Let us assume that you booked the FD for a year. It matured and you have not selected the options like deposit the maturity proceeds to your savings account or auto-renewal. In such a situation, after maturity, the amount will remain with the bank. Such an amount is considered as the unclaimed amount. The new changes will be applicable to such an amount.
However, assume that you have opted for FD maturity proceeds to be transferred to your savings account or auto-renewal option, then you no need to bother about such changes.
Assume that you booked short-term FD with SBI for 7-45 days (below Rs.2 Cr), then the current applicable interest rate is 2.9%. Currently, the SBI savings account interest rate is 2.7%. After maturity, if you do not renew or claim the maturity, then after maturity, on such unclaimed FD, SBI Bank will give you a 2.7% interest rate (as it is lower of 2.9% FD rate and 2.7% savings account rate). Earlier by default, it was savings account interest rate.
Assume that after you booked the FD and then interest on savings account increased to 3%, then after maturity, the bank will give you the 2.9% interest on such unclaimed amount (as FD rate of 2.9% is lower than the savings account rate of 3%).
Hence, there is no link between this new rule to auto-renewal of FD. You can still continue to opt for either FD maturity proceeds to be credited to your savings account or auto-renew your FDs as usual.
Refer our latest posts:-