I receive many questions about buying the term insurance and how to choose them. However, the interesting thing what I noticed is, all targeting 1 Crore Term Life Insurance. What is the rationale behind opting this default amount?
Why this magic figure of Rs.1 Crore? Let us try to understand the rationale behind this mental blocking. There are many reasons to it. I tried to list them as below.
# Unable to calculate the requirement
The biggest difficulty for many of us is how to calculate the life insurance required amount. There are many procedures. However, I will try to explain the simple way.
We claim that ideal insurance coverage should be around 15-20 times of your yearly income. This assumption arrived thinking that for next 15-20 years, your family dependents may not suffer any financial burden. A simple and plain way of calculating your insurance.
The second and simplest form of calculation is as below. The sum of all below.
Your household expenses from today to till your retirement age (inflated expenses). Let us say your current household expenses is Rs.20,000 per month. Your age is 40 Yrs and your retirement age is 60 years. So you need to allocate Rs.20,000 (inflated expenses) for the rest 20 years TODAY.
Sum up all your existing loans.
Create contingency amount for your dependents. This acts like cushion apart from regular expenses.
From above three amounts, you exclude the existing insurance coverage and the financial assets you are currently having (like FDs, Mutual Fund Investment, Stocks, or any other financial assets). However, never include the house or any other asset which is usable to your dependents (like house, gold jewellery and all).
There are many ways to calculate other than these two like "Human Live Value Calculation Method" or "Need-based Analysis". But here my point is to explain the misconception about arriving at life insurance need.
# The default option of 1 Crore Term Life Insurance by Insurance companies
You noticed it or not. But many life insurance companies set Rs.1 Cr sum assured as their default option of buying. I checked with few like ICICI or HDFC. The default is Rs.1 Cr. Something like below of HDFC Term Plan.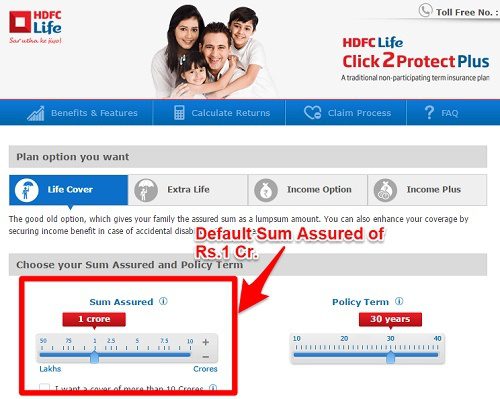 Such default options by insurance companies sometimes makes to decide to buy Rs.1 Crore Term Life Insurance. I will not say this may happen with many. But the probability is HIGH.
# Today we think Rs. 1 Crore Term Life Insurance is BIG
Normally we feel Rs.1 Cr is the big amount. How? By comparing current lifestyle. Remember the days of LIC policies around 20-30 years back. Sum assured used to be Rs.10,000 or Rs.50,000 for traditional plans. Now the premium rate of LIC's term insurance is more than the sum assured of 20-30 years back.
It is all because of inflation, which we forget it. Rs.1 Cr after 20 years is equal to around Rs.25 lakh in today term (considering inflation of 7%). So think, for how long your dependents live with this Rs.25 lakh. May be 3-4 years??
Remember buying Rs. 1 Crore Term Life Insurance is not one time process. You have to review your insurance requirement once in a 5 year at least. If necessity, then you have to buy.
# Psychology of rounding off
Let us say our requirement is Rs.1.25 Cr. But mentally without any reason we round it off to the nearest number called Rs.1 Crore. The same applies when our requirement is Rs.80 lakh to Rs.90 lakh. Rounding off is the unnoticed no reasonal habit built in us.
This trend is exactly reverse to when we buy other things. We feel cost of Rs.99 is cheaper than Rs.101. This trend we usually see in products, which we consume.
# Feeling of Crorepati
20-30 years back Lakhpati was trend or we used to feel proud. But now the trend is towards Crorepati. So we feel having Rs.1 Cr policy means CROREPATI. It is just a feeling in mind that if I die today then my wife or family will be crorepati.
But as I pointed above, try to understand the inflation and other aspect of financial burder your family have to face.
Conclusion-Buying Rs.1 Crore Term Life Insurance is not wrong. What I am pointing is all are running behind this magic figure. That surprised me and thought to ward on this trend. Understand your requirement. Then go ahead.
Also, never ever be in illusion that life insurance buying is not a onetime process. You have to evaluate the requirement at least once in 5 years. If you need further insurance, you must go on adding till your retirement.
Hence, buying a single Rs. 1 Crore Term Life Insurance is not solution. But understanding the actual requirement is more important.
Our other posts related to Term Life Insruance-