Do you know the difference between ULIPs Vs Mutual Funds? Well, recently I came across a new knowledge sharing information from HDFC Life. Which I think is completely misguiding the investors.
I stunned myself about how HDFC Life is misguiding openly. Let me share this one by one.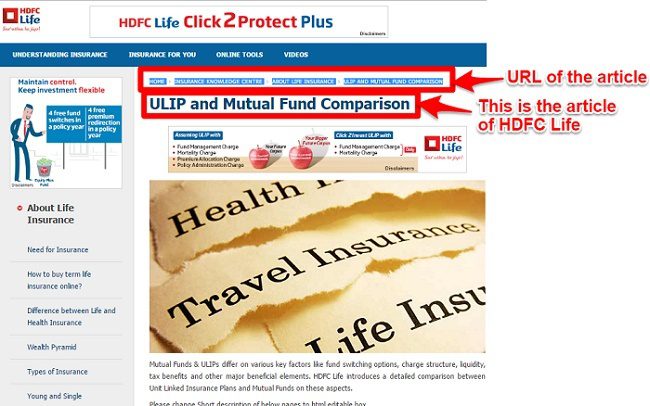 If you need a proof of what I am saying, then visit this HDFC Life's link of "ULIP and Mutual Fund Comparison". In this detailed comparison, I found few new comparisons. Which truly defend that between ULIPs Vs Mutual Funds, ULIPs are BEST products.
I will try to explain those points as below.
What is the difference between ULIPs Vs Mutual Funds (as per HDFC Life)?
# Description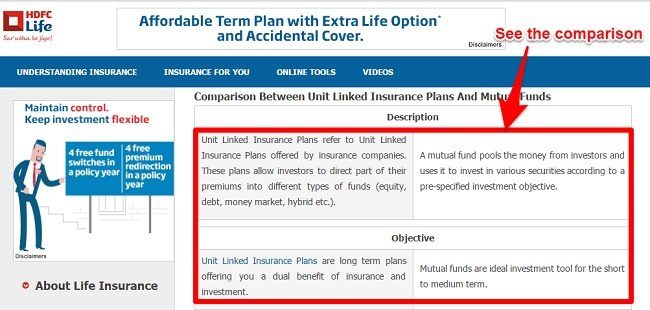 You notice that in the description, HDFC Life wisely highlighted the types of funds as equity, debt, money market, hybrid etc. This shows that ULIP is the product which invests in various types of funds. However, it wisely skipped to mention the same regarding mutual funds. In relation to mutual funds, HDFC Life just mentioned that mutual funds invest in VARIOUS SECURITIES. But in reality, based on investment objectives, mutual funds also invests in equity, debt, money market, hybrid AND also in a commodity like GOLD.
# Objective
The most surprising aspect of comparison of ULIPs Vs Mutual Fund is related to objective. You notice this in above image. Regarding ULIPs, it is mentioned as "Unit Linked Insurance Plans are long term plans offering you a dual benefit of insurance and investment". This is true and I completely agree.
But what about mutual funds? It is highlighted as "Mutual funds are ideal investment tool for the short to medium term". How can mutual funds which also mainly invest in same asset class like ULIPs (equity, debt, money market, hybrid etc.) are turn to be suitable only for SHORT TO MEDIUM TERM but not for LONG TERM?
# Charges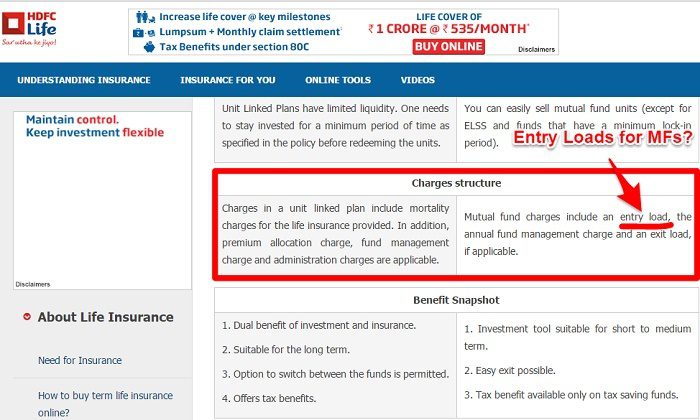 In the case of charges, HDFC Life mentioned that Mutual Funds charges include ENTRY LOAD too (along with FMC and exit load). But in reality, in accordance with the requirements specified by the SEBI circular no. SEBI/IMD/CIR No.4/168230/09 dated June 30, 2009, no entry load will be charged for purchase / additional purchase / switch-in accepted by the Fund with effect from August 1, 2009.
Hence, no mutual funds are charging entry load. However, HDFC Life pointing this wrongly. Also, in the case of exit loads for mutual funds, exit load is to make sure that investors must not withdraw or switch to other funds frequently. Hence, for example in the case of equity funds, there will not be any exit loads if you are withdrawing money after a year.
Conclusion-Blind rely or follow is dangerous. Do your own research and if the product suits to you then only go and invest.