In my earlier posts, I listed my top equity and ELSS funds to invest in 2017. In this post, I will try to give my Top 5 Best Liquid Mutual Funds in India in 2017.
What is liquid fund?
Liquid fund is a  type mutual fund that invests money in Bank Certificate of Deposits, Bank Fixed Deposits, Treasury Bills, Bill Rediscounting, Commercial Paper, Collateralised Borrowing & Lending Obligation and other debt securities with maturities up to 91 days.
The NAV of the funds is computed for 365 days, unlike other debt mutual funds where NAV is computed for business days only.
In the case of other debt funds for purchase applications received within the cut-off time (3.00 P.M) having the value up to Rs.2 lakhs, the NAV as at the end of the day of the application is applied. For applications of more than Rs.2 lakhs, within the cut-off time (i.e. 3.00 P.M.) the allotment of units is subject to realisation of funds.
However, in the case of liquid funds, for all transactions (irrespective of the value of investment) received within the cut-off time (i.e. up to 2.00 P.M.) where money is also realised within the cut-off time, the units are allotted as per previous day NAV.
Let us say if a purchase transaction in a liquid fund is submitted on Monday before 2.00 P.M. and amount is also realised by 2.00 P.M. on Monday, then NAV of Sunday is applicable.
Similarly, when redemption request is submitted before cut-off time on Friday, then applicable NAV for redemption is of Sunday, i.e. the day before the next business day. This means, your investments generate returns for every single day of investment.
Who can invest in Liquid Funds?
The popular theory is that park your IDLE money in liquid funds. However, you must understand for how long the money be IDLE. Based on that time horizon you have to take a call. Idle money of one day is different than idle money of 1 year.
Few suggest that we must use liquid funds to keep our emergency fund. But in my view, liquid funds or not so liquid in nature. Because if you request for redemption (before cut-off time), then the money will be credited on the next working day.
Few funds offer you the card for withdrawal but there are certain withdrawal restrictions.
Hence, my suggestion is to park your PART of emergency fund in liquid funds rather than parking all 100% into liquid funds.
However, the best idea to utilise liquid funds is to invest for your short term goals. You can expect a better return than your savings account (4%). Some funds generated around 8% to 9% and some funds around 5%. But we assume liquid funds generate higher than your savings account.
As the liquid funds invest in low maturity papers, the volatility is very less. Also, they invest in high credit rated papers (higher than AA rated), so the default risk is also very minimal.
Hence, you may say highest safety, more expectation than your savings account are the primary reasons for investing in liquid funds.
What is the tax on liquid funds?
Liquid funds are treated like other debt funds for taxation purpose. If you hold the fund for less than 3 years, then it is considered as Short Term Capital Gain (STCG). However, if you are holding for more than 3 years, then it is considered as Long Term Capital Gain (LTCG).
Short Term Capital Gain Tax for Debt Funds-It will be taxed as per your tax slab.
Long Term Capital Gain Tax For Debt Funds-It will be taxed at 20% with indexation benefit.
I will try to explain the same from below pictures.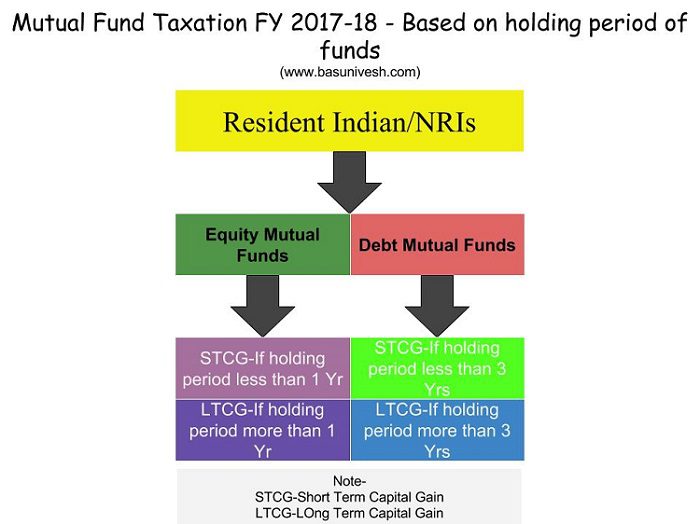 Hope you got the clarity about the taxation classification. Now let us understand the rate of tax.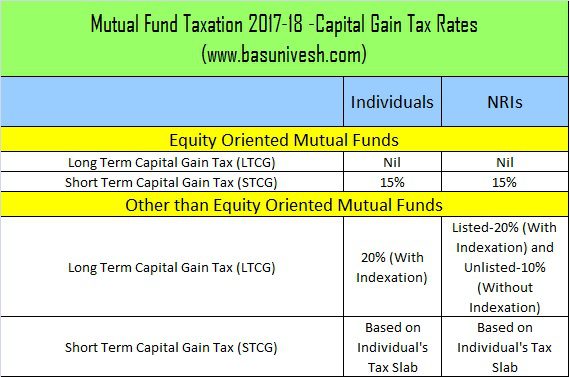 Refer the complete Tax Benefit of Mutual Funds in my earlier post "Mutual Fund Taxation FY 2017-18 and Capital Gain Tax Rates".
How I shortlisted Top 5 Best Liquid Mutual Funds in India in 2017?
As I said above, all liquid funds invest in debt papers which mature in less than 91 days. Hence, I don't think there are sure short method to say that Fund A is best than Fund B. However, with certain other criteria we can again go deep and shortlist the fund.
Again, the best way I suggest to invest in the liquid fund is in same AMCs funds where you already investing in equity funds or you already have online access or folio number already generated.
But as I said above, I shortlist the liquid funds based on below criteria.
# Average Maturity–
I select the fund which shows higher average maturity. All liquid funds invest in the papers which mature within 91 days. Lower the maturity means the fund is holding more cash which in return gives me less return. Hence, I avoid the fund which show lower average maturity.
For example, SBI Magnum Insta Cash Fund's average maturity is 0.003 means one day. Hence, it indicates that the fund is holding the cash highly. I will not touch such funds.
# Average Credit Quality–
I will select the funds which hold the papers not less than AAA. Lower to AAA rating is AA. Few funds shows such ratings. They may be exposed to some low rated papers. Hence, I will not select those funds.
Why returns not matter?
We look at liquid funds mainly for safety than anything else. Also, our expectation from such funds should be always to get more than savings account returns. Hence, I don't think 1% or less than 1% returns matters to us.
Hence, I overlook the return part and consider only on quality and safety.
Top 5 Best Liquid Mutual Funds in India in 2017
Based on above assumptions, I have shortlisted Top 5 Best Liquid Mutual Funds in India in 2017. Remember that this is not the FINAL best liquid funds. Also, as I pointed already, my priority is for highest safety than return. Hence, even though few funds like Escorts Escorts Liquid Fund performing consistently and with a good return than the fund I listed, I neglected such funds. Two reasons for that may be. One is these funds holding average credit rating as AA and the second thing I may be biased towards fund houses.
Below is the list of Top 5 Best Liquid Mutual Funds in India in 2017 I have selected.

If you find the ratings of these funds in valueresearch, then you find that all these are rated less than 5 or 4 rated. The reason is, the 5 and 4 star rated funds average credit rating is AA, which I completely avoided for selection.
Hope my above methodology and the funds selection will help you in short listing the Top 5 Best Liquid Mutual Funds in India in 2017.
Refer my earlier posts related to Mutual Fund Investment in 2017-18