I am happy to share that my blog BasuNivesh completed 5 years on 11th December, 2016. It is a thrilling moment to share with you all about this.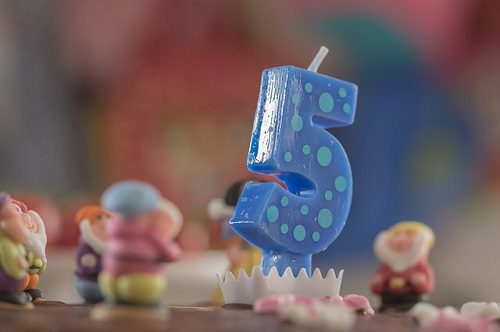 I started this journey when I was doing my CFP. Never knew that one day I reach this stage. I started with so much hesitation as my English was too bad (even now too) 🙂 Also, at that time I was in my learning curve.
Initial first 6 months, I used WordPress free platform. Then registered the domain and bought hosting plan. It's like buying my own home. Later on, the journey is not so smooth as I never came across these technical stuffs or so-called SEO. Learnt many things and did mistakes also.
During my initial days, I never knew what is SEO or what do you mean by keyword research. But gained all those knowledge slowly and once I reached the saturation of managing my blog, I transferred the responsibility to Mrs.Jane Sheeba, who now handling technical issues of my blog.
CFP gave me exposure to Financial Planning. But blogging and readers comments gave me an opportunity to learn more and more. Along with that, I launched the Question and Answer Forum in the month of September 2016. Currently, I resolved around 950+ questions with registered user base is more than 1500+.
It is not an easy task to write 8 posts a month constantly for 5 long years. But I tried my best to attain this target month on month and now year on year. Because each blog post gives me enough space to learn about what I have to write.
The biggest achievement apart from my knowledge is the FAITH I created among my readers and clients. I never surrendered my ethics for the sake of paid content or anything.
You may not know that I receive many offers related to paid content. But I simply reject all those. Because I feel unbiased blog or sharing knowledge will earn more faith than the rankings or traffic of the blog.
Below are the year wise statistics from 11th  December, 2014 to 11th December, 2016.
# BasuNivesh Monthly Traffic
From around 100 page views in the year of 2011 to now the page views reached more than 4 lakhs a month. Thanks to all.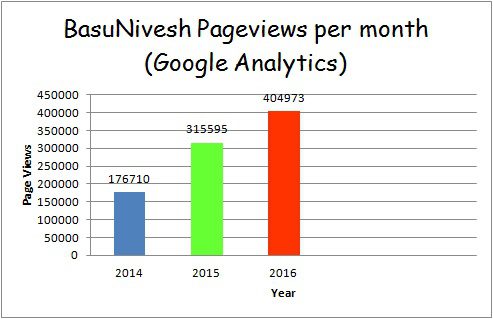 # BasuNivesh in Social Media
Page likes slowly grown up. The count grows up to 5 times from 2014 to 2016.
# BasuNivesh Email Subscribers
You noticed that the count is still not crossed more than 2,500. The reason behind this less number is, I constantly clean those subscribers who simply subscribed but never tried to open the email or read the posts. I wait for a year. Then I delete those inactive subscribers from my list. Hence, these 2192 email subscribers in my view are active subscribers but not just numbers.
Some other data of BasuNivesh
Alexa Rank World-66313 (Lower is better) as on 11th December, 2016.
Alexa Rank India-5517 (Lower is better) as on 11th December, 2016.
There is a drop in Alexa Ranking for my blog from the 2015 ranking of the world (42852) and India (4215). It is because there are some issues with Forum. I slowly regaining this rank. However, the concentration is content rather than ranking.
Twitter Followers-638.
What I learned from Blogging in the last year?
Readers promoted me and supported when I came with new ideas and at the same time, they were harsh when they doubted in some cases. For example, when I wrote a post on a product review, I found many have doubted that I may be promoting. However, I never did that and never will do that in future. I received so many offers to write a content, which is paid by some financial institutes. However, to be loyal to my readers and sticking to my ethics, I rejected the offer.
My favorite posts of last one year
Hope you enjoy all my posts and encourage me in writing. At the same time I request you all to correct me if you find I am misguiding or deviating from my ethics. At the end it is learning process which you and me can learn together for better management of our personal finance 🙂