Recently SBI Bank launched one more home loan product called SBI FlexiPay Home Loan. This loan feature seems to be attractive. However, how dangerous it is?
Let us first discuss the feature of this home loan.
Under this home loan, you will be eligible to receive 120% more than regular home loan eligibility. This means, let us say in a regular home loan you are eligible to receive Rs.50 lakh, then if you opted this home loan the eligibility will be Rs.60 lakh (120% more than regular home loan eligibility).
The minimum Loan amount must is Rs.20 lakh.
Salaried applicants with a minimum of 2 years experience and age between 21-45 years will be eligible for this home loan.
During property construction period (Pre-EMI), you will be allowed to pay only interest part of home loan in an EMI. This period is called as moratorium (Pre-EMI) period.
You can select the moratorium (Pre-EMI) period from 36-60 months (3-5 years).
After that, the regular EMI will start, which will be higher than the initial years.
Maximum Home Loan tenure will be 30 years.
The interest rate will be of a regular home loan. There is no special interest rate for this home loan.
Other terms and conditions will be same as applicable to regular home loans of SBI.
I tried to explain the same in below image in a simple way.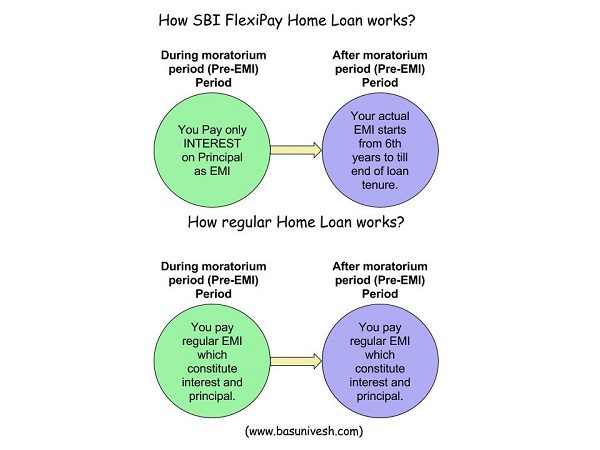 Looks attractive to those who looking for a higher home loan than their actual capacity or eligibility. However, the risks are more here.
The press release states, "The new offering, 'SBI FlexiPay Home Loan', will enable young working professionals / executives to get higher loan amount compared to their loan eligibility under normal Home Loan schemes. The additional loan amount will help such professionals in acquiring better and spacious living spaces for themselves and their families, taking into account their future needs.".
Great to know that someone cares you so heartily. Bank claims this loan gives you an opportunity to acquire BETTER AND SPACIOUS LIVING SPACE. However, at what cost?
The single main reason is to catch the retail customers than corporate. Because it is easy for banks to recover loans from retail customers than to fight with corporate.
Do you remember the real estate crash in the USA in the year 2007-2008? One of suchreason is INTEREST ONLY loans. This is called as Adjustable-Rate-Mortgage, where you were allowed to pay lower EMI initially and later on at higher EMI. Interest on such home loans was lower than the normal home loan in the USA. So people rushed at it. Lenders and borrowers never bothered about the capacity of loan repayment. Because of this mad rush, real estate price shoots up.
However, once the time arrived to pay the higher (actual) EMI, the majority of borrowers defaulted. Resulting into a big economic and real estate crash.
Now let us take an example of a person whose actual eligibility of loan is Rs.50 lakh. However, this home loan offers him Rs.60 lakh (120% more than regular home loan eligibility). More than what he is eligible for. There is no second thought about whether his income stream will increase or decrease in future. In addition, the bank never thinks of, once the actual EMI start whether the borrower will be able to pay it or not.
Here bank is taking too much risk. Because at first it is offering a loan of 120% more than regular home loan eligibility. It may reduce the risk by offering the lowest interest rate for this home loan. Because lower interest means lower EMI to the borrower. However, SBI kept the same interest rate as that of other regular home loans.
Let us consider the principal as Rs.60 lakh, interest rate as 9.55% and tenure 30 years. We assumed the borrower opted for 60 months of moratorium (Pre-EMI) period. Then, during this 5-year period, he just pays interest as an EMI. Yearly this interest will be Rs.5,73,000. So EMI during the first 5 years will be Rs.47,750.
After 5 years, the principal will be same as that of Rs.60 lakh. Because you have not paid a single rupee towards this principal. But only cleared the interest dues. So the actual EMI towards principal repayment starts after 5th year. Now the tenure will be 25 years ONLY (Loan Tenure 30 Yrs-C. So the EMI after 5th year will shoot up to Rs.52,630. A raise of Rs.4,880 per month.
So in the first 5 years for Rs.60 lakh loan you paid total interest of Rs.28,65,000 as interest ONLY. This means almost half of what you borrowed !
Now let us take the EMI as Rs.47,750 and tenure 30 years interest 9.55%. However, in this case borrower is opting for a regular home loan than SBI FlexiPay Home Loan. Considering factors like EMI of Rs.47,750, tenure 30 years and interest 9.55%, he can take home loan of around Rs.57 lakh.
Therefore, for same EMI of Rs.47,750 and for the sake of addition principal borrowing of Rs.3 lakh, the borrower has to pay 10% more EMI for rest 25 years. Because regular EMI is Rs.47,750. However, in case of SBI FlexiPay Home Loan EMI after 5th year will be Rs.52,630. The difference of 10% for the sake of Rs.3,00,000 additional loan.
The difference between the principal of a regular home loan to the SBI FlexiPay Home Loan if we consider the EMI as Rs.47,750 is just Rs.3,00,000. Whether you take the risk of default on your own for the sake of just Rs.3,00,000 more home loan??
SBI is leading banker in India. If this bank started such loan, then others too follow. What will be the effect? Borrowers rush to take such loans where their eligibility is waived off or postponed for future (after 5th year). This leads to more real estate BOOM (I may say BUBBLE), which we don't know when it start to BURST.
To whom it is suitable?
For those borrowers, who are actually not eligible for higher loans, but looking for it.
For those borrowers, who can't afford the EMI now, but predict their income will rise in future and the will pay the EMI after 3-5 years later.
For those borrowers, who are looking for BIGGER HOME than actually they afford.
What are the risks involved?
Higher home loan means higher EMI.
If your salary not increase in the manner you expected, then after the completion of moratorium (Pre-EMI) period, you feel it hard to pay EMIs.
If interest rate rise during moratorium (Pre-EMI) period, then your EMI will rise.
If interest rate rise after moratorium (Pre-EMI) period, then regular EMI will rise drastically. This may lead to more burden than you anticipated.
I feel more risks in opting for SBI FlexiPay Home Loan than advantages to borrowers. Any different views?