Do you know the cost of Preventive Health Check Up can be claimed for the tax benefit? Many of us know that Health Insurance premium can be claimed for tax deduction under Sec.80D. But the majority of us don't know that Preventive Health Check Up cost can also be claimed under the same Sec.80D.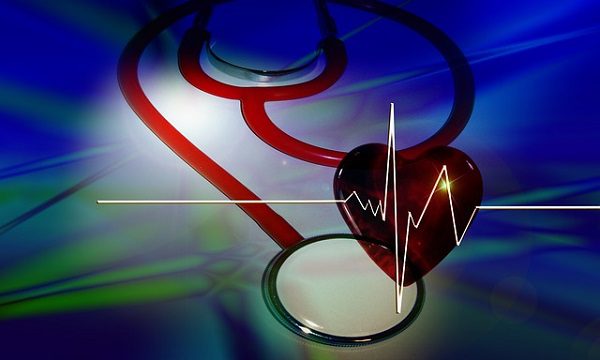 Earlier, only the health insurance premium was allowed for deduction under Sec.80D. However, benefits for deduction on the expenses of Preventive Health Check Up was introduced from 1st April, 2013. Let us first understand or define what you mean by the Preventive Health Check Up.
Wikipedia explains the meaning of Preventive Health Check Up perfectly "Preventive healthcare (alternately preventive medicine or prophylaxis) consists of measures taken for disease prevention, as opposed to disease treatment".
Further, it adds " Health, disease, and disability are dynamic processes which begin before individuals realize they are affected. Disease prevention relies on anticipatory actions that can be categorized as primary, secondary, and tertiary prevention".
So any test you go through which we can consider as measures for disease prevention than treatment to disease is nothing but Preventive Health Check Up.
Who can claim Preventive Health Check Up  deduction under Sec.80D?
An individual or HUF can claim the deduction in the case of expenses on such health check on family members as mentioned below.
Self
In case of HUF, it is the member of such HUF.
Spouse
Dependent Children
Parents (Dependent or non-dependent)
How much you can claim?
The maximum amount including all family members is allowed as Rs.5, 000. Remember that there is no separation. The cost of such Preventive Health Check Up is Rs.5, 000 inclusive of all family members.
Along with that, this deduction is the overall part of deduction one can claim under Sec.80D. 
How much is the limit specified in Sec.80D?
I explain it in below image.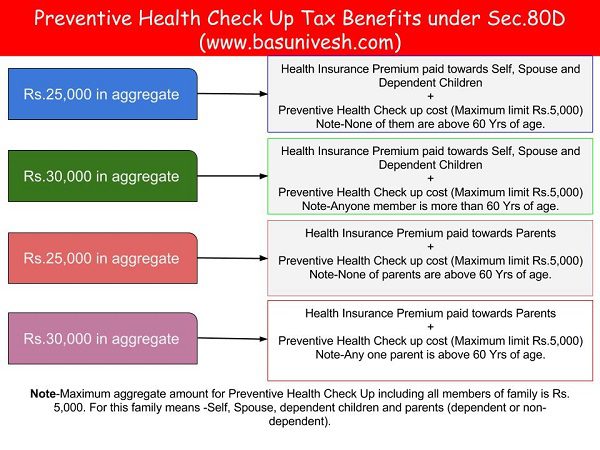 Few points to remember–
The maximum tax benefits set for Preventive Health Check Up cost is Rs.5,000 (inclusive of all family members).
Even cash receipts are accepted under Preventive Health Check Up cost.
From the financial year 2015-16, one more change was done for Sec.80D. It is known fact that buying health insurance for parents, whose age is more than 80 years, is very difficult and we may say impossible. Actually, the health expenses rise during this age of your parents. Earlier there was no tax benefit if you incurred medical expenses of your parents (other than health insurance premium). 
Now, medical expenditure incurred by an individual or HUF on the health of a very senior citizen has also been part of Sec.80D deduction. However, the senior citizen must not have any health insurance. 
Definition of Very Senior Citizen
An individual resident in India, who is of the age of 80 years or more at any time during the relevant previous year.
Hope I cleared the doubt for the most. Any doubts?