How to grow your Rs.10,000 to Rs.800 Crore in 40 years in the stock market? Are you interested to learn and invest? One stock has done this for many investors. Hence, taking this as a classic example, many so-called experts will lure you to invest in the stock market. Let us see the realities of such journeys.
Recently someone shared on social media that if someone invested Rs.1,00,000 (instead of Rs.10,000) in 1981, then the current value of the same is Rs.800 CRORE. In fact, I tweeted the same as below.
Look at the number of likes and comments. This shows that the WORLD is hungry for such fascinating success stories or instant rich stories.
There are few stories written already on this by so-called experts with exact numbers. If you want to dig deep, then you can Google it for such stories. Here, my intention is entirely different. Hence, I am not going into those data validation tasks.
Rs.10,000 to Rs.800 Crore in 40 years in Wipro Stock – IF stories of stock market
I am not going deeper to validate these numbers and what they are claiming may be true also. I am not questioning the calculation. However, my question is by quoting such rosy stories many so-called experts of stock market will lure you to invest in stock market. However, for any success stories, there are similar failure stories TOO, which these experts will never reveal you.
Let me give you the example of Wipro's share price growth from 14th July 1995 to date. Why from 14th July 1995? I don't want to go into some technical research on these. Instead, I am just showing what Google graph to the max showing. The journey looks like below.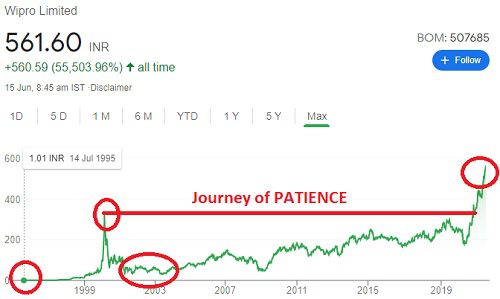 Notice the long journey from 14th July 1995 to today. The price at that time was Rs.1.01. It peaked at Rs.258 during the year of 2000 IT bubble. After the year of 2000 crash, it took around 19 years to reach the same level. How many of you have the guts to stay invested by seeing the peak of the year in 2000 and be patience for the next 19+ years with less than that?
This is one story of one stock. However, there is one more story that is more fascinating and interesting to hear. The story of DHFL stock.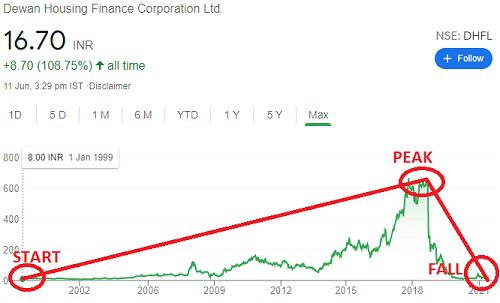 From the journey in 1999 to the peak of 2018, it is now at the ZERO level. BSE and NSE suspended the trading of this stock from 14th June 2021.
In fact, look at the craziness of people even where they know that this stock is going to be zero soon. On June 8th the price went up than earlier few days. It shows that there are few who still either believe in the company or want to trade and earn some short term profit 🙂 On 8th June around 1.46 Cr of shares traded. This is the classic example of craziness people have regarding GET RICH QUICK mindset.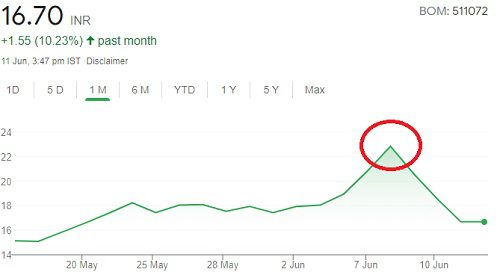 I know that both stocks are from different industries and not right to compare. Why DHFL crumbled to this level is a different story to discuss. However, my idea to compare is that we must not always look for rosy pictures. Neither I know nor anyone on this earth knows who will be the next WIPRO or DHFL.
Those who preach you equity investing with Wipro stories will not tell you the DHFL or Satyam kind of stories.
Both WIPRO and DHFL stories are true and both preach us entirely opposite lessons. Hence, mentally be ready to face the situation of DHFL but expect the WIPRO growth. However, without preparing yourself for the DHFL fall but targetting WIPRO growth may devastate you one day or another day.
As I told in my earlier posts, compounding is not the 8th wonder of the world. But it is patience that is the 8th wonder of the world (Power Of Compound Interest – NOT the 8th Wonder of the world!). At the same time, if you invested in DHFL kind of stock, then even such patience will not save you from loss.
Hence, it is always advisable to own the whole market than owing a few stocks to diversify our risk.
Conclusion :- Never listen to the rosy stories shared by experts about stock market. There are failures also than success stories. Hence, the first step before entering into equity is prepare yourself for the failure and then enter with caution. Sadly, these experts lure you with rosy stories and they never teach you on how to prepare for failure.
Read our latest posts:-