PPF is one of popular and best debt investment product. Open PPF account online through SBI Bank and ICICI Bank made your life now easier. Let us see the procedure of how to open PPF account online through SBI Bank and ICICI Bank.
As of now, it is cumbersome to open PPF account online as all Banks and Post Office not developed online platforms. This made many investors to stay away from investing in PPF account. Because nowadays all of us want the online facility to transact and view our investments.
Features of Public Provident Fund or PPF
Before proceeding further, let us recap the features of Public Provident Fund or PPF.
The term of PPF will be 15 years. However, you can extend it further in a block years of each 5 years as long as you wish.
The interest rate will be annual compounding but changes on a quarterly basis as per the Government notification.
The minimum investment is Rs.500 and maximum investment is Rs.1,50,000 a year (Financial Year).
The amount invested in PPF will be eligible for deduction under Sec 80C and maturity interest is tax exempt. So it is EEE (Exempt during investment under Sec.80C-Interest earned during PPF tenure is also exempt-Maturity amount is also tax-free).
One must open only one account in his name. However, he may be a guardian of his kids. But the combined investment limit of his and such minor account must not be more than Rs.1,50,000.
You can't invest more than 12 installments in a year.
NRIs are not allowed to open the PPF account. If they opened already, then they have to close the account immediately after their residential status changes. Otherwise, they will earn only savings account interest from the date of their NRI status change to the date of closure of the account.
These are the basic features of the PPF or Public Provident Fund.
How to open PPF account online instantly?
Online transaction, investment, and the monitor is the facility which we all need. Considering this requirement, currently, ICICI Bank came up with the complete online facility to open PPF account online instantly.
SBI Bank also offers to open PPF account online. However, it is not a complete online facility.
How to open PPF account online instantly with ICICI Bank?
Considering the need of customers, ICICI Bank is the first bank which offers you the COMPLETE online facility to open PPF account online. Let us see the steps involved in opening the account.
You can now open a PPF account anytime, anywhere using the ICICI Bank's digital channels of the internet and mobile banking/Mobile APP. ICICI Bank claims that it is the first bank in India to offer instant Public Provident Fund (PPF) account facility.
However, there are certain conditions to open PPF account online instantly with ICICI Bank and they are as below.
You must be a Savings Bank account customer of ICICI Bank.
You must have an access to ICICI bank's Netbanking, Mobile banking and APP facilities.
You need to have linked Aadhaar to your Savings account OR need to provide it at the time of opening the PPF account online.
Your mobile number which is linked to your Aadhaar should be in an active status, to receive OTP which is used to e-sign or e-authorize opening of PPF account instantly.
Let me now explain the procedure to open PPF account online instantly with ICICI Bank.
Step 1:-You have to visit ICICI Bank's Internet Banking portal. Then log in using your internet banking username and password.
Step 2:-Under "My Accounts", you have to select the option "PPF Account". The screen looks like below.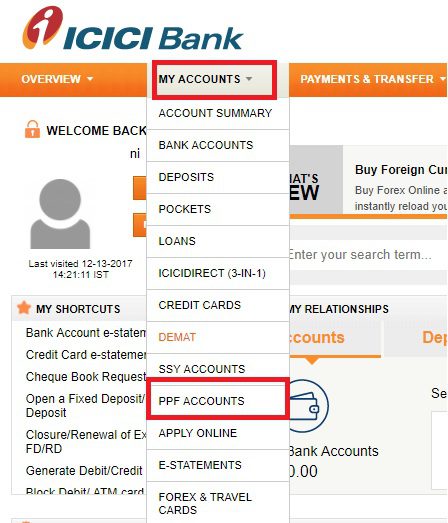 Step 3:-Now you will get the screen like below, where you have to click on the link "OPEN NOW".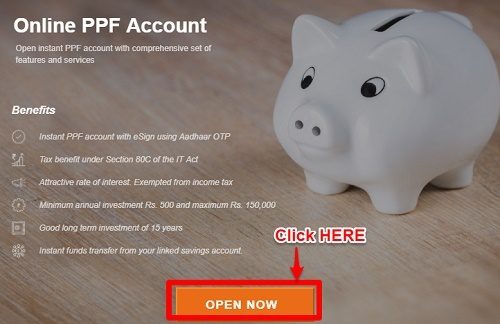 Step 4:-Once you click OPEN NOW, then you have to enter the amount which you want to deposit initially, select the branch, and the select on nomination facility and if you want to create a standing instruction like a monthly investment then you can choose here itself.  Finally, click on proceed tab.
In personal details, you will see your account personal details like name, address, mobile number and email id, and nominee details.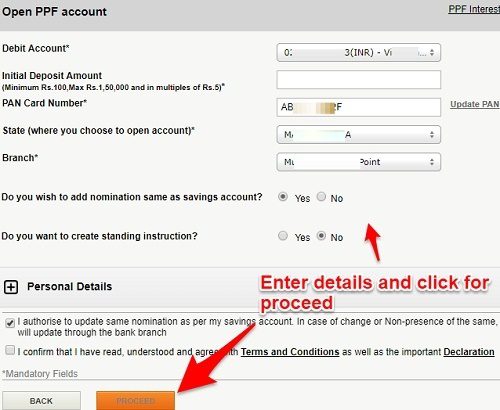 Step 4:-The next step is Aadhaar authentication. Once you click on send OTP, you will receive an OTP to your mobile number which is registered with Aadhaar.

Step 5:-In the next step, you have to enter the OTP you received in your mobile number. Once you enter the OTP, your PPF account is created instantly. The account number of PPF is displayed instantly to you.
The statement of the transaction and the annual statement of the PPF account is available on internet banking.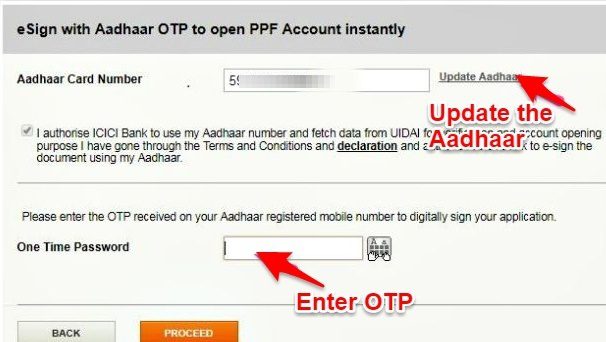 As I said above, you can open the PPF account online using ICICI Bank mobile App (iMobile).
This is about the process of open PPF account online instantly through ICICI Bank.
How to open PPF account online instantly with SBI Bank?
SBI Bank also offers customers to open PPF account online instantly. However, it is not 100% online feature. Let me explain you the steps of the same.
Login to SBI Banking Internet Banking facility. Search for 'New PPF Account' option under the 'e-services' section and click on it.
You will then find the link 'New PPF Account'. For existing customers,  details including PAN are displayed on this page.
Then enter the branch code in the specified field (by locating the branch where you want to be your PPF account).
Then enter the nominee details and then click on Submit tab.
After this, the portal will issue a reference number.
Then print the account opening form from the tab 'Print PPF Online Application'  (in PDF format) and visit the branch with KYC documents and a photograph within 30 days. After your submission, SBI adds this to its portal.
SBI prepared this video about how one can open PPF acount online with SBI Bank. Please refer this small video for better understanding.
Hope this much information is enough for you to open PPC account online with ease either with ICICI Bank (instantly and purely online) and with SBI Bank.
Refer our other posts related to PPF:-