On this 11th December 2017, BasuNivesh completed 6 years of journey. I started this blog on 11th December 2011 when I was on the verge of completing my CFP.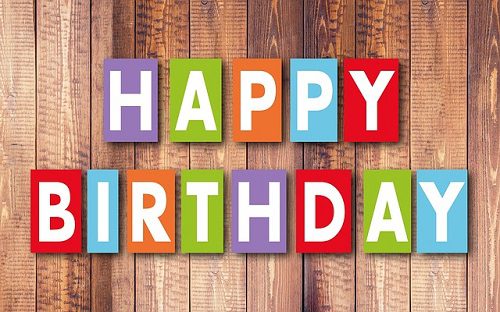 There are many ups and downs during these 6 years. However, when I look back, I found that many ups rather than downs.
Let us first review the blog growth in terms of traffic and social media counts.
BasuNivesh Blog Statistics as on 11th December 2017
I am happy to share you that blog growth is in steady phase. Readers count increasing and giving me a strength to write more and more.
However, I stuck to my monthly 8 posts since the beginning and never give up that publishing habit.
# BasuNivesh Pageviews per month
I consider December month data to verify and found that each year it is growing steadily.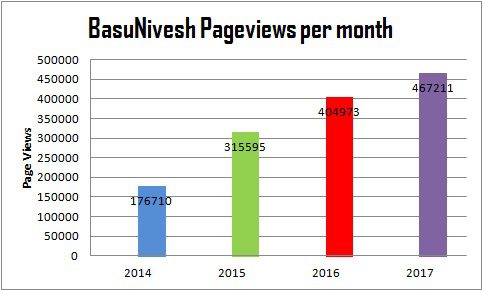 # BasuNivesh Social Media Presence
There are around 3887 Facebook Page followers.
Along with this, I BasuNivesh has Twitter followers and Google+ followers also.
Some other data of BasuNivesh
Alexa Rank World-63625 (Lower is better) as on 11th December 2017 (In 2016 it was 66313).
Alexa Rank India-4457 (Lower is better) as on 11th December 2017 (In 2016 it was 5517).
The Alexa Ranking of the blog improved much than the 2016 data. This makes me feel happy.
Twitter Followers-942 (In 2016 it was 538).
What can you expect from BasuNivesh in future?
# We are launching Fee-Only Financial Planning Service
Yes, I have already applied for SEBI RIA. So soon we will launch the Fee-Only Financial Planning Service. It was long awaited and big change you can expect from me.
Because I felt Fee-Only Financial Planning is the future and the one of the best way to an individual who is looking for financial planning help. Hence, I am going to turn as SEBI RIA Fee-Only Financial Planner.
# Planning to launch FREE Online Direct Mutual Funds buying platform
I am also planning to launch a completely FREE online direct mutual fund buying platform. It is my dream to make it happen to all investors of India.
Currently, I am working on this. Let us see when it will be realistic.
# We are looking for genuine readers share
Daily I receive many offers like paid content or link building strategy, where the companies are ready to pay me the money I ask for. However, I stayed away from such paid content.
But it does not mean that I will not allow the readers to share their personal financial knowledge. They are free to share their unbiased, original and helpful content always.
# Committed to write as usual
I followed the simple but realistic method of writing 8 posts a month since the launch of 11th December 2011. I am planning to stick to this.
Because writing actually forces me to read more, up to date myself and feels me active always. Hence, I stick to this plan in future.
# Planning to go to grassroots level population for financial planning
Financial Planning as many felt is only required for rich and educated. However, it is the most important need for those who are unable to understand the concept and unable to read such topics.
Hence, through an NGO, I am planning to go the villages, poor, uneducated and to the grassroots level of population to spread the awareness of financial planning.
To make this to be a success, I need few genuine hands who can spread this message.
Finally, thank you all for making this blog a huge success and making it as ranked one among Top 10 Personal Finance Blogs in India.