LIC launched one more traditional endowment plan on 9th December 2014. This plan named as Limited Payment Endowment Plan (Table No.830). Let us look into its features and review it.
As the name suggests, it is the limited payment Endowment Plan. It means, suppose you opted a term of 12 year, then you will not pay the premium for the full 12 years. Instead, your premium payment sieges earlier than the maturity period.
Below are the features of Limited Payment Endowment Plan (Table No.830)

Benefits-
Death Benefits-
On death of policy holder during the policy period, his or her nominee will receive Sum Assured on Death+Accumulated Bonus and Final Additional Bonus if declared by LIC.
Sum Assured on Death will be higher of below.
10 times of annualized premium paid.
Absolute amount to be payable i.e 125% of Basic Sum Assured.
Also do remember that such death benefit shall not be less than 105% of all premiums paid as on date of death. Premium mentioned for this benefit excludes taxes on premium, any extra premium you paid and rider premiums.
Survival Benefits–
If policy holder survives till the end of policy term then he/she will receive Sum Assured on Maturity+Bonus+Final Additional Bonus (if declared by LIC). Here Sum Assured on Maturity is equal to Basic Sum Assured.
Let us take an example. Mr.X, whose age is 35 Years and buy this plan for a term of 21 years (I preferred a long term, as insurance agents usually pitch for long term product while selling) and premium paying term as 9 years. He opts the sum assured of Rs.3,00,000. Then the premium he has to pay for the next 9 years will be Rs.22,398.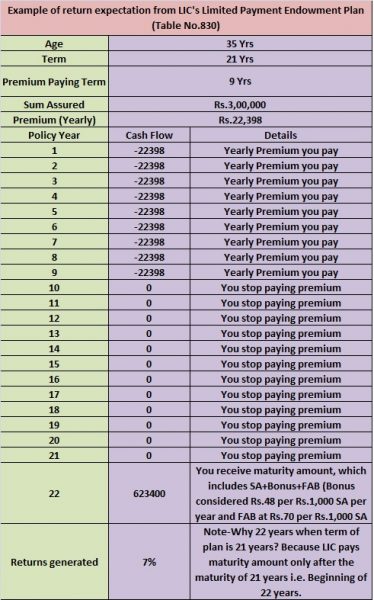 Do you know, earlier LIC had a plan called Limited Premium Endowment Plan? It was closed after the recent IRDA changes. Currently bonus for that plan is Rs.48 per Rs.1,000 Sum Assured for a plan, which is more than 20 years old. Therefore, we consider the same bonus rate for above example. Also, let us consider that FAB for this plan will be at Rs.70 per Rs.1,000 of Sum Assured (I consider this too at the higher end). Then what will be return from this plan? It is around 7% only and that too if you invest for 21 long years. Otherwise, if you reduce the term, then return will be around 5% to 6%.
Whether you still eager to buy?
If you feel that waiting for long 21 years and expecting 7% return is good for you then go ahead. However, to be true, you can get more than this plan by simply investing into PPF and buying a term insurance from LIC itself. The tax benefits will also match with this plan. Decide yourself before committing to this trap.