LIC declared it's bonus rate on 1st September 2012 for the year 2012.  Let us see how much are they and compare with last 5 years bonus rates. Latest rates are available in my latest post "LIC's Bonus rates for 2013-14 and Comparison".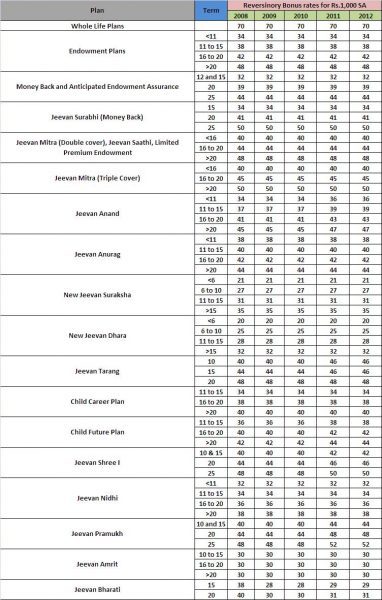 Above Bonus rates for 2012 will be applicable for policies entered during the inter valuation period (01-04-2011 to 31-0302012) and in force for full SA as on 31-03-2012.  It also apply for the policies whose death, maturity or surrender occurs on or after 01-01-2013. Also above 2012 bonus rate applicable who entered after 31-03-2012 and result into claims, maturity or surrender during the period commencing from 01-01-2013 and ending 9 months from the date of next valuation.
I considered only the plans which are currently offering by LIC. You notice from above table that Bonus rates are not changed to what it was previous year. Positive point is, it maintained the same increased rate of bonus rate for Jeevan Anand (which was raised previous year for all tenures). I mentioned here Jeevan Anand because it is one of the highest selling insurance plan.
Below are Loyalty Addition rates for few selected policies. I considered Bima Nivesh, Komal Jeevan and Jeevan Saral.

For Jeevan Saral if the policy is in force for atleast 10 years and full premium paid for all 10 years then loyalty addition is payable or due to earlier death for complete duration for which the premiums have been paid.
Also if death claim occurs in the 10th year of the policy and the policy is in full force then loyalty addition is payable.
If policy surrendered after completion of 10 years, provided 10 full years premiums have been paid under the policy, loyalty addition will be payable for the complete duration for which premiums paid.
Hope this information will helpful for policy holders.
If you have any specif doubt about LIC's Jeevan Saral Plan then I request you all to raise your queries by commenting on the post LIC's Jeevan Saral-Why so much confusion?