LIC Jeevan Shanti is a new single premium guaranteed pension plan which is launching on 12th September 2018. It offers the guaranteed pension with options like an immediate pension or deferred pension.
You may be aware that LIC's Jeevan Akshay VI also offers the guaranteed pension plan. However, LIC's Jeevan Akshay is an immediate annuity plan. Maybe for this reason, LIC came with plan LIC Jeevan Shanti. This plan offers both immediate pension and deferred pension plan.
Before proceeding further, first, let us understand few terminologies used in retirement plans.
What is the meaning of annuity?
In simple term, you can say it as a Pension, where you will get regular income up to the specified period or conditions. There are two types of annuity.
1) Immediate Annuity-In this case, you invest a lump sum in a product and your pension or annuity starts immediately. Let us say you have around Rs.1 Cr and if you buy immediate annuity plans, then the pension will start immediately from next month.
2) Deferred Annuity-In this case your annuity starts after a certain period. Let us say your current age is 30 years and you are planning to retire at the age of 60 years. If you buy a deferred annuity plan, then you will invest up to your retirement age i.e. up to 60 years of age. After 60 years of retirement, your pension will start.
I tried to explain the same with below illustration as below.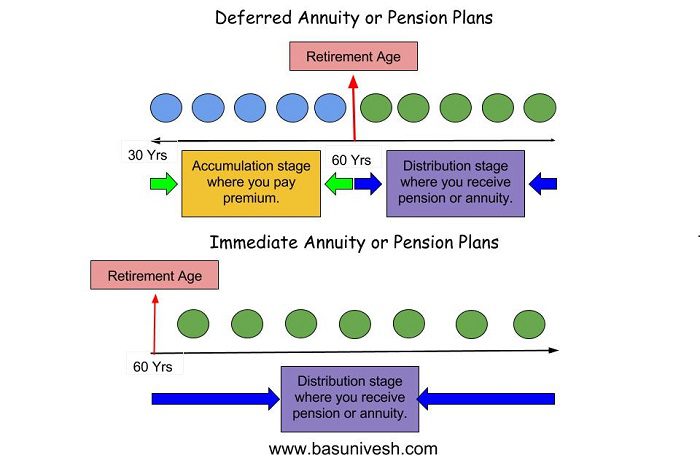 LIC Jeevan Shanti – Single Premium Guaranteed Pension Plan Eligibility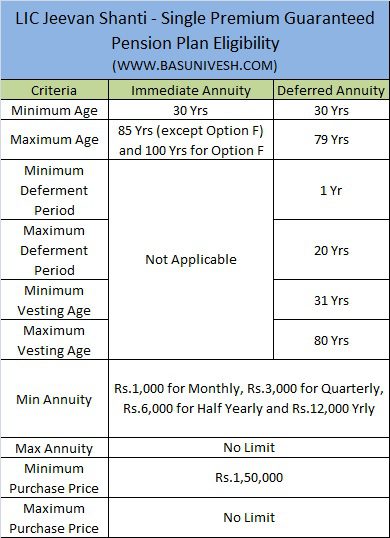 Exceptional cases where Rs.1.5 lakh minimum purchase is exempted-
If the plan is purchased for the benefit of a handicapped dependent, then the minimum purchase price is Rs.50,000.
If the plan is purchased by the NPS subscribers.
LIC Jeevan Shanti – Single Premium Guaranteed Pension Plan Annuity Options
Under an immediate annuity plan, you will have options to choose as below.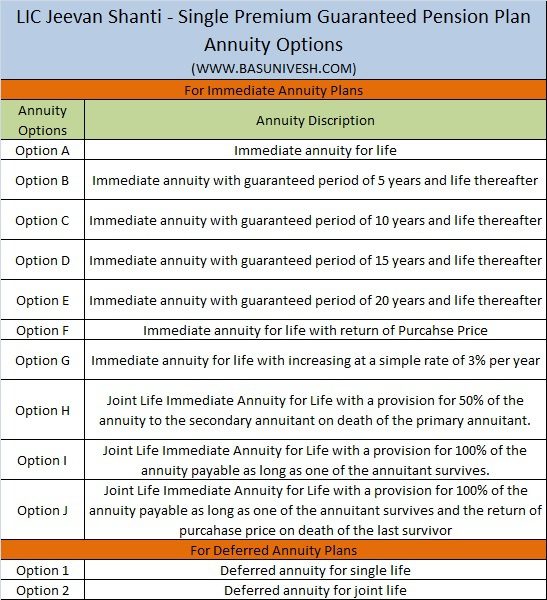 Do remember that you are not eligible to alter the options at a later stage of the policy period. Hence, choose the options wisely while buying this plan.
LIC Jeevan Shanti – Benefits payable on Survival or on Death
Now let us look into the benefits payable on survival or on death for LIC Jeevan Shanti Plan.

LIC Jeevan Shanti – Guaranteed Addition under deferred annuity plans
Under deferred annuity plans, guaranteed additions will accrue at the end of each policy month, till the end of the deferment period.
The rate of the guaranteed additions during the deferment period will be as below.
Guaranteed Additions per month=(Purchase Price*Annuity Rate per annum payable monthly)/12
Here the annuity rate per annum payable monthly will depend on the age at entry and the deferment period opted.
In case of the death of annuitant during the deferment period, guaranteed additions for the policy year in which the death occurred will accrue till the completed policy month as on the date of death.
LIC Jeevan Shanti – Rebates
There is an increase in an annuity if your purchase price is above Rs.5 lakh.
If you purchase this plan online, then there is a 2% discount by way of increasing the annuity.
LIC Jeevan Shanti – Surrender Value
The policy can be surrendered after the completion of 3 months or expiry of the free-look period, whichever is later under the following annuity options.
Under Immediate Annuity Plan-
Option F
Option J
Deferred Annuity Plan-
Option 1
Option 2
LIC Jeevan Shanti – Loan facility
Loan facility is available under this plan after the completion of 1 year. You can avail the loan if you have opted the below options.
Under Immediate Annuity Plan-
Option F
Option J
Deferred Annuity Plan-
Option 1
Option 2
LIC Jeevan Shanti – Review
I think this plan is launched mainly because to cater to the need of the deferred annuity plan seeker. Because LIC is already offering the immediate annuity plan (LIC's Jeevan Akshay VI).
Annuity inflating yearly at 3% seems to be bit negative side. Our expenses yearly will not increase with meager 3%. At least the 5% to 6% increase is a must to match the expenses.
Even though there is something called GUARANTEED ADDITION attached with this plan, but I am unable to calculate the GA at this juncture as the tabular premium rates are not yet available with me.
By giving some concession to NPS subscribers, I think this plan is launched to garner the NPS subscribers mainly.
Also, LIC is providing this plan to purchase it online with 2% discount. Hence, it is best to go for online rather than going through agents.
I will update the remaining part of review once I will get the complete picture of this plan.