IRDA Published annual report for 2014-15. So let us analyze the IRDA Claim Settlement Ratio 2014-15 and understand which is best life insurance company.
First, let us understand the IRDA Claim Settlement Ratio 2014-15 and identify where your insurance companies stand for.
Note-Refer latest report at "IRDA Claim Settlement Ratio 2015-16 | Best Life Insurance Company in 2017".
What is Claim Settlement Ratio?
It shows you the number of claims settled by a life insurance company during the particular year. It is calculated as the total number of claims received by the total number of claims settled. Let us say, Life Insurance Company received 100 claims and among that it settled 98 means 98% claim settlement ratio.
You notice that this ratio not differentiate of which types of products, life insurance companies settled. It may be term insurance, endowment plans, or ULIPs. Therefore, it is hard to judge the data perfectly. Even recent clarification and changes to Section 45 of IRDA rules clearly indicates that claim settlement ratio is not the biggest criteria.
Hence, I always suggest that claim settlement ratio is just an indicator but not the sole criteria to select an insurance company. This, I suggest to those who are looking for term insurance. I explained the same in my earlier post "Top 5 Best Online Term Insurance Plans in India-2016".
Below is the chart of IRDA Claim Settlement Ratio 2014-15.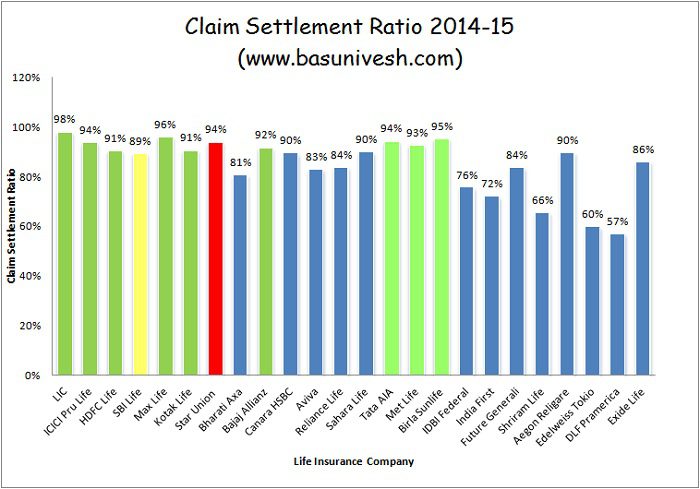 You notice that Star Union being a new company managed to settle around 94% of claims. At the same time, SBI Life's claim settlement ratio decreased below 90%.
I indicated with yellow colour for those companies, whose ratio stands above 90%.
As usual, LIC stands topper with 98% of claim and next to it is Max Life and Birla Life. ICICI managed the almost same ratio, while HDFC's claim ratio declined to previous years.
As I said above, it doesn't classify the product and the amount of the claim it settled. Hence, let us go deeper and identify the average claim settlement amount of these insurance companies. Many fans of LIC may feel it a surprise, but the reality is as below.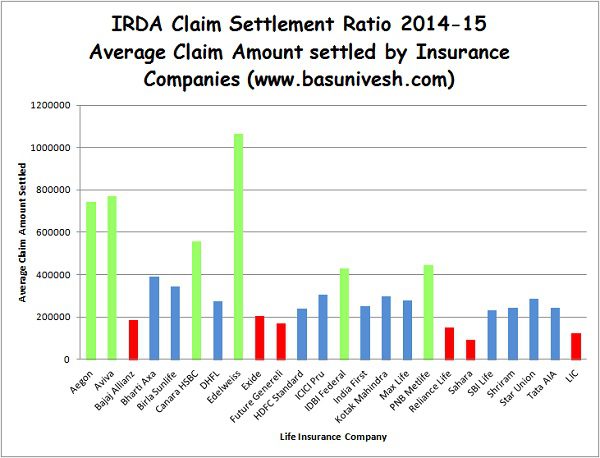 Here comes the reality, the average claim settlement of LIC stands below Rs.2,00,000 Sum Assured. That means the claim settlement ratio of LIC mainly includes typical endowment plans.
This is the reason I say don't rely too much on claim settlement ratio. Understand your requirement, product feature, comfort with company, and the budget.
Let us go deeper into this IRDA Claim Settlement Ratio 2014-15. Now we see how much is the claim settlement rejection and what is the average sum assured of these policies.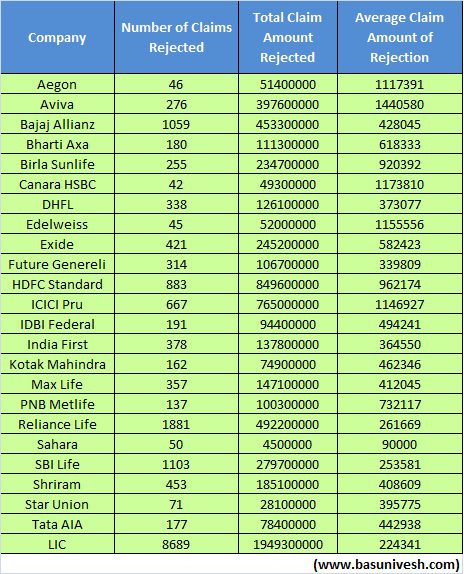 You notice the difference between average claim settlement amount to average rejection amount. You will find that average rejection size is more to all companies. Definitely, it indicates that they are cautious in settling the claims when it comes to higher sum assured.
Below data shows the pending claims of all life insurance companies. Along with that it shows since how long they kept them pending. There may be many reasons for it. Some due to insurance companies fault or lethargic attitude or some due to not providing sufficient documents or information by insured or nominees of insured.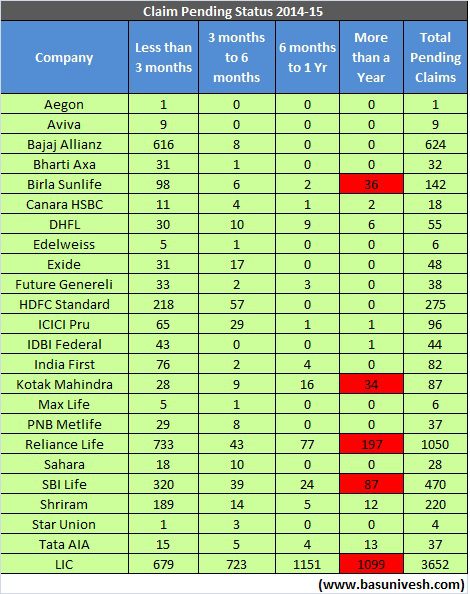 You notice that few companies holding the claims for more than a year. I marked them in red colour.
Hope above data will help you to understand what is claim settlement ratio and how much you can rely on this raw data.
Source-IRDA Annual Report-2014-15.