When we plan for our future financial goals, then all of us have one major goal, which is "KIDS MARRIAGE PLANNING". We give equal importance to this goal as to 'KIDS EDUCATION PLANNING". Whether it is necessary?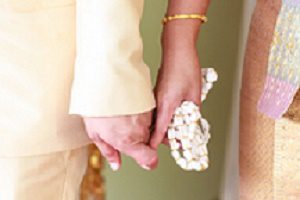 In one way, we preach or try to follow the frugal lifestyle to meet our investments for future financial goals. However, at the same time we are planning for goal, which is nothing but lavish expense. Therefore, we are scarifying our current expenses for future worst expense. Currently this wedding expense includes anything from food, venue, decoration, clothes, or gold. Therefore, it is estimated that currently Indian Marriage Industry is around $40 billion. These expenses were rising at the rate of 25% to 30%. Therefore, even if you invest in a product, which gives you a return of 12% to 15%, then you cannot compete with the marriage inflation.
For all of us marriage is a lifetime event. So we never think of spending. Our only motto is to spend more than our neighbours, relatives, or friends. It is a show off kind of event. Because we fear what our neighbours, relatives or friends think of us. Below are few current expenses, Indian families spending.
1) Venue– Usually Indian marriages last long for 3-4 days. If we consider the daily cost of a venue at around Rs.Rs.1, 00,000 to Rs.25, 00,000 (approximate Five Star costs per day). So overall, this venue may cost you anywhere around Rs.3, 00,000 to Rs.50, 00,000. Do you feel it is worth to pay this much for 3-4 days of your life?
2) Decoration– This will cost you anywhere between Rs.1, 00,000 to Rs.5, 00,000. There is no limit on this expense. It usually depends on what type of decoration you need. Based on your interest and style your pocket will start to empty. 3) Entertainment- Well, it again depends on your taste. So it will range anywhere between Rs.1, 00,000 to Rs. 3,00,000 (If you include local artists).
4) Catering– As I said above Indian marriages continue for 3-4 days and with all family, friends and relatives gathering together means one need to be ready to have food according to the society he live. Dishes range from 10 to 500. Therefore, it is again a major contributor to marriage expenses. Usually a meal may cost you anywhere from Rs.500 to Rs.5, 000.
5) Photo and Video– This being a lifetime event, we need to capture all moments of this function to have a re-look in future 🙂 So hiring a local photographer may cost you in the thousands. However, if you are planning for hiring professionals then the cost may go into lakhs.
6) Invitation Card– Few years back these cards used to cost you anywhere within a few hundred rupees. Now the style changed and so the cost of these cards too. So currently, a trendy card may cost you around Rs.5, 000. However, a regular one may cost you still in few hundred rupees.
7) Make Up– This cost depends on the bride and groom. If they are trendy then it will cost you around Rs.500 to Rs.10, 000. Therefore, this may not add more value to expenses. Still, if your relatives or all women sit in front of a makeup guy then your budget may go up.
8) Gold-Well… nothing to say about this. We all know how much we are craze about gold. Therefore, this depends on the budget of parents.
9) Clothes– Clothes include bride and groom and family members. I heard from a friend who is a wholesale silk saree businessman that a typical purchase of saree for marriage starts from Rs.5,000 and can go up to Rs.5,00,000 per saree.
10) Travelling– If marriage is within your city, then I do not think there will be any expenses. However, if you arranged in some other places, then be ready to bear this cost too.
Considering above the basic costs of a marriage you may easily predict that a typical low style of marriage will cost you anywhere around Rs.10, 00,000 to Rs.25, 00,000. So if you inflate it at current marriage cost at 20% to 25%, then god can only save you!!! Why can't we Indian parents think in another way, as we need to provide basic things to our kids like good values or education? Leave the decision of marriage to kids. I found so many who bankrupt and living in debt in their retirement life only because of marriage expenses of their kids. However, I am not suggesting not planning or spending. Instead, my only suggestion is to make a small event and invest the same for your kids future.
Do you know the money spent today on the marriage of about Rs.10, 00,000 if invested in a product, which generates around 8% return for next 30 Yrs, will fetch you Rs.1 Cr to your kid? (Assuming kid's age 30 yrs and planning kid's retirement at 60 Yrs).
Marriage Planners are not Financial Planners
Now for any event of your life there is a planner or event management company. However, do not be in false belief that such event management companies or planners are not financial planners. They plan and execute it depending on your budget. They will not bother from where you are allocating the fund to this expense. They simply concern about smooth sailing of events and their fee. Therefore, in my view planning for your kids education and for your retirement is more important than planning for marriage.
Image courtesy of [criminalatt] at FreeDigitalPhotos.net