Recently LIC launched a plan and I wrote my review on the same. When we say stay away from traditional LIC plans and buy term insurance. Then definitely, a section of people strongly advocates about such plans. Therefore, I tried to summarize it in below points for your benefits to buy Life Insurance 🙂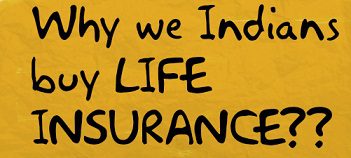 1) It is best tax saving tool
The first point that motivates either to sell or invest in such traditional plans will be tax saving. They have PPF, EPF or Bank FDs but they don't satisfy with kind of DIVERSIFICATION. Still in need a better diversification, they invest in such products. Neither investor knows nor the agent who is selling it to him about the future faith of the buyer. Sec. 80C limit raised from Rs.1,00,000 to Rs.1,50,000. So we must fill that Rs.50, 000 gap at any cost. Otherwise, we pay taxes, which is, waste 🙂
Along  with that, the one more tax hint they add is neither tax on maturity nor TDS. Fully agree, but at what cost?
2) It is a great product which combines investment (gives return) and insurance–
Wow! They pointed it correctly. However, neither insurance need suffice them, nor the return on investment. Both are at unsatisfied point. Reason is, with the kind of premium, one cannot buy the actual required insurance. Hence, they are totally under insured. At the same time, such policies hardly give you the return of more than 7% to 8%.
When we say about term insurance then their first strong reply will be "It will not give return if we survive". 200% true that it will not give you a penny if you survive, but one die during the policy term, then the value of actual insurance will come into the picture. We follow the mentality of "Badle Mein Kya Milega?".  If your agent asks this question himself before selling you then it is his business style. At the same time, if you think of insurance with this question then no need to have Vehicle Insurance or Health Insurance right?
3) I am conservative investor, so it suited for me–
I totally agree that we cannot change one's investment behavior and psychology so easily. If one is conservative then he have two options to reach his financial goals.
Invest more so that inflation of that particular goal will not touch you.
Lower your goal amount so that you can invest on how much you are capable of in such low yielding products.
No… They forget both. Only think of conservative mindset and invest. Even God can't survive them, forget about the agent who sold them these products with much fanfare 🙂
4) I cannot take risks by buying products other than LIC–
Well.. They are already under risk by buying lower insurance and lower yielding product. Therefore, what we can understand is, they do not know the definition of FINANCIAL RISK they are buying. So understanding your financial risk is more important than following the herd.
5) I need to diversify my investment–
Buyers usually say, "I have already invested in PPF, EPF and Bank FDs. So the next best thing to diversify is traditional Life Insurance Products (Sorry I will not quote LIC here :)). Hence, I must have to invest in LIC which is single most great product offering Insurance+Return on Investment+Tax Saving tool."
But they forget that none of the above said products give them proper diversification as all are within the same asset class but added a number of products.
The above mentioned are the few major reasons why we buy or motives us to buy LIFE INSURANCE. You are free to add n number of points, if you find any new 🙂