Mutual funds have been the preferred investment route for the investors for their simplicity, ease of access and suitability for any kind of financial goal. However, selecting the mutual fund scheme to invest in remains a challenge owing to more than two thousand primary schemes in the market.
Thousands of schemes present tons of data that has to be analyzed before one can make a choice of investment.
In this post, let's see how we can make use the heap of data easily.
TheFundoo.com is a recently launched portal that aims to make mutual fund analysis easy for advisors and investors. FundPicker, the mutual fund analytics platform on the Fundoo.com, can help you in analyzing and selecting the right mutual funds for investment.
Making the heaps of data USABLE?
All mutual fund data is freely available. Right? But how much of it is usable?
Let's try to understand this question.
Say I have to select Large-Cap funds that have been top performing (as compared to peers) on alpha generation for the past 1y, 3y and 5Y, have less risk (Volatility) and high risk adjusted return (Sharpe Ratio).
If we think of it, all the data in the above question is FREE. We can look at fund factsheets, websites that provide mutual fund analysis and we will find all the information asked in the above question for all funds. The problem is that all that information is not present in just one view at one place. Some information might be available where all large-cap funds are listed while others might be available on individual funds' pages.
So how much time would it take us to get the list of mutual funds that qualifies the filters in question?
We might have to pick the data one-by-one into excel from individual fund pages and then apply sorting and filtering. And overall it might take an hour if not a few hours.
In real world, we would look at many more parameters simultaneously including holdings, consistency, fund bio like age, assets, expense ratio, exit load etc. to make a comprehensive analysis. Such analysis might demand substantial time and resources.
FundPicker solves this problem with its powerful mutual fund screener. With more than 50 filters that span parameters based on Return, Risk, Style, Holdings, Consistency etc. one can do the above mentioned analysis in a matter of seconds. We can set filtering limit on any number of parameters in parallel and get to see the results immediately. The entire set of parameters is collectively exclusive and helps in short listing mutual funds.
Let's do a small exercise. You can do it yourself on FundPicker.
The snapshot below shows the default page loaded. FundPicker is showing all Large Cap funds. Note the dropdown on the left with LargeCap funds selected (by default) and the count showing 84 funds out of a total of 2180 primary schemes.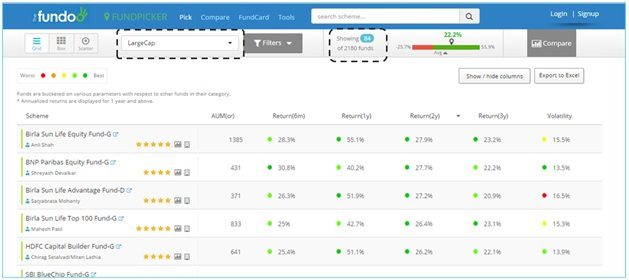 The schemes are put into 5 grades/buckets based on how good they are, on various parameters. Schemes that are the best, are put in the 5th bucket, while the worst are in 1st bucket. A scheme may be in bucket 3 on risk but in bucket 5 on return depending on the numbers. Such bucketing helps in filtering schemes more efficiently.
Let's apply some filters now. Pull down the filter dropdown by clicking on the gray FILTERs button. You can see parameters grouped into Basic, Return, Risk, Fund Manager, Style and Ratings tabs.
Say we want to apply filter on the 3y and 5y return. To do this, Select the Return tab and you will be able to see the filters that you can use.
You can see various sliders which can help you in selecting the range of schemes that you want on a particular parameter. Say we want to select schemes that have been in the 4th or 5th bucket based on 1Y and 3Y return.
We will move the left knob of the slider (1y) to the position 4. This will make only 4-5 portion of the slider selected (in blue). We will repeat this for 3Y return slider.
As you move the slider, you will see the filtering going on and once you have applied both filters, you can see that FundPicker has shortlisted 13 schemes.

You could do all of this in hardly a few seconds. You can apply any number of filters, depending on how you wish to select funds and the result shall be instantaneous.
Once we have shortlisted the schemes, they can be analyzed in more detail in the results section.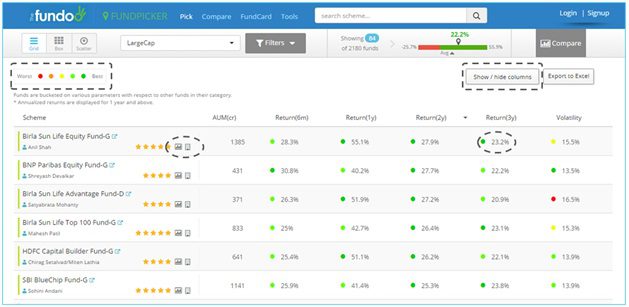 In the results section you can see the red-green dots on the statistics which suggest the bucket in which that particular stat lies in. The visual clues make it easier to compare the funds briefly. You can also add more columns to compare the funds in the grid.
The tiny icons, along with the Scheme name on the left, help you in the following:
View the fund Mini-Card with a few important details of the fund in a tiny pop-up (complete details in FundCard section)
Add the fund to 'Comparison Bucket'. Once you have added a few funds, you can compare them in detail
You can also analyze the results in 'Scatter View' by selecting the view option on the top left. This view presents the selected funds on risk-return map signifying how  much return and what risk is being generated by the fund.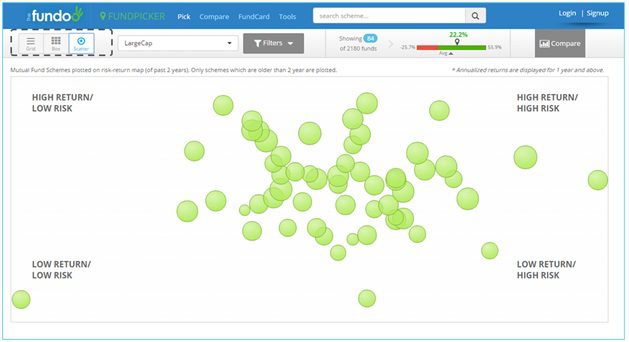 Besides, the mutual fund screening functionality, FundPicker presents a lot of other features on detailed fund analysis, fund comparison and a number of tools to make the mutual fund analysis holistic.
Do try them and hope they help you in doing good analysis.
Note-This is guest post by Mr.Sharad Singh, CEO, Valuefy Solutions, a man behind "The Fundoo".