How to correct/update Bank details in EPF/UAN online? Many employees while providing the bank details, might provide the wrong data to EPFO. How to correct the same online?
Do remember that you must provide the bank details correctly. Otherwise, while withdrawing the EPF or taking an advance, the automatic credit may not happen. Hence, it is very much important to understand the procedure of update bank details in EPF / UAN online.
How to correct/update Bank details in EPF/UAN online?
Yesterday EPFO shared this simple image to understand the procedure. I will share the same for your benefit.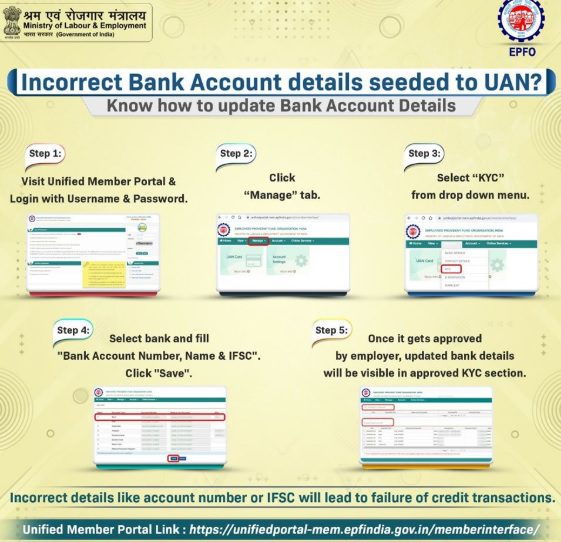 Step 1:-Visit to Unified portal for members. Login with your user name and Password.
Step 2:- Click on "Manage" tab.
Step 3:-Select "KYC" from the drop down menu.
Step 4:-Here, you will find many options to update like Bank, PAN, Aadhaar, Passport, Driving License, Election Card, Ration Card, or National Population Register. Among all, select the option of the Bank.
Step 5:-Here, you will the Bank Account Number, Name and IFSC Code. Then click the tab "Save".
step 6:-Now you have to wait for your employer's approval. After that, your new bank details will be visible in the approved KYC section.
Do remember that there is no deadline set for the employer to complete the process. Hence, it mainly depends on your employer also.
Conclusion:-It is always better to check the bank details you provided for UAN. If they are wrong, then take the action of updating the same immediately. Because if your bank details are wrong, then in future your withdrawal may take the time or in a big hurdle.
Refer our latest posts:-