The Finance Act, 2015 inserted a new section 192A related to the payment of the accumulated provident fund balance due to an employee. This will come into effect from 1st June, 2015. According to this, from now onward your EPF withdrawal will attract TDS (Tax Deducted at Source) if the amount of withdrawal is more than Rs.50, 000 and you worked for less than 5 years. 
Note-
I explained the same in below image. Earlier the limit of such TDS was for more than Rs.30,000 and above withdrawal amount. In Budget 2016, the limit raised to Rs.50,000.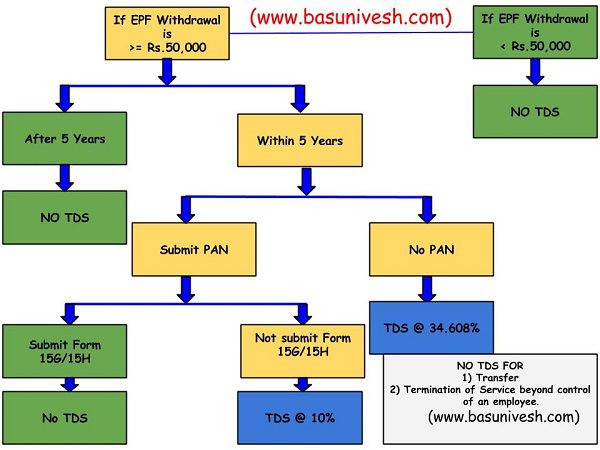 When the TDS will not be applicable?
1) When you transfer your EPF account to another account.
2) Termination of service due to ill-health of employee, discontinuation of business by an employer, completion of a project or other cause beyond the control of an employee.
3) If an employee withdraws the EPF amount after the continues 5 years of service (Including the service with a former employer).
4) If EPF amount is less than Rs.50, 000, but the employee has rendered service of less than 5 Yrs.
5) In case employee withdraw amount more than or equal to Rs.50, 000, with an employment of less than 5 Yrs but submits Form 15G/15H along with the PAN Card.
When the TDS will be applicable? 
In case, the employee withdraws his/her EPF amount which is more than or equal to Rs.50, 000 with service of less than 5 Yrs.
1) TDS will be deducted @ 10%, if an employee submits the PAN Card (But Form 15G/15H not submitted).
2) TDS will be deducted @ 34.608% if an employee fails to submit the PAN Card. (Also Form 15G/15H not submitted).
Few points to remember
TDS will be deducted at the time of payment of provident fund.
Form 15H is meant for individuals whose age is 60 Yrs or above (senior citizens) while form 15G is meant for individuals having no taxable income.
Form 15G/15H is not be acceptable in case the withdrawal is more than Rs.2, 50,000 and Rs.3, 00,000 respectively (This is as per current tax slab and will change year on year).
Employees shall quote their PAN number in Form No.15G/15H and in Form No.19 (Withdrawal Form).
If an employee rendered continues service of 5 years or more then they no need to submit a PAN number and Form 15G/H.
In addition, employees whose service not completed 5 years due to the reasons beyond the control of employees are also not required to submit a PAN Card as well as Form 15G/H.
I have created a video on how to fill Form 15G or Form 15H. Please have a look at it before proceeding further. Also, wrote a post on filling these forms. Please visit the post at "Video Tutor Guide-How to fill Form 15G and Form 15H?".

If there is no TDS then it does not mean that the income is tax-free. For the detail taxation of employee provident fund withdrawal, refer my earlier post "Taxation of Employee Provident Fund (EPF)"
Recently CBDT launched new Form 15G and 15H. I created a video of how to fill this newly launched form. Please refer below video for the same.