Many of us not aware the importance of EPF Nomination. If you not took it seriously, then better to understand the EPF Nomination rules at first. Then check nomination details and if changes required, then better to do the changes as and when it is required.
EPF Nomination Rules
What are the EPF Nomination rules? How often can we change the nominee? Let us understand these basics in detail.
# Your all EPF accounts must have the nomination. This makes easy fund transfer in case of your sudden demise.
# You can nominate more than one nominee and also fix the % of sharing among all such nominees.
# You must always nominate someone who can be considered as a family member. A non-family nominee is not valid.
# If you have no family, then you can nominate someone. However, once the member has a family the nomination should be transferred to the family member.
# If you nominated someone before marriage, then post marriage you have to update your spouse as a nominee. If you do not update then the nominations made before the marriage will be considered invalid. It is necessary to file new nominations, post marriage.
# In case a minor is a nominee, the guardian should be the family member. However, if there is no family member to become a guardian, then the employee can appoint a guardian from outside family.
# If there is no nomination the EPF amount would be equally distributed among family members. The sons who have attained maturity, sons of a deceased son who have attained maturity, married daughters whose husbands are alive and married daughters of a deceased son whose husbands are alive are not considered for such distribution.
# You can change the nomination as many times as you wish.
Rights of the nominee in EPF
What are the rights of the nominee in EPF? Whether the nominee will be the natural owner of the fund after the death of an employee? The answer is NO.
Nominee here acts just like a trustee. He has the rights to receive the EPF funds of the deceased employee. However, he has no rights to claim the ownership of the fund. The EPF fund should be then distributed to legal heirs of the employee as per the legal heir's law.
This is the reason it is always best that EPF nomination should be your legal heir itself. Otherwise, you will create a legal tussle with your family in your absence.
How to check EPF Nomination details online?
Using the EPFO Unified portal, you can check the EPF Nomination details online. The process is simple.
# Login to Unified Portal.
# Under Manage Tab, you have to select the option e-Nomination.
# Once you click there, then you will find the nomination details linked to EPF accounts.
How to update or change EPF Nomination online?
# Visit Unified Portal. Login with your user credentials.
# Under "Manage" menu, you have to select "E-Nomination" option.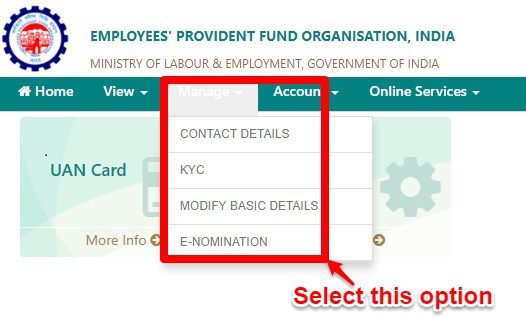 # Your details like UAN, Name, Date of Birth, gender etc., will be displayed. Here you have to provide your 'Permanent Address' details in the relevant field and click on Save button.
# Provide 'yes' to update Family Declaration. Then you will be asked to provide 'Add Family Member(s)' details. You have to provide details of your family members like their names, date of birth, relation and Address.

# Now you have to nominate your family members for your EPF account. You may declare the total amount of share (%) among your nominees. In case, you would like to nominate only one member of your family as your nominee then you can declare 100% as the share.
# Then click on 'Save EPF Nomination' button.
# Now you have to approve your e-Nomination form through Aadhaar e-Sign (Sign is an online electronic signature service in India to facilitate an Aadhaar holder to digitally sign a document. The signature service is facilitated by authenticating the Aadhar holder via the Aadhar–based e-KYC (electronic Know Your Customer) service.) facility. Click on e-Sign button to generate OTP, which will be sent to your mobile number that is linked to your Aadhaar. Then enter the OTP, which you have received in your mobile phone. That's it. You have completed the process of e-Nomination. You no need to send any physical document to your employer or ex-employer.
# However, if your Aadhaar is not linked to EPF, then you will get an error message as "AADHAAR authentication failed. Details available against this UAN are not matching with details available with UIDAI." (Refer the post on how to link Aadhaar with EPF "How to link Aadhaar to EPF using online and offline?".
Hope this much information is enough for all employees to know about the importance of EPF Nomination and how one can update it online.