Recently EPFO Unified portal launched a facility to submit EPF Form 15G to allow the EPF members to withdraw it online. This also makes you to avoid the TDS.
Note:-Now you can raise an issue related to your EPF issues using the EPFO Whatsapp numbers. For details, refer the post "EPF Whatsapp Helpline Numbers – Full list of Regional Offices".
Note:-Now you can update your bank details online. Refer my post "How to correct/update Bank details in EPF/UAN online?".
TDS on EPF Withdrawal Rules
Before jumping into know the process of submitting the Form 15G, let us first understand the rules related to TDS with respect to EPF withdrawal. I have already written a detailed post on this "EPF Withdrawal Taxation-New TDS (Tax Deducted at Source) Rules".
For your brief recap, I will share the below image which clears everything for you.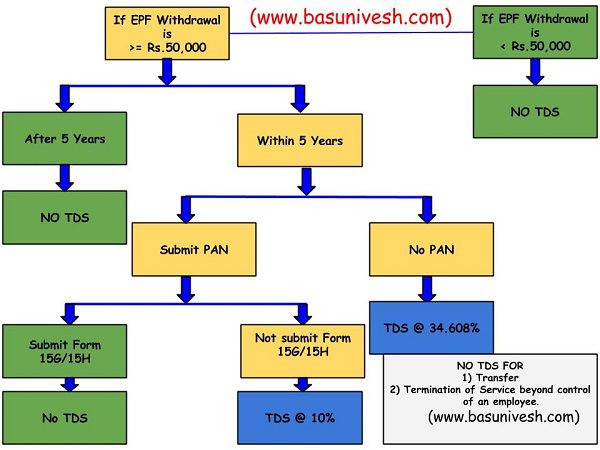 # If you are withdrawing the EPF after 5 years of service, then there is no TDS at all.
# Here, 5 years means 5 years of contribution. Hence, if you worked for 3 years and kept the account idle for another 2 years, thinking you can avoid TDS means you are wrong. As for TDs purpose, your contribution period is considered.
# Even if you worked in multiple organizations but you retained the same EPF account, then such combined service period is considered as single and eligible for TDS exemption (if your combined all earlier employments contributory period is more than 5 years.
# When your service is less than 5 years and you are withdrawing the EPF, then during the financial year of your withdrawal, it is taxed under your head.
# Your employer's contributions along with the accumulated interest amount will be taxed as "profits in lieu of salary" under the head Salary. However, relief under Section 89 will be available.
# Interest accumulated on your (employee) contributions will be taxed under the head "Income from other sources".
Now you come to know who is eligible for TDS while withdrawing the TDS.
Who are eligible to submit the Form 15G/H while EPF withdrawal?
It is the biggest misconception among many of us that all individuals are eligible for submitting the Form 15G or 15H. However, there are certain rules related to this. Form 15G is for those whose age is below 60 years of age. Form 15H is for those whose age is above 60 years of age.
Below are certain eligibility conditions to be followed before submitting the Form 15G or Form 15H.
# You have to submit either Form 15G or Form 15H when your total income does not exceed the basic exemption limit (in case of Financial Year 2019-20 the basic exemption limit for an individual is Rs.2,50,000, for an individual whose age is 60 years or more but less than 80 years then it is Rs.3,00,000 and for an individual whose age is more than 80 years then it is Rs.5,00,000). You can check the latest tax slabs in my latest post "Latest Income Tax Slab Rates FY 2019-20 (AY 2020-21)".
# If your estimated tax liability for the current financial year is NIL.
Hence, all individuals are not eligible for submitting the Form 15G or Form 15H to avoid TDs.
Do remember that Form No. 15G or 15H are self-declaration forms that can be furnished by individuals to state that their income is BELOW the taxable limit and hence no TDS should be deducted. The final tax on his estimated total income computed as per the provisions of the Income Tax Act should be nil.
HENCE, AVOIDING TDS DOES NOT MEAN AVOIDING TAX.
Do remember that as in case of other TDS, any TDS done with respect to your EPF withdrawal will also reflect in your Form 26AS. You have to show it in your ITR.
EPF Form 15G – How to fill online for EPF withdrawal?
Now you have understood the TDS rules applicable to EPF and also you came to know what is Form 15G or 15H. Let us move on and understand the process of how to fill EPF Form 15G for online EPF withdrawal.
# Login to EPFO UAN Unified Portal for members.
# Click on ONLINE SERVICES >> Claim (Form 31, 19, 10C).
# Verify last 4 digits of your bank account as shown in the images below

# Then you will see the EPF withdrawal form.
# Below I want to apply for, you will see Upload Form 15G as shown in the below image.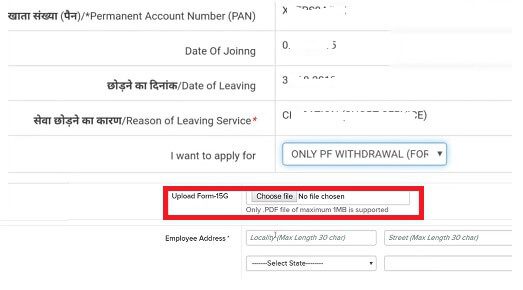 # Download the Form 15G HERE.
# Now follow the below video tutor done by me.

# Do remember that you have to fill Part 1 of the Form 15G and no need to fill Part 2.
# Upload the filled PDF form to Unified portal.
# Enter the other details and submit for withdrawal.
# If you took the printout of it and filled, then take the images of the same and convert that into PDF format and then upload.
# Do remember that under Field 16 of Form 15G, mention the estimated income for which you are filing the Form. For EPF Withdrawal Enter the EPF amount you will get. This includes only Employee and Employer contribution. This should not include EPS or Pension.
# Under Field 19, for Identification Number Mention the Provident Fund Number, for Nature of Income: TDS on EPF Withdrawal, for Section: 192A and for Amount: Mention your EPF amount(Employer + Employee).
Hope this information is helpful for you all. Let me know if you have any questions or doubts.