On 18th November 2014, Government of India launched Kisan Vikas Patra (KVP) with much fanfare. This is considered as safest investment. So let us understand the difference among KVP, NSC, PPF, and Bank FDs
In below image I simplified few features, which are very much important while investing.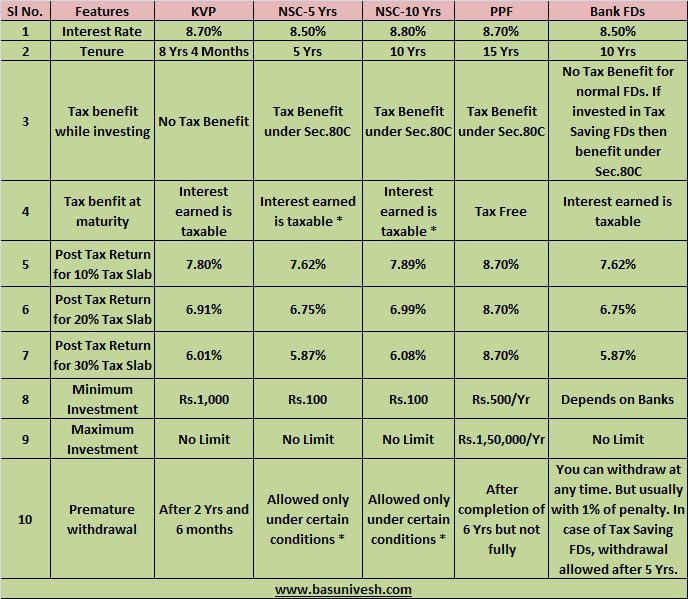 A Few points to be noticed-
You will get full details about Kisan Vikas Patra (KVP) in my recently published post "All about Kisan Vikas Patra (KVP)-2014".
All above products have different tenure. So to be frank, the comparison will not hold good. I considered Bank FDs tenure as 10 years to make it comparable. In reality, you can deposit from 1 Yr to 10 Yrs in Bank FDs.
Interest varies, but I considered current interest rates. For Bank FDs, I considered SBI Bank rates.
For KVP and PPF, compounding is yearly. For NSC compounding is half yearly and Bank FDs quarterly compounding. Therefore, the effective rates for KVP and PPF will not change. However, in case of NSC-5 Yrs it will be 8.68%, NSC-10 Yrs it will be 8.99% and for Bank FDs 8.77%.
Regarding NSC interest taxation, please read my earlier post "NSC-Accrued Interest taxation and way to reduce it".
Please note that KVP, NSC, or Bank FDs are one-time investments. Whereas in PPF you need to contribute yearly certain minimum and maximum amount, which is explained in my earlier post "All about Public Provident Fund (PPF)".
In case of NSC, premature withdrawal allowed only if the death of certificate holder, on forfeiture by a pledge being a Gazetted Govt Officer or when ordered by a court of law. It applies to KVP too in case of early withdrawal before the lock in of 2 years and 6 months.
Please read my earlier post "PPF-Loan and Withdrawal", for a better understanding of PPF withdrawal rules.