The biggest concern or confusion for many of the parents is to identify the best child saving and investment plan in India. There are Endowment Plans, ULIPs, or Mutual Funds, which claim they are best. However, which is really best?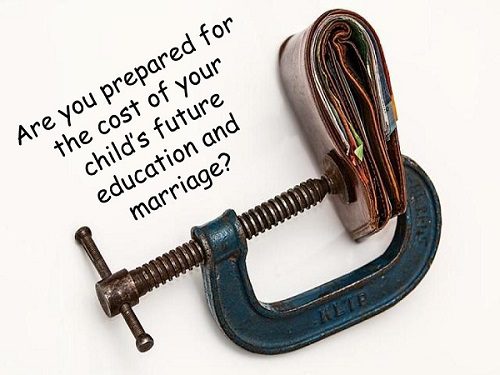 I am writing this post with intention of avoiding the biggest misconception with respect to child saving and investment. I am going to share you how you can design the Best child saving and investment plan in India by following the below steps.
This plan will not recommend you any Endowment Plans, ULIPs or Mutual Funds meant and SOLD as BEST CHILD PLAN products. However, makes you understand the risk involved in such products and how can you design your own plan and start investing.
Steps in identifying Best child saving and investment plan in India
Here are the steps, which makes you easy choosing the Best child saving and investment plan in India.
Step 1:-Stay away from Endowment, ULIPs, or Mutual Funds, which claim to be designed for KIDS FUTURE
First thing, you have to make sure is to completely NEGLECT these instruments, which claim to be meant for CHILD EDUCATION AND MARRIAGE.
The only features which make you attract with such plans are PREMIUM WAIVER BENEFITS in case of the death of the parent. However, it does not mean that one must buy such products because of this. You can compensate such feature by buying the simple term life insurance.
My reasons for avoiding such products are-Liquidity Issue, no past track record of such products, may not be able to beat the future cost of your kids, and complication in design.
Step 2:-BUY Life Insurance
In my first point, I guided you to stay away from an endowment, ULIPs, or Mutual Funds, which are meant for kids. However, it does not mean that you must ignore life insurance.
Hence, you must have adequate life insurance coverage. How much you need depends on identifying the below points.
# Sum up all your future Household expenses and child's yearly school and tuition fee from today to till child reach the age of college.
# Current value of child's Graduation and Post Graduation expenses.
Once, you sum up these, and then the required life insurance coverage is what you have to buy. Do remember that this Life Insurance coverage calculation is only for your child education planning. However, if you have any other financial goals, such goals, and liabilities must also be included while arriving at final life insurance requirement.
Also, the above said points to arrive at is a simple step. If you need specific requirement of how much you need, then take the help of a fee-only planner or do it yourself.
Refer:-Top 5 Best Online Term Insurance Plans in India in 2017
Step 3:-The right time to start for investing is NOW!!
Many may be in a dilemma of when to start investing for your child saving and investment. Is it immediately after the birth of the kid or when? In my view, the BEST TIME TO INVEST IS NOW. Because those who thought of investing now after a gap of few years are in hurry to accumulate. But thinking of when makes many to postpone also.
Hence, whether your kid born today or he/she is 5 yrs old, the right to start investing is NOW.
Step 4:-Setting goals of child's education and marriage
Once the basic actions of avoiding the junk products, buying proper life insurance and decided the mindset of start investing now, the next step is to identify the quantum and time horizon of the goal.
You can discuss the same with the parents who have kids and they are doing the graduation and post graduation currently. Based on that, you must consider the CURRENT cost of such expenses.
Once this is done, then identify the time horizon. Means how many years left for your child's graduation and post graduation. This is the time horizon within which you have to accumulate.
Regarding the marriage goal, it depends on society to society. Hence, instead of relying on some other sources, it is always best to identify the marriage cost in our society in today's term. Also, when you are planning to marry your child.
Remember one thing that you can't postpone your child graduation and post graduation. Hence, they are specific in nature. However, same may not be true with marriage. It may be preponed or postponed also.
Step 5:-Inflation
Ideally, many consider the inflation rate of 6% to 7%. However, if you look at the way education cost going up, I would rather consider the inflation rate of around 8% to 10%.
You notice one thing, for higher education the fees may not be increased on yearly basis. But suddenly they increase it after 3-4 years with an exorbitant rate. Hence, it is prudent to consider the higher inflation rate than the typical 5% or 6%.
Step 6:-Return on investment
Once you know the time horizon, the current cost of graduation or post graduation and the inflation rate, the next step is to identify the asset class and the approximate return expectation.
I would suggest that you must ideally keep around 7% returns for debt and 10% to 12% from equity. However, if your products generated more than these expectations, then you may reach the goals earlier and feel that this like BONUS!
Hence, set an idealistic return on investment expectation.
Step 7:-Products to choose
Now you are fully aware of the time horizon of the goal, the current cost of the goal, inflation and return expectation from each asset class. The next step is to select an appropriate product for investing.
# Debt-In case of debt, I would suggest PPF (if time horizon matching the maturity period of the product), Ultra Short Term Debt Funds or Short Term Gilt Funds (Top and Best Debt Mutual Funds in India for 2017).
# Equity-You have to choose one Large Cap, one Mid-cap, and one Small-cap Mutual Funds. Three funds enough to manage your equity portfolio (Refer Top 10 Best SIP Mutual Funds to invest in India in 2017)..
However, if you do not want to separate equity and debt in a different product, then chose equity-oriented balanced funds also. In such funds, the ratio between equity and debt usually is around 65:35. However, do remember to verify the quality of debt portfolio the fund holding and the market cap of an equity portfolio.
Because ALL EQUITY ORIENTED BALANCED FUNDS ARE NOT SAME.
Step 8:-Asset Allocation
The next step is identifying the asset allocation between debt and equity. There is no such standard rule. However, I am recommending the below rule to follow.
If the goal is below 5 years-Do not touch equity product. Use the debt products of your choice like FDs, RDs or Debt Funds.
If the goal is 5 years to 10 years-Allocate debt:equity in the ratio of 40:60.
If the goal is more than 10 years-Allocate debt:equity in the ratio of 30:70.
Also, keep in mind that once the goal is about to near, you have to reduce your equity portfolio and increase the debt portfolio while doing the review.
Step 9:-Review
Once the investment is started based on the above procedure, the next step is to SIT SILENTLY FOR 2-3 years. After that, start reviewing your portfolio once in a year.
Bring back the asset allocation to the standard of which I shared above. Even though you may not feel the importance of this activity, but it will definitely give you an edge during the equity market downfall.
Hence, investing and forgetting for long will not work. You have to review and re-balance it.
Step 10:-Child's Marriage Planning
First, understand the requirement of this goal. Whether is it necessary or what? In addition, if you have sufficient surplus after meeting your child's graduation and your retirement goal, then think about this goal. If you have a surplus to invest after accommodating to goals, which are very sure to come, then think about planning for child's marriage. Otherwise, simply SKIP!
Why I am harsh and suggesting you SKIP and that too with such emotional financial goal of parents? Because the major responsibility of a parent is to provide quality and good education to their children. Marriage goal may be handled by them. In worst case scenario, you can arrange it with as simple as at the cost of within Rs.10,000 (with register marriage).
However, same can't be possible in case of education. Hence, if you have a surplus, then plan for it. Otherwise, simply skip this goal.
Gold for Child Marriage:-
Many of us have a social obligation and dream of accumulating gold for our kids marriage. However, do remember that Gold is an asset class, which gives you the return of debt product (like Bank FDs) but comes with volatility like a stock market.
Hence, if you aim is to accumulate the gold for future usage, never invest in physical goal. Instead, consider this also as a financial goal, and start investing in equity and debt based on time horizon.
Conclusion: -In my view, the above-mentioned steps will surely help you in identifying "Best child saving and investment plan in India". No product is best or worst. However, we have to use it wisely to match our goal. Also, there is no single product which we may claim as UNIVERSAL BEST.
Hence, under the process, plan, risk, and requirement. Based on that choosing the product is just an end game.