Two days back I received a mail from my client requesting for my view on the insurance product offered by her banker. There was so much hype created by banking guys about the product as if this product is ONLY available to this lady as she is their proffered customer 🙂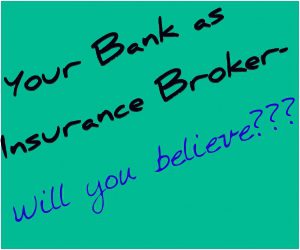 So let us first understand what are the positive points shared with her regarding this particular product.
1) Plain Vanilla product-Once Bank Manger offered this product to my client, she said before proceeding to buy she must consult  her financial planner (me). After this they started to claim that this is Plain Vanilla product. So no need to contact any planner to discuss and review. Because this is simple a MONEY BACK PLAN!!!
Yes, the plan offered to my client was typical traditional money back insurance plan of "Canara HSBC Oriental Bank of Commerce Life Insurance Smart Stage Money Back Plan". This is a typical Money Back plan with term being 15 years. You will receive survival benefit 15% will be payable at 4th,8th and 12th year. Rest 55% will be payable at maturity along with bonus. If death occurs during the term of policy then his/her nominee will receive SA+Bonus (irrespective of survival benefit already paid).
So what is there to give a second thought on this as one will receive GUARANTEED MONEY BACK benefit at 4th,8th,12th (15% of SA) and GUARANTEED MATURITY BENEFIT of 55% of SA??? Along with these GUARANTEED maturity benefit she will also be eligible for bonus. So what an interesting product is it !!!
2) No Admin Charges-One more wonderful feature of this product is, they are offering it to customers without any ADMIN CHARGES !!! This is worst kind of example to sell traditional plans stating that product not involves any admin charges. In ULIPs we know what are charges involved. But in typical traditional products we will not come to know what are the exact charges and there is no bonding from insurance companies to disclose it. Hence simply this bank promoted this product stating "NO ADMIN CHARGES". But in reality these plans involves more charges than typical current versions of ULIPs. Hence they are more dangerous than ULIPs !!! Because they involves around 25% of agent's commission in first year, some managers commission, investment cost of such accumulated amount, policy admin charges and so on…. So how can we believe that there is no admin charge??
3) Only for Bank Customers-This is a typical wordings they use to sell or lure their esteemed customers 🙂 If you go by the plan features of this product, there is no such restriction. But they claimed so only with intention of selling product !!!
4) Money Back is FREE FROM TAX– Yes whatever the return from life insurance policies will be tax free if it follows the current taxation rules of life insurance products. But my only question is this TAX SAVING AT WHAT COST?? Lower insurance with low return. Also this is not a single product which is tax free in India. They why to sacrifice your life insurance need and return on investment??
5) Best for kid's future– Actually the above said my client have 2 year old baby girl. So they know about her family history and her concern about her kid's future. Hence they pitched product stating to be one of the best kid's plan as she will receive the cash at regular intervals. But sadly they forget that current education cost is more than 10% while this product will give around 6% return !!!
What we can learn from above experience?
They know your financial conditions. So they easily target to sell the products.
Relationship Manager who is selling is just a bank employee. He is not an expert in the product knowledge he is selling.
Today they may sell you by tall claims. But in future no guarantee that you will meet him again in same bank or in same position.
Always understand YOUR NEED rather than the NEED OF OTHERS.
Visit bank for banking service but not for other services they offer you.
Currently Banks are acting as corporate agents representing one life insurance company, one general insurance company and one standalone health insurer. But recent move by Finance Ministry or RBI to promote banks as brokers will actually be a disaster for customers. Because once banks promoted as brokers then they are free to offer all insurance companies products under their umbrella. This actually promote them to be more selling centric. Also few bank officials may offer to buy the insurance products to give some unofficial favors. Hence it is always advisable to follow the points what I raised above and maintain a distance with your bankers if they promote any insurance product.